Private Gelato Class in Florence
---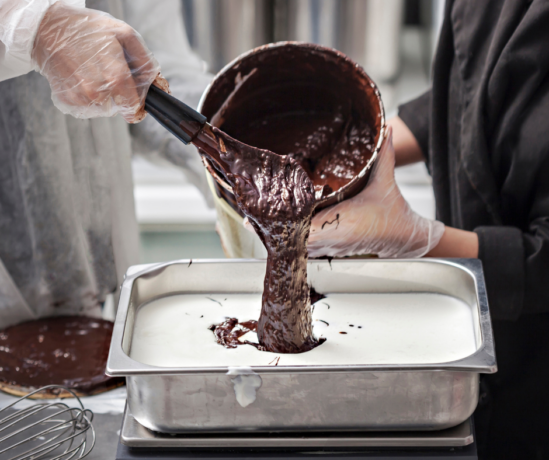 ---
LivTours Private Gelato Class in Florence is perfect if you want to do something unique and hands-on during your stay in Florence. Meet Vetulio Bondi, master gelatiere, at the authentic family-run Gelateria Bondi in the center of this beautiful Renaissance city to learn the true art of gelato making from start to finish. Learn everything from the ingredients used, how to create the perfect balance of flavor, the processes, and even how to scoop like a pro. Most importantly, you will create your very own gelato flavor and enjoy it as soon as it's ready. Immerse yourself in the world of gelato in this private fun-filled family-friendly class!
If you are contemplating the difference between ice cream and gelato, we will help you to set the record straight! Just like ice cream, gelato contains milk, sugar, and flavorings such as fruit or nuts, but, and here is a big difference, it has less cream than ice cream and usually no egg yolks. Amazing considering it tastes creamier than ice cream! You might think this is a 'new' Italian dessert, but ancient Roman emperors reportedly ate very similar desserts, and this dessert is said to be one of many culinary inventions that Catherine de' Medici is said to have taken from Florence to Paris in 1533 when she married the King of France. There is no written proof of that, but we do know for certain that in 1686, Francesco Procopio dei Coltelli, a Sicilian fisherman and chef from Palermo, made the first gelato machine and took it to Paris!
WHY DO THIS PRIVATE GELATO MAKING FLORENCE CLASS?
A private class like this gives you the opportunity to have a more personalized experience. This is the perfect private experience for a family activity or with a group of foodie friends. A private class gives you more opportunity to engage with your LivTours guide and your gelato-making teacher at the Academy, giving you a great way to immerse yourself completely in an authentic Italian experience while visiting Florence!
BOOK NOW
---
Enjoy time in a family-run Gelateria Bondi in the center of Florence

Savor an exclusive experience with a private local guide and gelato makers

Understand the special art of Italian gelato-making from passionate local experts

Make a gelato flavor of your own from scratch and enjoy it at the end

Discover Italy in a unique way, as a professional Italian gelato-maker
BOOK NOW
Exclusive private Tours and Experiences. Also offered in Spanish, French, Portuguese, Swedish and Russian
Our prices always include tickets and reservations fees (no waiting in lines!)
Our tour guides and staff are selected experts and speak perfect English
Easy to book and prepay your tours with our secure payment system
Eco-sustainable tourism, designed to respect and support local culture, art and traditions
---
Your LivTours Private Gelato Class in Florence starts in the charming city center of Florence. This Renaissance city is one of Italy's beloved gelato hot spots, so this is a perfect experience to be doing here!  The city is filled with gorgeous gelaterias and LivTours has selected one of the very best for you. You will meet Vetulio Bondi himself, right outside the centrally located Gelateria Bondi. This is family-run gelateria and known for its delicious gelato. Most importantly, Vetulio is a world-renowned professor of Gelato Making, having taught across the globe, participated as master gelatiere at Expo 2015 and appeared on TV alongside many VIPs! This will be a truly memorable hour spent with him.
You will learn the European art of using simple, fresh, and local ingredients in your Private Gelato Class in Florence. Italians pride themselves on keeping their food clean and natural – learn how to tell the difference between a gelato which is made with fresh ingredients and one that is made with additives.
Being a gelato lover, you may already know that gelato and ice-cream are not the same things, but what exactly is the difference? Find out from the experts. Now that you know the basics, it will be time to make your very own gelato flavor. With local enthusiastic gelato-makers guiding you, you will create gelato of the highest quality, and will thoroughly enjoy it when ready. There are many flavors to choose from, so even if you are dairy or gluten-free, your teachers will have all the right ingredients for you to be able to participate. Just let us know of dietary restrictions ahead of time.
There is perhaps no better way to learn how to make anything than from the experts and making gelato is no exception! Put that together with the beautiful city of Florence and you have a memorable experience. The key to a great Italian gelato is learning how to respect tradition while still understanding how to be innovative. These are the secrets you can learn only from professional gelato makers!
BOOK NOW
---
Gelato marking workshop

Gelato tasting

Family-friendly experience

Fully guided hands on experience
BOOK NOW
---
Note: this experience is only available in English.

We can accommodate dietary restrictions such as vegetarian or gluten-free. Please specify your food needs under "Additional Notes" at booking.
BOOK NOW
---
LivTours' group size of max 6 participants is and always has been based on sustainable travel, and we are proud to be at the forefront of change and innovation in the industry.  LivTours is committed to providing travelers with truly sustainable tours with the lowest possible environmental impact, all while supporting the local industries and people of each unique destination. To learn more about how you can actively support sustainable tourism  and how LivTours is contributing, click here.
BOOK NOW
---
When you book a LivTours Private Tour or Experience, you are guaranteed a dedicated, expert guide that allows you the flexibility to start your tour at a time which is convenient for you, making planning easy. Our private tours ensure that you will get a tailored experience to meet all your needs so we go at your pace, perfect for families with younger children, elderly, or individuals with accessibility needs. Please be advised that all private tours begin at a base price starting at two people*. Prices are inclusive of entry tickets where applicable. *Some Ferrari private experiences are inclusive of one person only.
BOOK NOW
---
Make your day even more unique and comfortable by upgrading your tour with a customizable LivTours optional add on!
95 €
165.30 A$
88.35 £
112.10 $
BOOK NOW
---
Strongly recommend
"Ice cream and Gelato are two different things. We learned this and much more on our private Gelato Class which we took while in Florence. Leave it to LivItaly to create a fun and different activity that lets you go home with so many fond memories! The kids had the greatest time! Strongly recommend."
Katie B. - USA
---
BOOK NOW
---
By selecting Choose Dates Later / Buy as Gift at booking, any tour can be purchased without fixed dates. This is the perfect option if you want to purchase your tour as a gift for a loved one, or if you are in the pre-planning phase of your vacation. After booking, you will receive a Travel Voucher Code and full instructions on how to schedule your tours when ready. Once your travel plans are confirmed, you can easily use the Travel Voucher Code on the LivTours website to formally schedule your tours. You can find out more here.
BOOK NOW