Private Florence Tour & Drawing Class
---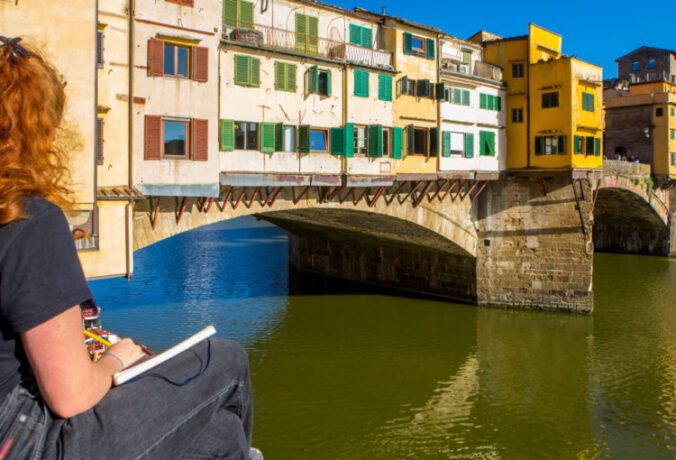 ---
On your LivTours Florence Tour & Drawing Class, you will discover the gems of the birthplace of the Renaissance together with your private tour guide. Enjoy seeing the most iconic sites of Florence; the Cathedral of Florence, known as the Duomo, the picturesque, and history-filled Ponte Vecchio and the outdoor museum of Piazza della Signoria while your guide regales you with the history and anecdotes behind the facades. Learn about the history, culture, and art of Medieval and Renaissance history as you walk in the footsteps of Italy's most beloved artists, and then try your hand at sketching!
Your guide, a graduate of the Accademia delle Belle Arti di Firenze, the Fine Arts School of Florence, will lead you in a personalized sketching workshop at the end of the tour. Create your unique souvenir while discovering the artistic side of Florence!
BOOK NOW
---
Enjoy a private walking tour as you follow in the footsteps of Renaissance masters

Discover Florence through artists' eyes while learning about the Renaissance

Learn to sketch with a trained artist, creating a unique souvenir to take home

Explore the architectural and artistic wonders of the birthplace of the Renaissance

Admire the intricate detailed stone work on the marble facade of the Duomo
BOOK NOW
Exclusive private Tours and Experiences. Also offered in Spanish, French, Portuguese, Swedish and Russian
Our prices always include tickets and reservations fees (no waiting in lines!)
Our tour guides and staff are selected experts and speak perfect English
Easy to book and prepay your tours with our secure payment system
Eco-sustainable tourism, designed to respect and support local culture, art and traditions
---
Your LivTours Florence Tour & Drawing Class starts by meeting your guide and your fellow travelers in the Piazza della Signoria. This beautiful square is in the heart of the city and is surrounded by some of the most important buildings in Florence. Your expert local guide shares with you the history behind the centuries of architecture. This important square is home to important buildings such as Palazzo Vecchio, Town Hall, Uffizi Gallery, with one of the most important art collections in the world, and Palazzo Uguccioni, whose facade was designed by the great Raphael. There is no better place to start your tour than in this all-important square!
Your private tour continues as you stroll through the charming streets of Florence where some of the greatest artists have walked before you – Michelangelo, Dante Alighieri, and Botticelli.  Learn about the history, culture and art of those unique historic times of Medieval and Renaissance history as you walk in the footsteps of Italy's most beloved artists. Let your private tour guide entertain you with anecdotes about this fascinating city and all its key personalities!
The next stop is towards the picturesque bridge of Ponte Vecchio, Florence's longest-standing bridge. Now housing numerous jewelry shops, your guide will tell you about the shops that used to be here and the secret corridor that runs the length of the bridge. With quaint jewelry shops nestled along both sides of this Medieval bridge, enjoy its engaging charm and take a few moments to take some photographs as this is one of the most photographed sites in Florence.
From there it is time to visit the Cathedral of Florence, il Duomo. Admire the exterior of the dome of the largest Italian cathedral,  designed by Brunelleschi. Hear the anecdotes behind its construction and marvel at the dome that perfectly frames Florence as you learn about the famous Baptistery bronze doors and the history and legends they have left us behind.
Now it is time for your personalized sketching workshop! Your expert tour guide, who is also a professional sketching teacher, will provide you with art supplies and help you draw one of your favorite sites from the tour. Sitting in a covered area in the Piazza della Signoria surrounded by incomparable statues and structures is sure to inspire you. Soak up the creative atmosphere and enjoy the hands-on experience.  Take a moment to slip into the creative shoes of Michelangelo and get your creative on. This tour is suitable for all ages and the drawing session will be tailored according to your age and previous experience.
BOOK NOW
---
Piazza della Signoria

Palazzo Vecchio

Uffizi Gallery (from outside)

Palazzo Uguccioni

Ponte Vecchio

Florence Duomo (from outside)

Florence Baptistery (from outside)

Sketching workshop

Drawing paper and pencils

Fully guided experience
BOOK NOW
---
LivTours' group size of max 6 participants is and always has been based on sustainable travel, and we are proud to be at the forefront of change and innovation in the industry.  LivTours is committed to providing travelers with truly sustainable tours with the lowest possible environmental impact, all while supporting the local industries and people of each unique destination. To learn more about how you can actively support sustainable tourism  and how LivTours is contributing, click here.
BOOK NOW
---
When you book a LivTours Private Tour or Experience, you are guaranteed a dedicated, expert guide that allows you the flexibility to start your tour at a time which is convenient for you, making planning easy. Our private tours ensure that you will get a tailored experience to meet all your needs so we go at your pace, perfect for families with younger children, elderly, or individuals with accessibility needs. Please be advised that all private tours begin at a base price starting at two people*. Prices are inclusive of entry tickets where applicable. *Some Ferrari private experiences are inclusive of one person only.
BOOK NOW
---
Make your day even more unique and comfortable by upgrading your tour with a customizable LivTours optional add on!
95 €
165.30 A$
88.35 £
112.10 $
BOOK NOW
---
Unforgettable experience for all ages
"Our family took LivItaly's Florence walking tour and drawing class and we ALL had the time of our lives. I've never seen the kids so enthralled. Rafaella, our guide and an artist by training, made the art and architecture that we saw come alive. She then worked with the kids to draw their own masterpieces, giving hints about how the famous artists and sculptors went about their work. It was a very special tour and we are very happy that we had this unforgettable experience."
Sally and Vern - Canada
---
BOOK NOW
---
By selecting Choose Dates Later / Buy as Gift at booking, any tour can be purchased without fixed dates. This is the perfect option if you want to purchase your tour as a gift for a loved one, or if you are in the pre-planning phase of your vacation. After booking, you will receive a Travel Voucher Code and full instructions on how to schedule your tours when ready. Once your travel plans are confirmed, you can easily use the Travel Voucher Code on the LivTours website to formally schedule your tours. You can find out more here.
BOOK NOW