Private Family Experiences: Colosseum Tour for Kids
---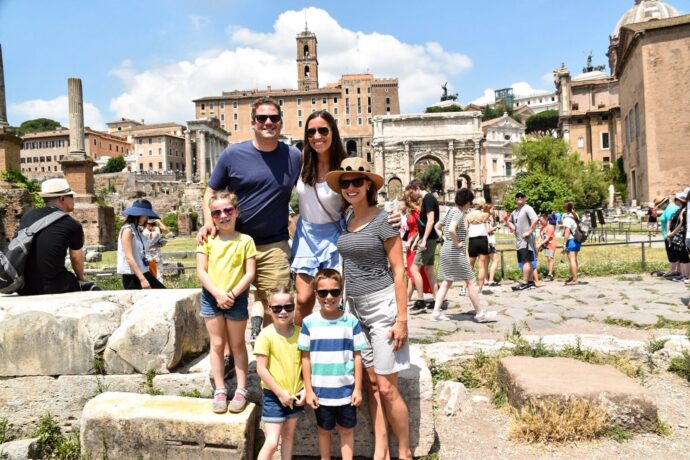 ---
LivTours Colosseum Tour for Kids is an interactive and fun tour of Rome's Colosseum designed especially for families. Armed with LivTours' Treasure Hunt Map and a great kid-centric guide, this is an ideal tour for families! 
Each tour is a great opportunity to engage and learn with your kids and at LivTours we have an interactive Colosseum Treasure Hunt that is fun for the whole family. Your private LivTours tour guide will lead the way on this exciting exploration of the amazing Colosseum and the ancient Roman Forum.
At the start of each tour, your child will receive a bag with a treasure map, a quiz sheet, and other useful archaeological gadgets that will bring the day to life for them. In the company of your family-friendly LivTours guide, you will start your fun learning experience. This is a great opportunity to bring history to life for you and your family! 
LivTours has added 360-degree virtual reality reconstructions glasses that enhance the visit for the entire. You will get one pair of LivTours original VR cardboard glasses with every two people on your tour. 
Using the cardboard VR glasses is completely optional. We advise them to be used at your own discretion due to safety concerns with uneven flooring within the archaeological sites. In order to use the glasses, you will need to plan a bit in advance and download the corresponding app, which is available via Apple or Android store, prior to the tour and bring the smartphone with the app on it on the day of the tour.
BOOK NOW
---
Experience an interactive visit to the Colosseum & Forum on this private family tour

Allow your children to become archaeologists with treasure maps, gadgets and quizzes

Grow to understand all about the lives of gladiators and Colosseum battles

Enjoy LivTours' priority access to the Colosseum with no waiting in lines

See the Roman Forum, including Caesar's Temple, Caligula's murder spot
BOOK NOW
Exclusive private Tours and Experiences. Also offered in Spanish, French, Portuguese, Swedish and Russian
Our prices always include tickets and reservations fees (no waiting in lines!)
Our tour guides and staff are selected experts and speak perfect English
Easy to book and prepay your tours with our secure payment system
Eco-sustainable tourism, designed to respect and support local culture, art and traditions
---
LivTours Colosseum Tour for Kids begins at one of the most iconic landmarks of Rome, the Colosseum, the perfect backdrop for a family photo. Your private family-friendly guide will not waste a minute of your time on this exciting tour, so make sure your children are listening carefully and ready to play! Your guide will start off with questions for the little ones on tour right away, so kids should have the treasure hunt map in hand. 
As you walk through this ancient building, your guide will share with you the stories of gladiator games and wild animal hunts that used to take place here. Climbing to the second tier of the Colosseum you can imagine the deafening applause during the bloody games or pretend to catch a glimpse of the Emperor.
On this kid-centric tour, your guide will continue to ask questions throughout the tour, building a rapport and comfortable setting for your children. You may even find out that your kids know a bit more about history than you had given them credit for! Here's a peek at one of the quiz questions you can find on the tour.
What animal is important to the history of Rome and today is a symbol of the city?
You might be at a loss for an answer, but your tour guide will explain the story of two brothers, an argument, and the hill where it all began. 
The ancient Roman Forum is a paradise for the explorer in all of us, but especially for young explorers. With a treasure map in hand, you will learn the stories of what used to the vibrant downtown hub of Rome. You will have a chance to climb over ancient ruins and even drink from genuine Roman fountains.  Make sure you leave no stone unturned as you explore the Roman Forum up, down, and around finding to solve the last mysteries on your treasure hunt. Every child will get a prize at the end of this tour!
The final stop on this tour leads us to the remains of the temple of Julius Gaius Caesar. This interactive tour is not just for kids and it is sure to leave the entire family with a smile on their faces and new knowledge in their heads, making for a remarkable experience. 
UPGRADE YOUR TOUR BY ADDING THE GLADIATOR SCHOOL WITH ROUND-TRIP TRANSFER!
Add a visit to one of the well known Gladiator School and Museum which is managed by the Gruppo Storico Romano that is located on the Appian Way to your Colosseum Tour for Kids. If you choose this option, a driver will come to pick you up just after your tour finishes directly to the school – making this a stress free day for you!  Enjoy a 2-hour experience followed by a visit to the Gladiator Museum and a true training session with all the necessary Gladiator attire and weapons, where both defense and attack ancient tactics will be explored. This truly interactive experience is a perfect addition to LivTours' Colosseum Tour for Kids. Once your time at the Gladiator School is finished, your driver will take you back to your hotel in Rome. Keep in mind that this will add on approximately 4 hours to your entire experience.
BOOK NOW
---
LivTour's Exclusive Treasure Hunt Material & Gifts

VR Goggles

LivTours free App

Skip-the-line access to all sites

Colosseum & 1st tier

Roman Forum
BOOK NOW
---
Offered in: English, French, Spanish, Portuguese, and Italian. Please specify under "Additional notes" if you wish to book the tour in a language other than English.

Please note that LivTours VR cardboard glasses do not replace your guide by any means, they are meant to give you a 360 degree view of what Roman would have looked like in its heyday, bringing the architectural ruins to life. They are in no way, shape or form a video game.

This tour material is designed for children from ages 5 – 10 years old. The VR Goggles make it interesting also for kids older than 10. Perfect for mixed age families.

Due to these unprecedented times and ongoing safety and regulation changes, some sites may have limited accessibility if the venue can not guarantee social distancing which may lead to unforeseen tour modifications. Thank you for your understanding.

LivTours' is and always has been based on sustainable travel and especially in these new times, we are proud to be at the forefront of innovation, change, and challenges that are presented to us during this post-pandemic time. At the moment, due to Covid-19 safety regulations, museums and sites visited on this tour require wearing a mask while on site. Please bring one for every participant over 6 years of age.
BOOK NOW
---
When you book a LivTours Private Tour or Experience, you are guaranteed a dedicated, expert guide that allows you the flexibility to start your tour at a time which is convenient for you, making planning easy. Our private tours ensure that you will get a tailored experience to meet all your needs so we go at your pace, perfect for families with younger children, elderly, or individuals with accessibility needs. Please be advised that all private tours begin at a base price starting at two people*. Prices are inclusive of entry tickets where applicable.
*Our Tuscan motorcycle tour and some Ferrari private experiences are inclusive of one person only.
BOOK NOW
---
Make your day even more unique and comfortable by upgrading your tour with a customizable LivTours optional add on!
Gladiator School Experience for Kids
BOOK NOW
---
Melanie rocks!
"Melanie did a FANTASTIC job of giving us a family tour of the Colosseum and Ancient Rome! Her charismatic and enthusiastic personality was enjoyed by everyone in our family. Also, her theatric expressions through her vocals and facials really made the experience relatable and helped us all understand the significance of this site and how it was the center of life in ancient times. The kids said it was the highlight of their trip. If you're thinking about the tour, I HIGHLY recommend this one .. and if you can, ask for Melanie!"
Gloria - USA
---
Colosseum family tour
"Excellent tour that brought us back in time through our guide, Davide's colorful historical storytelling. Kids were entranced throughout the tour and went home with lots of new facts and stories to share with their friends. Great experience!"
Sherwin - UK
---
Family tour of the Colosseum
"Our family enjoyed a beautiful outing in Rome with Melanie today. She was an amazing storyteller and made the history of the Colosseum and life in ancient roman times come alive for us. We loved the tour and it was very well-paced and interesting for all of us, including our children. Thank you, Melanie!"
Deanne - USA
---
BOOK NOW
---
By selecting BUY AS A GIFT, you can purchase this tour as a gift for someone you care for. You will receive a gift card voucher that then can be redeemed by the person/people who will enjoy the tour.Date and Time are values that cannot be selected at the moment. You will in fact receive a gift card voucher with instructions on how to redeem the tour and then select date and time.You can create a shopping cart with multiple tours as gift cards. You may not compose a shopping cart of gift cards and actual tours with date and time.This option can also be used as an opportunity to book a tour open-dated for yourself, in case you are still in the pre-planning phase of your trip.For more information please read here.
BOOK NOW