Private Family Experience: Vatican Tour for Kids
---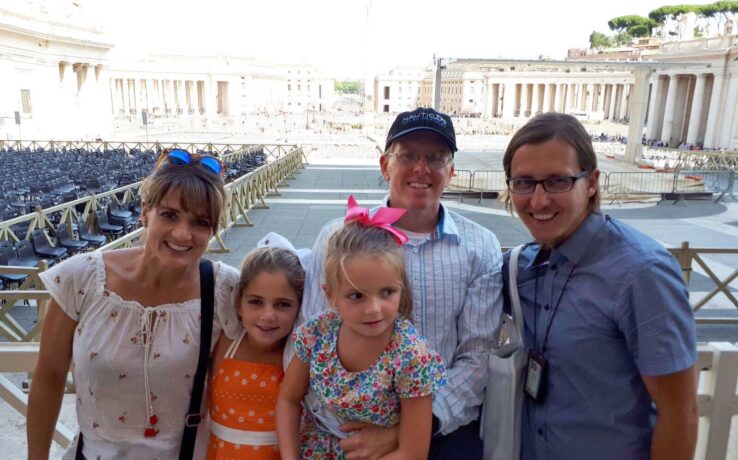 ---
LivTours Family Experience: Vatican Tour for Kids Private Tour is the perfect tour for the whole family! A fantastically fun tour, your private Vatican Treasure Hunt explores the vast history and art collections of the Vatican Museums in a way that is fun and engaging for kids: a one-of-a-kind scavenger hunt. Who are we kidding… it's a lot of fun for adults too! Highlights of your private tour include the many collections of the Vatican Museums, Michelangelo's Sistine Chapel, St. Peter's Basilica, and other special gems, like the Egyptian museum, added specifically for our younger guests.
We understand that traveling with kids can be difficult sometimes, especially in large museums like the Vatican, which can easily be overwhelming for a child. With LivTours Family Experience you can rest assured that even the youngest ones will be engaged, have fun, and learn a whole lot! With a LivTours original treasure map and a fun quiz to go with it, your family will make its way through the incredible collections of the museums, led by your very own LivTours top-rated family-friendly expert guide. It will surely be an experience to remember and for your kids to share with their friends when they get home!
BOOK NOW
---
Enjoy an exclusive Private Tour of the Vatican that is perfect for your kids

Skip the Line and delight in direct entry to the Museums – no waiting in lines

Engage in a fun scavenger hunt for the whole family throughout your tour

Marvel at Michelangelo's most famous masterpiece - the Sistine Chapel

Learn from and have fun with a LivTours top-rated kid-friendly guide
BOOK NOW
Exclusive private Tours and Experiences. Also offered in Spanish, French, Portuguese, Swedish and Russian
Our prices always include tickets and reservations fees (no waiting in lines!)
Our tour guides and staff are selected experts and speak perfect English
Easy to book and prepay your tours with our secure payment system
Eco-sustainable tourism, designed to respect and support local culture, art and traditions
---
Your Vatican Tour for Kids is designed to make the most efficient use of your time right from the start, so the little ones never have a chance to get bored. That is why you begin with Skip-The-Line access, and get your adventure going without having to wait in long lines. Your guide will start with getting to know the kids and finding out what they are curious and interested in. Maps will be handed out and the games begin!
You will not only visit the highlights, but your guide will also tailor the tour to include rooms and collections that are the most fun for kids. This will give your children time and space to be curious and ask questions, so they can really take it all in. Did you know that there us a mummy in the Vatican City? Learn about Egyptian history and how the ancient Egyptians communicated, it's quite similar to today's emojis! We'll continue through the museums visiting the Laocoon Priest of Troy, the Gallery of Maps (a kids' favorite!), and make your way to Michelangelo's incredible Sistine Chapel.
Lots of tales exist about how this Chapel came to be, stories that have been passed down for centuries. LivTours is committed to continuing this tradition, passing these stories down to your kids, the next generation of art lovers.
As you exit the Sistine Chapel, your guide will walk you through a direct entryway into the world's largest church: St. Peter's Basilica (please note that it might be a security line). See Bernini's Baldacchino, an altar made entirely of bronze; the Pietà, another Michelangelo masterpiece; the Holy door, which absolves sins when walked through during a Jubilee year, and more.
As your tour ends, your guide will check to see that all the treasure map questions have been answered and award prizes to the kids.
BOOK NOW
---
LivTour's exclusive Treasure Hunt Material & Gifts

VR Goggles

LivTours free App

Skip-the-line access to the Vatican

Egyptian Museum

Round Room

Lacoon Priest of Troy

Tapestries & Maps

Sistine Chapel

Saint Peter's Basilica
BOOK NOW
---
The treasure hunt maps are only made in English.

This tour material is designed for children from ages 5 – 10 years old. If older children are also present, our guides are capable and ready to adapt material and the tour's content.

Places of worship have strict dress code requirements for entry. All participants are required to have shoulders and knees covered (no tank tops or short dresses) to enter.

There is no photography allowed in the Sistine Chapel.


St. Peter's Basilica is an active church and can be closed unexpectedly for liturgical ceremonies. If closed, the time inside the Vatican Museums will be extended.

Saint Peter's Basilica is closed on most Wednesdays mornings due to the weekly Papal Audience. If you book this tour for a Wednesday the time inside the Vatican Museums will be extended.

Please be aware that the Sistine Chapel is a Holy Place and talking during your visit inside is strictly forbidden, therefore your guide will give you an explanation of the Sistine Chapel beforehand during your tour, in order to give you a comprehensive explanation before entering the chapel.

Due to these unprecedented times and ongoing safety and regulation changes, some sites may have limited accessibility if the venue can not guarantee social distancing which may lead to unforeseen tour modifications. Thank you for your understanding.
BOOK NOW
---
When you book a LivTours Private Tour or Experience, you are guaranteed a dedicated, expert guide that allows you the flexibility to start your tour at a time which is convenient for you, making planning easy. Our private tours ensure that you will get a tailored experience to meet all your needs so we go at your pace, perfect for families with younger children, elderly, or individuals with accessibility needs. Please be advised that all private tours begin at a base price starting at two people*. Prices are inclusive of entry tickets where applicable.*Our Tuscan motorcycle tour and some Ferrari private experiences are inclusive of one person only.
BOOK NOW
---
Make your day even more unique and comfortable by upgrading your tour with a customizable LivTours optional add on!
Add VIP visit to Cabinet of the Masks
Add VIP Visit to the Bramante Staircase
Add Exclusive Fresco Making Workshop
Add Exclusive Mosaic Making Workshop
BOOK NOW
---
Best part of the trip!
"Our two kids, 7 and 9, say this Vatican tour has been the best part of their Rome trip. Alex was extremely friendly, knowledgeable and always kept the kids engaged with interesting facts, games and answering their questions. Five stars!"
Andres
---
Davide rocks!
"Boy are we glad we booked this tour! The kids would have been bored and cranky with all the miles to walk and artwork that goes a bit over their heads. But with LivTour's Davide, he had them eating out of his hand for the entire tour! They were excited to take part in his treasure hunts, "where's wally"-kind of games, questions that were really stimulating for them and that provoked them to really use their imaginations. They chattered about how much fun they had and how much they had learned throughout dinner that night. This was money extremely well spent!!"
Chystal - USA
---
Vatican with 10 year olds
"The meeting point was easy. And our guild was very knowledgeable and happy to be guiding us around. I would highly recommend Raf. She was great at engaging our two 10 year old kids, asking them questions and answering ALL of theirs (no easy feat). She took and sent us a great family photo, which made our experience that much more memorable. Wonderful experience for all of us!"
Shelly - USA
---
BOOK NOW
---
By selecting Choose Dates Later / Buy as Gift at booking, any tour can be purchased without fixed dates. This is the perfect option if you want to purchase your tour as a gift for a loved one, or if you are in the pre-planning phase of your vacation. After booking, you will receive a Travel Voucher Code and full instructions on how to schedule your tours when ready. Once your travel plans are confirmed, you can easily use the Travel Voucher Code on the LivTours website to formally schedule your tours. You can find out more here.
BOOK NOW