Girona, Figueres & Dali | Private Day Trip from Barcelona
---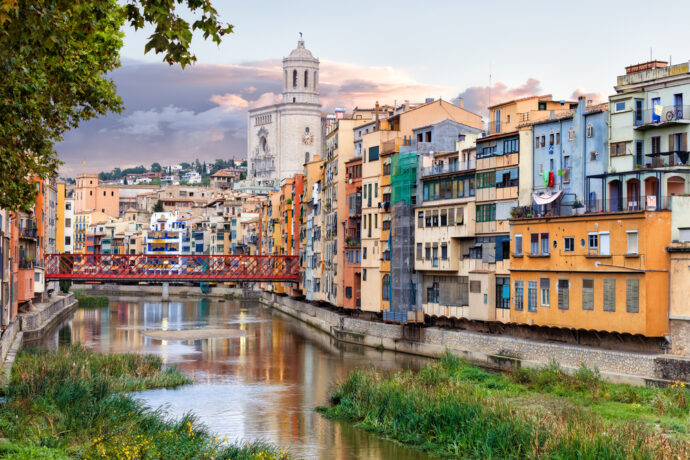 ---
LivTours Private Day Trip to Girona & Figueres with Dali from Barcelona is an ideal way for visitors to experience two stunning and culturally-rich places in just one day. Barcelona is the perfect hub city for day trips, having  you back in Barcelona in time to enjoy dinner. LivTours wants to help you make the most of your time in Spain, which is why our tours are designed to be hassle-free. Let us take care of tickets, logistics, and expert guides so that all you need to do is enjoy yourself! A private tour is a great way to personalize a trip to your needs.
Travel by high-speed train and spend your morning exploring the ancient city of Girona with your private local guide. You will soon learn why it became the perfect movie set for Season 6 Game of Thrones. The timeless beauty and charm of this centuries-old city is an absolute must for travelers who want to dig deep into the rich cultural influences that have contributed to shaping the cultural heritage of this important Catalan city. Once you have had your fair share of ancient history, it is time to do something else that is done very well in Girona, eat! Girona is known for its delicious food and even a quick lunch will give you a great introduction to their world-famous cuisine.
After lunch, it is on to Figueres to explore the eccentric and surrealistic museum of Salvador Dali. Set in the hometown of the renowned surrealist, you will not be disappointed!
BOOK NOW
---
Enjoy medieval history & surrealistic art on private full day trip from Barcelona

Discover the mix of cultures as they are brought to life with your private guide

Stroll through the history-rich streets & see the film locations of Game of Thrones

Savor priority access to the Salvador Dali Theatre Museum in Figueres with your guide

See the world famous 11th century Tapestry of Creation in the Cathedral of Girona
BOOK NOW
Exclusive private Tours and Experiences. Also offered in Spanish, French, Portuguese, Swedish and Russian
Our prices always include tickets and reservations fees (no waiting in lines!)
Our tour guides and staff are selected experts and speak perfect English
Easy to book and prepay your tours with our secure payment system
Eco-sustainable tourism, designed to respect and support local culture, art and traditions
---
Your LivTours Private Day Trip to Girona & Figueres from Barcelona starts the moment you book with LivTours! We will immediately take care of your train tickets and send you all the logistical information you need regarding train times and boarding. Once you arrive in Girona, you will be met by your LivTours guide and soon you will journey back in time to a medieval Girona. During your tour you will walk part of the fortified defensive wall, gazing out over the terracotta rooftops, up the Pyrenees mountains and down to the rivers, you will get a feel for what it must have been like over half a century ago.
Slowly your private guide will lead you towards the Girona Cathedral, set at the highest point of the city, whose architecture alone will give you a clear idea of the many historical layers that make up this former Roman city. Your LivTours guide will explain the amusing anecdotes of both the Romanesque and Gothic designs that can be seen in this unique Roman Catholic cathedral. Next, it is onto the ancient Arab Baths, a melting pot of cultures can be seen in its architectural style and you will find out why it was never occupied by the Arabs. The mixture of Roman, Moorish and Jewish cultures makes this space a perfect example of harmony experienced throughout Spain until the early 1000s.
Your tour continues on to one of the most well-preserved Jewish quarters in Europe. This 12th-century neighborhood which at its height served as one of Girona's most prominent reference points, home to schools, internationally recognized scholars, and religious institutions revered for their reputation throughout Europe.  You will learn of the expulsion of these prominent families and the sudden demise of a once vibrant Catalan Jewish community.
HBO fans are sure to know Girona as one of the sixth season filming locations in the popular series Game of Thrones. The Baroque staircase where Jaime Lannister battles with High Sparrow is definitely worth a visit.
Once you have finished touring Girona,  Your LivTours local guide will recommend a few delicious places for lunch, so you can begin your Dali Museum trip with a full belly. Relax and unwind over a typical Girona dish of chicken with crayfish, beef with mushrooms or sweet sausage made with apples (botifarra) and of course, a glass of cava or Spanish wine (lunch not included in price of the tour).
DALI MUSEUM IN FIGUERES
After a delicious lunch in Girona, you and your LivTours guide will board a train to Figueres – the hometown of one of the world's most influential surrealist artists – Salvador Dalí. Your time in Figueres will be just enough time to get a feel for this beautiful charming town with a short walking tour and of course, a guided visit of the Teatre-Museu Gala Salvador Dalí – a museum dedicated to Salvador Dalí and even designed by the artist himself! The museum was the former town theater which was bombed during the Spanish Civil War in the 1930s, Dali bought it later on and lived to see the creation of the museum.  Full of installations and amazing paintings, you will learn about the technique behind the artist's optical illusions and where his passion for art began as a young child. The museum also holds a crypt below ground, where the artist himself lays to rest.
At the end of your Full Day Girona and Figueres from Barcelona Tour your LivTours guide will accompany you back to the train station to see you off with instructions on how to get back to Barcelona in time for a late dinner.
BOOK NOW
---
Train tickets to from Barcelona to Girona

Girona Cathedral

Ancient Arab Baths

Jewish quarters of Girona

Game of Thrones set locations

Free time for lunch

Train tickets from Grinao to Figueres

Dali Museum in Figueres

Train tickets from Figueres to Barcelona

Fully guided experience
BOOK NOW
---
LivTours' group size of max 6 participants is and always has been based on sustainable travel, and we are proud to be at the forefront of change and innovation in the industry.  LivTours is committed to providing travelers with truly sustainable tours with the lowest possible environmental impact, all while supporting the local industries and people of each unique destination. To learn more about how you can actively support sustainable tourism  and how LivTours is contributing, click here.
BOOK NOW
---
When you book a LivTours Private Tour or Experience, you are guaranteed a dedicated, expert guide that allows you the flexibility to start your tour at a time which is convenient for you, making planning easy. Our private tours ensure that you will get a tailored experience to meet all your needs so we go at your pace, perfect for families with younger children, elderly, or individuals with accessibility needs. Please be advised that all private tours begin at a base price starting at two people*. Prices are inclusive of entry tickets where applicable. *Some Ferrari private experiences are inclusive of one person only.
BOOK NOW
---
Make your day even more unique and comfortable by upgrading your tour with a customizable LivTours optional add on!
90 €
156.60 A$
83.70 £
106.20 $
BOOK NOW
---
Visits to Girona and Figueres
"Being our second time in Barcelona, we dedicated a day to going to Figueres and Girona, just outside of the city. We couldn't have been happier with this tour. The transportation is easy and comfortable. The guide was superb and quite friendly as well. Both Girona and Figueres merit a visit! If you have the time, do the day trip with LivSpain."
Gerald - USA
---
Good day trip out of Barcelona
"This private day trip to Figueres and Girona was very enjoyable. We were accompanied by a charming english-speaking driver and a very enjoyable guide who gave us interesting background information and shared many funny stories as well. Both cities are quite different, one from another, but each quite fascinating in their own right. If you have the time for a trip outside of Barcelona, this one is definitely recommended."
Firenza - UK
---
Another great LivSpain tour
"My husband and I visited Barcelona with my parents. We booked several tours inside the city with LivSpain and were very pleased. But the best tour we did was the day trip to Girona and Figueres. We all were enthralled with the beauty of Girona and all the layers of history that there is to learn about. I'm not a lover of Dali but his art is entertaining so the museum in Figueres was fun. But we loved walking around in the town more than anything. We had a fun day and thank LivSpain, once again, for making it happen!"
Kim K. - USA
---
BOOK NOW
---
By selecting Choose Dates Later / Buy as Gift at booking, any tour can be purchased without fixed dates. This is the perfect option if you want to purchase your tour as a gift for a loved one, or if you are in the pre-planning phase of your vacation. After booking, you will receive a Travel Voucher Code and full instructions on how to schedule your tours when ready. Once your travel plans are confirmed, you can easily use the Travel Voucher Code on the LivTours website to formally schedule your tours. You can find out more here.
BOOK NOW