Private Day Tour of Florence | City Highlights
---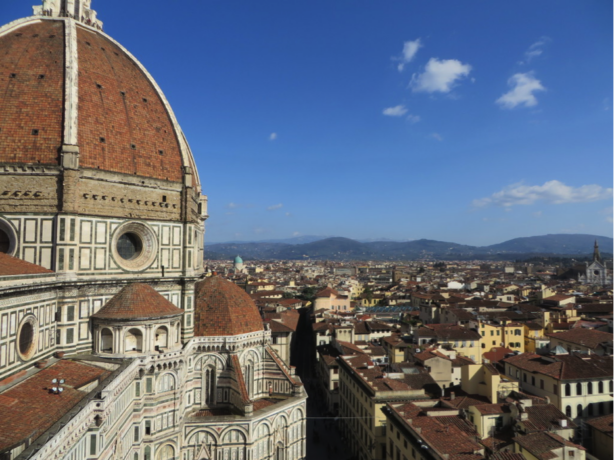 ---
LivTours Private Day Tour of Florence | City Highlights in a Day allows you to see the best of this stunning Italian city, known as the birthplace of the Renaissance, in a day. This comprehensive tour has been uniquely designed to show you the highlights without rushing and allowing you to make the most of your time in Florence. With your expert local guide by your side, you will see the real Florence starting with the Renaissance masterpieces at the Uffizi Gallery with exclusive VIP access.
You will explore the real Florence as you stroll through the cobblestone streets as your expert guide shares with you the history and anecdotes of this amazing city, including the Ponte Vecchio Bridge and the awe-inspiring Duomo with Filippo Brunelleschi's dome. No visit to Florence is complete without admiring Michelangelo's 17 foot David in person and LivTours makes it easy for you with exclusive access to the Academia.
BOOK NOW
---
Understand Renaissance history as you explore Florence with your private expert guide

Admire Michelangelo's world famous sculpture of the 17-foot David from just feet away

Walk across the famous Ponte Vecchio bridge and explore the charming colorful shops

Marvel at the Renaissance masterpieces in the Uffizi Gallery with exclusive entrance

Enjoy a Tuscan lunch as you recollect your favorite anecdotes from this private tour
BOOK NOW
Exclusive private Tours and Experiences. Also offered in Spanish, French, Portuguese, Swedish and Russian
Our prices always include tickets and reservations fees (no waiting in lines!)
Our tour guides and staff are selected experts and speak perfect English
Easy to book and prepay your tours with our secure payment system
Eco-sustainable tourism, designed to respect and support local culture, art and traditions
---
Your LivTours Florence Full Day Tour starts by meeting your guide in the Piazza della Signoria, the very heart of the city.  This square is surrounded by some of the most important buildings of Florence and you will have a chance to admire the centuries of architecture as your expert local guide shares with you the history behind the facades.  This small square is home to the Palazzo Vecchio, Town Hall, the Uffizi Gallery, and Palazzo Uguccioni, hosting a facade designed by the great Raphael.
Your first stop is the Uffizi Gallery with its world-renown Renaissance art collection. Once a private art collection with masterpieces by Michelangelo, Raphael, Botticelli, and Leonardo da Vinci, decorated the walls of the Medici Family corridors. Opening to the public in 1765, it was officially turned into a museum in 1865 allowing visitors to enjoy one of the most world-renowned art collections.
Admire the masterpieces such as The Birth of Venus, one of the iconic depictions of the mythological goddess as she emerges from the sea on a shell and the only painting of Michelangelo's in Florence, Doni Tondo.  The result of a commission from a prominent Tuscan family, it is a portrait of the Holy Family with the Virgin Mary in the forefront. Though you could spend hours, if not days, in the Uffizi, your LivTours guide will show you the most important masterpieces from this impressive collection giving you a great overview of Renaissance art.
A STOP FOR LUNCH
After leaving the Gallery your LivTours guide will give you suggestions for local restaurants where you can enjoy some Tuscan classics.  In Tuscany, dishes are usually made of regional products making each culinary experience fresh, local and unique. Your LivTours guide is happy to make recommendations of local dishes that you might want to try. Lunch is not included in this tour.
After refueling, it is time to continue your LivTours Private Day Tour of Florence, as your expert guide regales you the stories of Florence as you admire the melting pot of architecture from Gothic, Romanesque, and Renaissance.  Take time to admire the Ponte Vecchio Bridge, the oldest bridge in Florence, now filled with jewelry shops and a secret centuries-old corridor which you will surely learn about. Continuing your walk, you will come face to face with the largest Italian Cathedral, the Duomo with its unique facade and a dome designed by Brunelleschi. Hear the anecdotes behind its construction and marvel at the dome that makes the perfect backdrop to Florence. Admire the famous Baptistery bronze doors and hear about the history and legends they have left behind.
The last visit on your private tour is the Galleria dell'Accademia which houses the magnificent 17-foot marble sculpture of David by Michelangelo. One of the world's most recognized and admired pieces of art made from one piece of leftover marble.
UPGRADE YOUR TOUR & ADD THE DUOMO OR BELL TOWER CLIMB
Add the possibility of climbing the Duomo of Florence 30 minutes after the tour is over. By adding the optional add-on, we will provide you with skip-the-line timed tickets to climb the Duomo after the tour is over. In case the Duomo is sold out, you will be able to climb the magnificent bell tower of the Church. In addition, the tickets also include access to the Museo del Duomo. Please bear in mind that these are subject to availability and that we will need the full name and dates of birth of all participants in order to secure your climbs.
ADD ON HIGH-SPEED TRAIN TRANSFER | FIRST CLASS
LivItaly guests have the option to ADD ON a high-speed train transfer to and from this tour city. Enjoy the luxury of Italo Railway First Class where you will be met with spacious, cushioned seats in a section designed to offer the maximum amount of privacy and comfort.
First Class guests on Italo Railway are also given the option of changing their train ticket time, so if you would like to leave a bit later (or even earlier), you can take advantage of this flexibility to best optimize your tour day. Please be aware that you will have to change your ticket at the Italo desk at the train station before your original departure time, and change is dependent on the availability of seats. We strongly advise you to request your change as early in the day as possible.
Guests who choose this ADD ON will be sent their instructions and train tickets via email to print out and upon arrival at your destination city, will be met with our LivItaly tour guide. All you need to do is enjoy your ride in First Class. On your return, your guide will accompany you to the train station and you can enjoy a stress-free return journey.
BOOK NOW
---
Skip-the-line tickets to the Uffizi Gallery

Skip-the-line tickets to the Accademia

Uffizi Gallery highlights

Free time for lunch

Walking tour of Florence highlights

Michelangelo's David

Duomo climb (optional)
BOOK NOW
---
Offered in: English, French, Spanish, Portuguese, and Italian. Please specify under "Additional notes" if you wish to book the tour in a language other than English.

Once train tickets are purchased, they are non-refundable and do not fall within the refund criteria of our cancellation policy. We cannot guarantee that all travelers will sit together, especially for last-minute bookings.

Places of worship have strict dress code requirements for entry. All participants are required to have shoulders and knees covered (no tank tops or short dresses) to enter.

There is no flash photography allowed in some or all areas of this tour.

Backpacks are not permitted in the Museum.

The Florence Cathedral is an active church and can be closed unexpectedly for liturgical ceremonies.
BOOK NOW
---
LivTours' group size of max 6 participants is and always has been based on sustainable travel, and we are proud to be at the forefront of change and innovation in the industry.  LivTours is committed to providing travelers with truly sustainable tours with the lowest possible environmental impact, all while supporting the local industries and people of each unique destination. To learn more about how you can actively support sustainable tourism  and how LivTours is contributing, click here.
BOOK NOW
---
When you book a LivTours Private Tour or Experience, you are guaranteed a dedicated, expert guide that allows you the flexibility to start your tour at a time which is convenient for you, making planning easy. Our private tours ensure that you will get a tailored experience to meet all your needs so we go at your pace, perfect for families with younger children, elderly, or individuals with accessibility needs. Please be advised that all private tours begin at a base price starting at two people*. Prices are inclusive of entry tickets where applicable. *Some Ferrari private experiences are inclusive of one person only.
BOOK NOW
---
Make your day even more unique and comfortable by upgrading your tour with a customizable LivTours optional add on!
70 €
121.80 A$
65.10 £
82.60 $
Add Duomo Dome or Bell Tower Climb and Duomo Museum ticket
45 €
78.30 A$
41.85 £
53.10 $
Roundtrip Fast Train from Rome
140 €
243.60 A$
130.20 £
165.20 $
BOOK NOW
---
Excellent
"Barbra was extremely knowledgable and it was amazing! We definitely recommend booking this LivTour with her!! Thank you for a visit to Florence that we will remember forever! "
Jo-Anne M - United States
---
Wonderful Historical and Architectural Tour of Florence and ending with The David
"Babi, our tour guide, was an amazing professional. She was just the best guide for my wife and adult children to learn so much about Florence including the art, history and architecture. She was such a nice lady and we highly recommend touring with LivTours. "
Jeff M - United States
---
Florence Tour
"We had the most wonderful experience with Babi and Livtours! Babi took us all around Florence and was able to share with us tons of knowledge about the Florence culture! "
Taylor L - United States
---
BOOK NOW
---
By selecting Choose Dates Later / Buy as Gift at booking, any tour can be purchased without fixed dates. This is the perfect option if you want to purchase your tour as a gift for a loved one, or if you are in the pre-planning phase of your vacation. After booking, you will receive a Travel Voucher Code and full instructions on how to schedule your tours when ready. Once your travel plans are confirmed, you can easily use the Travel Voucher Code on the LivTours website to formally schedule your tours. You can find out more here.
BOOK NOW