Private Colosseum Guided Tour with Underground & Ancient Rome
---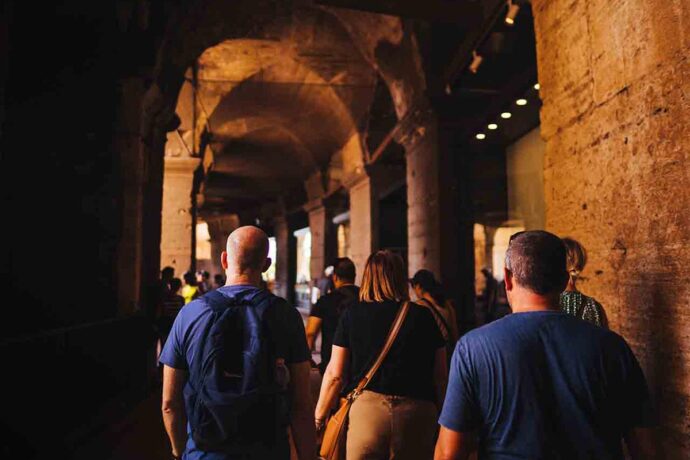 ---
LivTours Private Colosseum Guided Tour with Underground and Ancient Rome is a complete overview of the political and commercial center of ancient Rome, an in-depth visit to the Colosseum, and also includes access to restricted areas of the Colosseum! Your expert private guide will take you to visit the Colosseum, including an underground portion of the tour, Roman Forum, and Palatine Hill.
LivTours Private Colosseum Tour with Underground gives you exclusive access to two areas of the Colosseum that are generally restricted to the public –  the Colosseum Underground and Colosseum Arena Floor. At LivTours, we believe that these two areas are a must-see and will give you a comprehensive understanding of the Colosseum at the height of the Roman Empire. The Underground was also restricted to the general public in Roman times, as it is the area where gladiators and beasts awaited their fights. On your private tour, you will have the chance of walking in the very place where the famous gladiator games were held.
Come enjoy one of our very best selling tours and make memories that last a lifetime!
BOOK NOW
---
Reserve this comprehensive private tour of the Colosseum, Palatine Hill & Roman Forum

Discover the rich history of 2000 years ago in the company of an expert private guide

Savor the luxury of access to restricted areas - the underground & arena floor

Enjoy priority access to the Colosseum with LivTours - waiting in long lines

Stroll in the footsteps of ancient Romans such as Julius Caesar & his successors
BOOK NOW
Exclusive private Tours and Experiences. Also offered in Spanish, French, Portuguese, Swedish and Russian
Our prices always include tickets and reservations fees (no waiting in lines!)
Our tour guides and staff are selected experts and speak perfect English
Easy to book and prepay your tours with our secure payment system
Eco-sustainable tourism, designed to respect and support local culture, art and traditions
---
Your LivTours Private Colosseum Guided Tour with Underground and Ancient Rome starts opposite the impressive facade of the Colosseum, where you will meet your private expert guide. From here, you will make your way towards the Roman Forum on foot. Your private guide will point out the open-air ancient ruins as they share with you the rich history of this important place. Stop for a moment before you enter the extensive excavation of the Roman Forum, as the views are just stunning from this perspective. Your private guide will bring to life Roman's typical days from 2000 years ago. Marvel at the ruins of ancient temples, theaters, and government buildings while walking down the streets of ancient Rome. Covered in the original stones,  imagine the great men who have walked these same streets. Imagine life as a Roman citizen during the height of the Roman Empire!
Your next stop is the Palatine Hill. You and your private guide will take an easy stroll up to the top of the hill where you can imagine the imperial residence in its full glory through the engaging stories from your private guide. The Roman emperors, known for their panache for glamour and bling, this area is sure to impress! After a complete tour of this ancient site, you will head to one of the most iconic sites of Rome – the Colosseum!
As you stroll past the site of the Roman Forum, your tour guide will paint a picture of the colorful parades of Roman soldiers as they passed under the magnificent Arch of Constantine, commemorating the victory. As you approach the Colosseum,  take a moment to imagine what game day was like 2,000 years ago. You will enjoy exclusive Priority Access, so there will not be any waiting in line.
Once you are inside the Colosseum, you will get a chance to admire this amazing triumph of ancient engineering. Your private guide will help paint a vivid,  though grimacing picture, of the blood and carnage of the countless gladiatorial fights that took place inside this ancient amphitheater.  Your guide will tell you about the great men who lost their lives in battles here, who they were, and what led them to such a horrific fate!  You will find out who got the best seats in the house in the front row and who got seated in the nosebleed section.  Hear what animals were used during the battles, how they were strategically imported to shock and control their audiences.
GROUP TOUR OF COLOSSEUM RESTRICTED AREAS
Your private LivTours guide will now take you to join one of the Colosseum's on-site archeologists and a group of maximum 25 people (for this portion of the tour only) as you gain access to the two restricted areas of the Colosseum. Admire the complex engineering of the underground and imagine the shock of an audience as they saw animals they had only heard of emerging from the arena floors as if by magic!
Please note that a local archaeologist, appointed by the Colosseum administration will lead the underground portion of this tour. In the event that English speaking archaeologists are overbooked, they will assign an Italian or another foreign language guide to lead the tour. If this happens, LivTours will, out of courtesy, have your original English speaking guide accompany you at no additional cost for minimal and respectful translation services. This portion of the tour has a duration of 40 minutes.
BOOK NOW
---
Skip-the-line Colosseum tickets

Exclusive Access into the Underground

Exclusive Access to the Colosseum Arena floor

Gladiator Gate Viewings

Main Floor and 1st Tier

Roman Forum

Palatine Hill

Arch of Titus

Temple of Julius Caesar
BOOK NOW
---
Tickets to the Colosseum Underground are very limited. LivTours cannot guarantee their availability before you have requested or booked the tour. Upon booking, we will confirm their availability. If we cannot fulfill your booking request, we will immediately refund you the entire amount or offer you an alternative Colosseum and Ancient City Private Tour and refund the difference in price.

Tickets are very limited and reservations are mandatory. We recommend you book this tour well in advance (minimum one week) to secure your spot.

Offered in: English, French, Spanish, Portuguese, and Italian. Please specify under "Additional notes" if you wish to book the tour in a language other than English.
BOOK NOW
---
LivTours' group size of max 6 participants is and always has been based on sustainable travel, and we are proud to be at the forefront of change and innovation in the industry.  LivTours is committed to providing travelers with truly sustainable tours with the lowest possible environmental impact, all while supporting the local industries and people of each unique destination. To learn more about how you can actively support sustainable tourism  and how LivTours is contributing, click here.
BOOK NOW
---
When you book a LivTours Private Tour or Experience, you are guaranteed a dedicated, expert guide that allows you the flexibility to start your tour at a time which is convenient for you, making planning easy. Our private tours ensure that you will get a tailored experience to meet all your needs so we go at your pace, perfect for families with younger children, elderly, or individuals with accessibility needs. Please be advised that all private tours begin at a base price starting at two people*. Prices are inclusive of entry tickets where applicable. *Some Ferrari private experiences are inclusive of one person only.
BOOK NOW
---
Make your day even more unique and comfortable by upgrading your tour with a customizable LivTours optional add on!
One Way Pick-Up Transfer Service
One Way Drop-Off Transfer Service
BOOK NOW
---
Non-Refundable Entrance Fees
Due to recent ticket policy changes imposed by the Colosseum, this tour cost is fully refundable minus the skip-the-line Colosseum entrance fees. Cancellations or modifications will exclude these entrance fees.
If you want to help us restore this tour to 100% refundable and modifiable, please sign the petition here (scroll down for English). Thank you!
---
BOOK NOW
---
Just brilliant
"I was blown away by Marco and the tour. He was fantastic with my mum; knowledgeable and passionate about his role is an understatement - he was fabulous. Thanks to the experience we had with Marco for our tour, yours will be our 'go to' company and I will recommend your company to anyone who is looking to book a tour."
Alison - UK
---
Being in Ancient Rome
"We had a lovely tour (in German) with Julia. She made us feel very welcomed and comfortable straight away. We felt she had a great knowledge of the history and architecture of the Colloseum and the Forum Romanum. At the end of our tour she suggested a little spot for lunch and also that we check out the local farmers market close to circus maximus on the weekend. Loved the farmers market! Would definitely tour with her again!"
Gerrit - Germany
---
Amazing day in Ancient Rome
"We thoroughly enjoyed our day with Luca. We laughed, we learned, and had amazing experiences that we will never forget. I will always book through LivTours "
Margie B. - USA
---
BOOK NOW
---
By selecting Choose Dates Later / Buy as Gift at booking, any tour can be purchased without fixed dates. This is the perfect option if you want to purchase your tour as a gift for a loved one, or if you are in the pre-planning phase of your vacation. After booking, you will receive a Travel Voucher Code and full instructions on how to schedule your tours when ready. Once your travel plans are confirmed, you can easily use the Travel Voucher Code on the LivTours website to formally schedule your tours. You can find out more here.
BOOK NOW