Private British Museum Tour
---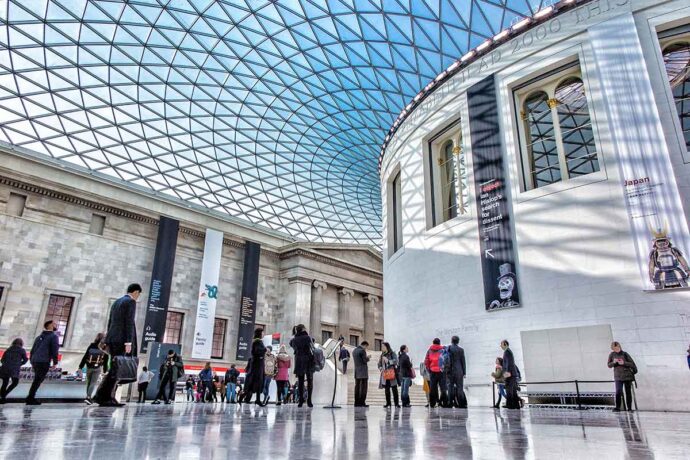 ---
With your very own expert historian on your Private British Museum Tour, you will experience the museum in an intimate up close and fascinating way, like no one else. Understanding, learning and uncovering the secrets and hidden stories about the most famous objects on display as others wander around aimlessly through the gigantic and often overwhelming display.
Maximize your time in a museum that boats over 8,000 fascinating objects from the past, as you discuss with your guide the importance of the objects, how we have come to understand them and the incredible and often unbelievable stories behind them. Your customized private tour will take you to all the highlights the British Museum has to offer while allowing you the chance to pose questions to your guide getting to know them along the way, your time will allow you to focus more on you interest and see some sections in greater detail than others without feeling herded around.
Opened in 1756 The British museum is not only older than many counties but contains some of the oldest artifacts on earth, it is easy for even the most avid historian to be overmatured by this wealth of culture on a first or second time visit, so join your local historian to see the best of this incredible and sometimes controversial collection of human history. From the groundbreaking Rosetta stone, a tablet that allowed linguists to understand hieroglyphics, to perfectly preserved mummies, your personalized adventure through time is waiting for you.
BOOK NOW
---
Uncover the incredible stories from over 4000 years ago with an expert by your side

Enjoy the Luxury of getting close and personal with the past with private guide

See the museum like no other as your historian leads you too he highlights

Marvel at objects from Ancient Marbles to Egyptian mummies

Uncover the lesser known facts behind the best known objects in the world
BOOK NOW
Exclusive private Tours and Experiences. Also offered in Spanish, French, Portuguese, Swedish and Russian
Our prices always include tickets and reservations fees (no waiting in lines!)
Our tour guides and staff are selected experts and speak perfect English
Easy to book and prepay your tours with our secure payment system
Eco-sustainable tourism, designed to respect and support local culture, art and traditions
---
Take a journey back in time with your LivTours Private British Museum Tour, and experience an educational, enlightening and entertaining way to get close and personal with the world's greatest treasures. Kiss goodbye to wandering aimlessly through the giant collections of great museums and follow your personal expert as they take you right up and close for the best way to view history. Benefit from an expert's understanding of mysterious and ancient objects as they share with you their knowledge, ask questions and customize your tour to ensure you focus on what interests you while discovering new interests.
Meet your guide just outside the museum in fashionable Bloomsbury (Buckingham palace was chosen as the original location for the museum before the queen lived there) Follow your guide into a building that is more than just a museum, but is rather a visual walk through world history, an interactive conversation with the past, from all four corners of the globe. Your expert will guide you on the best route to see the top highlights ensuring you maximize your time as well as covering a comprehensive walk through time, ensuring you ask questions to focus on you favorite century and place in world history. Beginning as a small collection to growing into the national museum this is an unmissable London highlight and there is no better way to understand the past then with the masterful storytelling of a guide by your side. 
BOOK NOW
---
Enlightenment Gallery

Aztec and Mayan collection

Easter Island head

Medieval Europe collection

Sutton Hoo ship burial

Roman Britain collection

Ancient Egypt & mummies

Ancient Rome collection

Portland vase

Warren Cup

Money Gallery

The Rosetta Stone

Ancient Greece collection

Parthenon Marbles

Assyrian collection

Privately guided experience
BOOK NOW
---
Due to these unprecedented times and ongoing safety and regulation changes, some sites may have limited accessibility if the venue can not guarantee social distancing which may lead to unforeseen tour modifications. Thank you for your understanding.

LivTours' is and always has been based on sustainable travel and especially in these new times, we are proud to be at the forefront of innovation, change, and challenges that are presented to us during this post-pandemic time. At the moment, due to Covid-19 safety regulations, museums and sites visited on this tour require wearing a mask while on site. Please bring one for every participant over 6 years of age.
BOOK NOW
---
When you book a LivTours Private Tour or Experience, you are guaranteed a dedicated, expert guide that allows you the flexibility to start your tour at a time which is convenient for you, making planning easy. Our private tours ensure that you will get a tailored experience to meet all your needs so we go at your pace, perfect for families with younger children, elderly, or individuals with accessibility needs. Please be advised that all private tours begin at a base price starting at two people*. Prices are inclusive of entry tickets where applicable.
*Our Tuscan motorcycle tour and some Ferrari private experiences are inclusive of one person only.
BOOK NOW
---
Make your day even more unique and comfortable by upgrading your tour with a customizable LivTours optional add on!
Select your Pickup Option
BOOK NOW
---
British Museum tour
"This is a museum where having a guide to help you navigate and explain all that you are seeing makes a huge difference as to how much you enjoy the visit and how much you will remember from the experience. Our LivTour guide, Mary, was an excellent guide, thorough, clear and precise and a lovely person as well. We saw the most important exhibits and learned so much from Mary. Thank you LivTour for this tour and for your wonderful guide, Mary."
Becky Jones - USA
---
British museum tour
"Richard was our guide for this tour and he was amazing. Very knowledgeable and a great comunicator -- always very entertaining and never boring. The museum is one of the best in the world but there's alot to see. It's important to have a guide to help you navigate the museum, see as much as possible and learn about what you are seeing in a way that you'll remember. This tour, offered by LivTours, was the perfect way to see the British Museum. I'm sure their other museum tours, in other cities, are just as great!"
Ellie - USA
---
Excellent tour
"We booked the private tour of the British museum offered by LivTours and were very impressed with the entire experience. Friendly and competent customer service, excellent guide, perfect pace: all contributed to making this a really great tour. After this very positive experience, we will definitely book other tours with this company."
Marcus - Netherlands
---
BOOK NOW
---
By selecting BUY AS A GIFT, you can purchase this tour as a gift for someone you care for. You will receive a gift card voucher that then can be redeemed by the person/people who will enjoy the tour.Date and Time are values that cannot be selected at the moment. You will in fact receive a gift card voucher with instructions on how to redeem the tour and then select date and time.You can create a shopping cart with multiple tours as gift cards. You may not compose a shopping cart of gift cards and actual tours with date and time.This option can also be used as an opportunity to book a tour open-dated for yourself, in case you are still in the pre-planning phase of your trip.For more information please read here.
BOOK NOW