Private Bike Tour of Rome | E-bike Along the Appian Way
---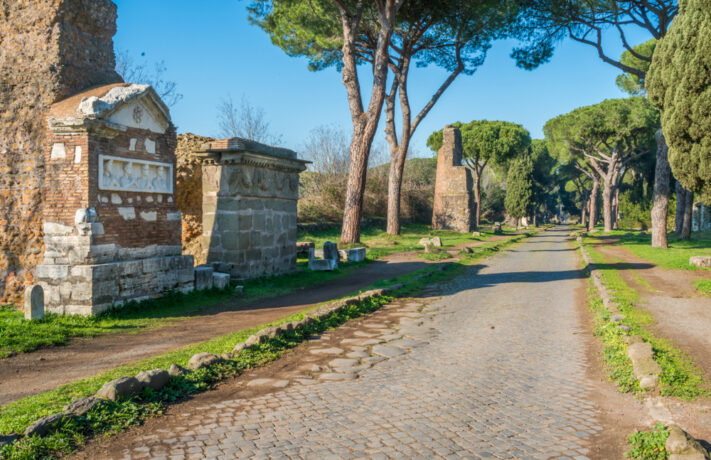 ---
If you love calm countrysides and exploring the outdoors, LivTours Appian Way Bike Tour of Rome is an opportunity to discover Rome in an entirely unique way! Ride down one of Rome's oldest roads, the Appia Antica on a comfortable electric bike. E-Bikes are ideal for this bike tour because they allow you to cover more ground with less pedaling. You don't have to train ahead of your holiday to enjoy this bike adventure! Pass through the ancient city gate Porta Appia and discover with your English-speaking guide the many remarkable landmarks and archaeological sites that lay along the Appian Way.
See ancient Roman baths, including the second-largest Caracalla Baths. Stop to explore several important churches from many different periods of time including San Sebastiano fuori le mura and Chiesa del Domine Quo Vadis. See mausoleums and tombs like that of Caecilia Metella, built in the 1st century AD. Ride past some of Ancient Rome's important catacombs and learn about why they are located where they are. See Rome's second-largest Roman arena, the Circus of Maxentius. Hear the remarkable stories and historical events from successful soldiers marching home to Spartacus's famous slave revolt that took place on this stretch of ancient highway from your passionate guide. This E-Bike adventure past priceless relics and Roman history awaits you!
BOOK NOW
---
Travel Rome's ancient highway, the Appian Way by bike on this 3 hour private tour

Explore the beautiful Italian countryside with your private English-speaking guide

Discover the incredible history behind this ancient road by modern electric bike

Learn about the many archaeological sites and ruins you pass from your expert guide

See Roman baths, tombs, churches, and an ancient arena on this scenic tour
BOOK NOW
Exclusive private Tours and Experiences. Also offered in Spanish, French, Portuguese, Swedish and Russian
Our prices always include tickets and reservations fees (no waiting in lines!)
Our tour guides and staff are selected experts and speak perfect English
Easy to book and prepay your tours with our secure payment system
Eco-sustainable tourism, designed to respect and support local culture, art and traditions
---
Your LivTours Private Appian Way Bike Tour of Rome begins in the Circus Maximus area of central Rome. Here you will meet your friendly guide and get acquainted with your electric bike. You'll ride past ancient Roman baths, the Terme di Caracalla, as you start your route. These thermal baths were the second largest in Rome, covering 62 acres of land! Pass through the Porta Appia, a remarkably preserved large city gate that allows you to imagine what entering and exiting Ancient Rome would have felt like. Onwards into the countryside and finally onto the Appian Way! Built in 321 BC, learn about the many different ways it came to be used throughout history and why it became the inspiration for the phrase "All roads lead to Rome".
Stop to see beautiful churches like the small church known as Chiesa del Domine Quo Vadis. This 17th-century church was built where St. Peter is said to have encountered Jesus as he was leaving Rome and he was inspired to return to Rome to face persecution, thereby changing history! Visit the ancient church and catacombs of San Sebastiano fuori le mura, dedicated to St. Sebastian. Your guide will also stop at the famous Catacombs of Callixtus. These expansive underground burial tunnels span nearly 12 miles of underground tunnels and hold the tombs of 16 early Christian Popes, and more than half a million early Christians. Some of the earliest examples of Christian religious art can be found inside as well.
Among the many fascinating landmarks and pieces of Roman past, you'll also get the chance to see one of Rome's best-preserved arenas – the Circus Maxentius. Built by Emperor Maxentius in the early 4th century AD shortly before his defeat under Constantine. See the remains of the neighboring Villa Maxentius, the emperor's home, and family mausoleum.
This bike exploration covers 4 miles of ancient Appia Antica and thousands of years of history and ruins. This is the perfect escape out of the busy city and into the captivating past and beautiful Roman countryside!
BOOK NOW
---
Ebike Rental

Baths of Caracalla

Porta San Sebastiano

Villa di Massenzio

Temple of Romulus

Appian Way and Park

Villa dei Quintilii

Fully guided experience
BOOK NOW
---
Offered in: English, French, Spanish, Portuguese, and Italian. Please specify under "Additional notes" if you wish to book the tour in a language other than English.

This visit doesn't include guided tours through the catacombs so we recommend visiting them on your own after the tour!
Infant seats are available for our younger guests, please let us know to reserve the proper E-Bike for you.
This private tour is aimed to go at your own pace. Electric bikes do assist in pedaling but we still recommend moderate physical fitness for guests wishing to bike the Appian Way.
Children are welcome on this family-friendly tour! Please let us know the ages of your party members so we can accommodate them with proper bikes.
BOOK NOW
---
LivTours' group size of max 6 participants is and always has been based on sustainable travel, and we are proud to be at the forefront of change and innovation in the industry.  LivTours is committed to providing travelers with truly sustainable tours with the lowest possible environmental impact, all while supporting the local industries and people of each unique destination. To learn more about how you can actively support sustainable tourism  and how LivTours is contributing, click here.
BOOK NOW
---
When you book a LivTours Private Tour or Experience, you are guaranteed a dedicated, expert guide that allows you the flexibility to start your tour at a time which is convenient for you, making planning easy. Our private tours ensure that you will get a tailored experience to meet all your needs so we go at your pace, perfect for families with younger children, elderly, or individuals with accessibility needs. Please be advised that all private tours begin at a base price starting at two people*. Prices are inclusive of entry tickets where applicable. *Some Ferrari private experiences are inclusive of one person only.
BOOK NOW
---
Make your day even more unique and comfortable by upgrading your tour with a customizable LivTours optional add on!
One Way Pick-Up Transfer Service
85 €
147.90 A$
79.05 £
100.30 $
BOOK NOW
---
The kids loved it!
"We had the best morning with just our family of 4 and our fantastic guide, John. We rode along the Via Appia and stopped to explore different archaeological sites. John was very knowledgeable and alot of fun. The e-bikes make it an easy ride, even for my 12 year old daughter. We will recommend this tour to everyone as its a great way to get out of the crowds and enjoy the countryside while learning a ton about Roman history. It's fantastic for families!"
Holly - USA
---
Visiting the ancient Appian Way
"The weather was perfect as was our guide Rachel: enthusiastic, flexible, fun and was able to give a really interesting perspective on life in Rome. I can't imagine cycling in Rome without a guide to help you navigate the crazy traffic but once we got out onto the ancient Appian way, it really was special. The bikes are electric so you don't do so much work and it was nice to be able to stop and take pictures wherever you wanted. Strongly recommend this tour!"
Daniela - USA
---
BOOK NOW
---
By selecting Choose Dates Later / Buy as Gift at booking, any tour can be purchased without fixed dates. This is the perfect option if you want to purchase your tour as a gift for a loved one, or if you are in the pre-planning phase of your vacation. After booking, you will receive a Travel Voucher Code and full instructions on how to schedule your tours when ready. Once your travel plans are confirmed, you can easily use the Travel Voucher Code on the LivTours website to formally schedule your tours. You can find out more here.
BOOK NOW