Private Bicycle Tour of Barcelona with Cava Tasting
---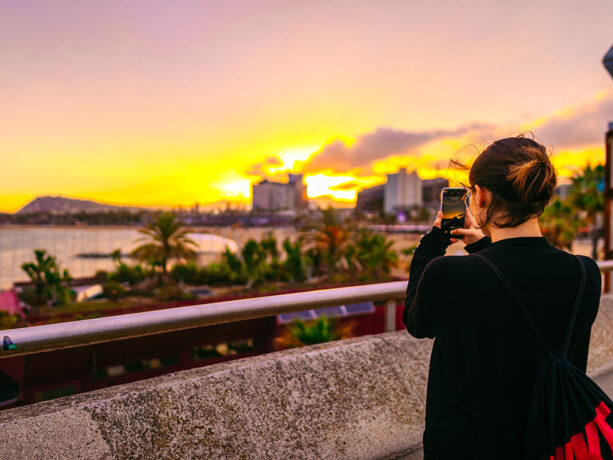 ---
LivTours Private Bicycle Tour of Barcelona is a wonderful way to see the city. This tour takes you through the charming medieval Born neighborhood, the stunning Arc de Triomf,  Ciutadella Park (former fairgrounds from the 1888 Universal Exposition), and then on to admire the 20th-century urban changes established by the city for the 1992 Summer Olympic Games. You will glide past the elegant yacht-filled Inner Harbor, admire the Olympic Port set on the shores of the Meditteranean Sea, and enjoy cruising along the city's three-mile-long boardwalk!
Barcelona is a very bikeable city and exploring on two wheels allows you to cover so much more in a short time. Set in the evening when the city starts to unwind from its workday and your private guide leads you on an adventure that takes you from the Middle Ages to the 21st Century! On this luxury private tour, you will stop for a glass of cava with your local guide while soaking in the views out over the Mediterranean while the sun sets over the city.
BOOK NOW
---
Explore Barcelona's highlights on two wheels and the breeze in your hair

Glide through time and neighborhoods to the shores of the Mediterranean

Savor a glass of Spain's delicious sparkling wine - cava - while admiring the sea

Enjoy your local guide's lively explanations and hear stories of the cities history
BOOK NOW
Exclusive private Tours and Experiences. Also offered in Spanish, French, Portuguese, Swedish and Russian
Our prices always include tickets and reservations fees (no waiting in lines!)
Our tour guides and staff are selected experts and speak perfect English
Easy to book and prepay your tours with our secure payment system
Eco-sustainable tourism, designed to respect and support local culture, art and traditions
---
LivTours Private Bicycle Tour of Barcelona with Cava starts in front of the palace-like main post office of Barcelona. Before saddling up in a nearby bike shop, your private guide will take you inside to admire the stunning stained glass ceiling of this 1920s building.
Once you are all set on your bike, your private local guide will ride with you a short distance to see a Roy Lichtenstein sculpture and a large golden smiling lobster of Miquel Barcelo before exploring the glamorous Inner Harbor with all the high-end yachts. As you glide past the Inner Harbor, your guide will stop to share with you the amazing views and the amusing anecdotes behind a harbor created in the 1700s. You will ride towards the end of the Barceloneta neighborhood where it meets the sea where you will stop to savor a glass of ice-cold cava, Spain's sparkling white wine, before continuing on your panoramic tour.
Riding along the boardwalk with the wind in your hair and the Mediterranean at your side, your guide will take you to explore the Olympic Port and Village. You will gain an understanding of the massive urban changes the city completed for the '92 Olympics and see why Barcelona is considered a global forerunner in urban planning. Formerly the city's main industrial area, it is now filled with parks, modern housing, restaurants, outstanding beaches with pristine waters.
After exploring the Olympic Port and Village your private guide will take you along one of the most peaceful tree-lined streets in the city to discover the wonders of the Parc de la Ciutadella. This elegant area was once the fairgrounds for the 1888 Universal Exhibition and is now a much-used green space in the heart of the city. As you ride through the lush park, you will make your way with your private guide to the majestic Arc de Triomf built in the early 1880s as the main entranceway to the 1888 Universal Exposition. Nowadays this area is full of locals rollerblading through obstacle courses, street performers, and locals enjoying the start of their evening.
The impressive Mercat del Born – built in the 1860s, was the largest covered market in Europe until the 1970s. Serving as the wholesale fruit and vegetable market for the city. Slated to become the central library for the city, plans were scuppered when they discovered a world of ruins, some dating back to Roman times underneath it. Built on top of ruins from the extensive damage caused during the War of Succession, this space serves as a cultural center and museum.
The luxury of having a private tour is not to be rushed and delve deeper into the areas that interest you the most. Your guide will make sure you have plenty of time to take photos, ask questions and if there is a particular area that interests you more than others, do not hesitate to let them know!
BOOK NOW
---
Bike rental

Barcelona beach

Olympic Village

A glass of Spanish Cava

Mercat del Born

Parc de la Ciutadella

Arc de Triomf

Fully guided experience
BOOK NOW
---
Comfortable clothing is recommended, along with a light jacket or sweater.
Sunglasses, sunscreen, and water are also advisable for a comfortable tour.
BOOK NOW
---
LivTours' group size of max 6 participants is and always has been based on sustainable travel, and we are proud to be at the forefront of change and innovation in the industry.  LivTours is committed to providing travelers with truly sustainable tours with the lowest possible environmental impact, all while supporting the local industries and people of each unique destination. To learn more about how you can actively support sustainable tourism  and how LivTours is contributing, click here.
BOOK NOW
---
When you book a LivTours Private Tour or Experience, you are guaranteed a dedicated, expert guide that allows you the flexibility to start your tour at a time which is convenient for you, making planning easy. Our private tours ensure that you will get a tailored experience to meet all your needs so we go at your pace, perfect for families with younger children, elderly, or individuals with accessibility needs. Please be advised that all private tours begin at a base price starting at two people*. Prices are inclusive of entry tickets where applicable. *Some Ferrari private experiences are inclusive of one person only.
BOOK NOW
---
Make your day even more unique and comfortable by upgrading your tour with a customizable LivTours optional add on!
110 €
191.40 A$
102.30 £
129.80 $
BOOK NOW
---
Really great bike tour
"My brothers and I decided to book this bike tour of Barcelona and we were glad we did! Getting around Barcelona by bike isn't all that difficult and you can certianly see much more of the city by bike than if you were walking. We really had fun with the cava tasting too. Our guide was a young local guy and he was great about molding the tour around our requests. We had a great time and recommend this tour to everyone!"
Danny - USA
---
Fun bike tour in Barcelona
"My partner and I thoroughly enjoyed this bicycle tour in Barcelona. The guide, Jorge, was very knowledgeable and entertaining. He set a good pace for the tour and we were able to see most of the major highlights in a relaxed and stress-less way. The cava tasting was fun too. This tour was one of the best times we had in Barcelona."
Lesley - Netherlands
---
Great family experience
"LivSpain's bicycle tour of the highlights of Barcelona was a great family experience! Our teenage kids were so much happier seeing the city on bikes rather than trudging around by foot. Our guide was Richard and he made the tour even more fun for all of us. He engaged the kids right from the get-go and shared great stories with us so that we could really appreciate all of the places we saw. He was particularly knowledgeable about Gaudi and gave us wonderful background information so that when we saw his various works, we could relate so much better. We highly recommend this tour, especially for families."
Katie - USA
---
BOOK NOW
---
By selecting Choose Dates Later / Buy as Gift at booking, any tour can be purchased without fixed dates. This is the perfect option if you want to purchase your tour as a gift for a loved one, or if you are in the pre-planning phase of your vacation. After booking, you will receive a Travel Voucher Code and full instructions on how to schedule your tours when ready. Once your travel plans are confirmed, you can easily use the Travel Voucher Code on the LivTours website to formally schedule your tours. You can find out more here.
BOOK NOW