Orvieto and Civita di Bagnoregio Tour | Private Day trip from Rome
---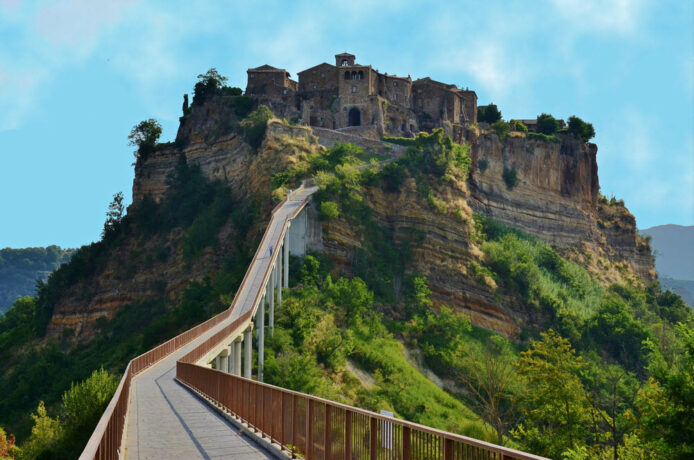 ---
LivTours Day Trip to Orvieto and Civita di Bagnoregio Tour offers a wonderful opportunity to escape the big city of Rome and see the famous Italian countryside. This stress-free tour includes pickup and dropoff at your hotel and an English-speaking professional Chauffeur for the entire day. They will share with you stories and some history along the way as you make your way from Lazio to the hilly central region of Umbria.  You can easily upgrade your tour experience by adding a private guide who will help you dive deeper into the history and local traditions of the sites and landmarks you see throughout the day. Explore the striking hilltop town of Orvieto.
See its renowned cathedral, or Duomo, and visit local shops to admire their traditional and colorful ceramics. Go underground to see Orvieto's famous Etruscan tunnels and caves. Have lunch at a local Osteria where you will be able to taste this region's rich culinary specialties and wines. Visit the absolutely stunning ancient town of Civita di Bagnoregio, accessible only by footbridge! Enjoy this stress-free journey into the heart of Italy.
If you would like to dive a bit further into the history and culture of  the area, upgrade your tour by choosing a private tour guide to accompany you throughout the day at booking. They will fill your walks with history and anecdotes, accompany you to lunch, and facilitate visiting monuments.
BOOK NOW
---
Take a day trip to Orvieto and Civita di Bagnoregio with hotel pickup and dropoff.

Enjoy the luxury of an English-speaking private Chauffeur for a full 8 hour day.

Stop for lunch and taste the famous local cuisine and fresh wines of Umbria.

Upgrade your experience by adding an expert guide to accompany you the entire day.

See the exquisite Duomo, the underground caves, and a 2,500 year old Etruscan town.
BOOK NOW
Exclusive private Tours and Experiences. Also offered in Spanish, French, Portuguese, Swedish and Russian
Our prices always include tickets and reservations fees (no waiting in lines!)
Our tour guides and staff are selected experts and speak perfect English
Easy to book and prepay your tours with our secure payment system
Eco-sustainable tourism, designed to respect and support local culture, art and traditions
---
LivTours' Orvieto Tour begins with pickup at your hotel in Rome.  Your English-speaking Chauffeur will be at your disposal for the entire 8-hour day. Watch the busy city transition into the tranquil countryside from the comfort of your private car. Your driver will point out landmarks along the way and share with you helpful tips and stories about this wonderful area. If you are curious to learn more about the sites and history behind the incredible places you will visit, it's easy to upgrade by adding a private guide to accompany you during your day trip. Our guides are knowledgeable and enthusiastic about sharing their region.
As you approach Orvieto, you'll be struck by the mere sight of it: practically timeless and perched on top of a high stone plateau. Visit the breathtaking Duomo in the heart of the city. Since the 13th century, this beautiful symbol of Orvieto has stood with its ornately decorated exterior completed by sparkling mosaics, Rose Window, and intricately carved reliefs.  Inside you'll be mesmerized by its frescoes and the Baroque statues. After exploring above ground, tour 3,000 years worth of history in Orvieto's complex system of underground tunnels and caves.
Discover Orvieto's charming streets by foot. Admire the city's traditional, colorfully painted ceramics. Pause for lunch and taste the delicious culinary specialties of this area like truffles, local cheeses, salumi, freshly made pasta, and local wines like Orvieto Classico. It's easy to understand why so many Foodies travel to Orvieto and Umbria specifically!
Near the border of Lazio and Umbria sits one of the most remarkable sites in all of Italy, the 2,500 year old Etruscan town Civita di Bagnoregio. This sleepy town sits high above a canyon like an island in the air. Cross the footbridge and take incredible pictures to share with friends and family back home.
Your day trip finishes back at your hotel in time to enjoy the evening in Rome. This is an unforgettable private tour that ensures you'll get the absolute best out of your time in this historic region!
If you would like to dive a bit further into the history and culture of  the area, upgrade your tour by choosing a private tour guide to accompany you throughout the day at booking. They will fill your walks with history and anecdotes, accompany you to lunch, and facilitate visiting monuments.
BOOK NOW
---
Full day English speaking Chauffuer

Free time to roam and explore Orvieto

Tour of the Underground of Orvieto

Lunch at local Agriturismo

Tickets to Civita di Bagnoregio

Free time to explore Civita

Tour guide on board (optional)
BOOK NOW
---
This is a private tour and family friendly.
Please be aware that the Duomo maintains strict dress code regulations, shoulders and knees must be covered in order to enter.
Please let us know if you have children with you who may be required by Italian law to have a car seat.
This private tour is available in English, French, Spanish, Portuguese, and Italian.  Let us know when booking if you'd like this tour in a language other than English.
Some sites are not wheelchair accessible.
Lunch is included
BOOK NOW
---
LivTours' group size of max 6 participants is and always has been based on sustainable travel, and we are proud to be at the forefront of change and innovation in the industry.  LivTours is committed to providing travelers with truly sustainable tours with the lowest possible environmental impact, all while supporting the local industries and people of each unique destination. To learn more about how you can actively support sustainable tourism  and how LivTours is contributing, click here.
BOOK NOW
---
When you book a LivTours Private Tour or Experience, you are guaranteed a dedicated, expert guide that allows you the flexibility to start your tour at a time which is convenient for you, making planning easy. Our private tours ensure that you will get a tailored experience to meet all your needs so we go at your pace, perfect for families with younger children, elderly, or individuals with accessibility needs. Please be advised that all private tours begin at a base price starting at two people*. Prices are inclusive of entry tickets where applicable. *Some Ferrari private experiences are inclusive of one person only.
BOOK NOW
---
Make your day even more unique and comfortable by upgrading your tour with a customizable LivTours optional add on!
BOOK NOW
---
Take a trip outside of Rome
"Although we've been to Italy numerous times, we had never seen Orvieto or the enchanting village of Civita Bagnoregio. Both merit a visit and LivItaly does a great day tour from Rome which we thought was organized and paced very well. The drive up was very comfortable and easy. Our driver spoke English and was very friendly. Walking around Orvieto and visiting the beautiful cathedral is very interesting but the walk up to the tiny, hilltop village of Civita Bagnoregio was a once-in-a-lifetime experience. The Umbria countryside is very lovely and we had the most delicious lunch!! All in all, it was a great day!!"
Tucker - UK
---
BOOK NOW
---
By selecting Choose Dates Later / Buy as Gift at booking, any tour can be purchased without fixed dates. This is the perfect option if you want to purchase your tour as a gift for a loved one, or if you are in the pre-planning phase of your vacation. After booking, you will receive a Travel Voucher Code and full instructions on how to schedule your tours when ready. Once your travel plans are confirmed, you can easily use the Travel Voucher Code on the LivTours website to formally schedule your tours. You can find out more here.
BOOK NOW