Morning Tour of Rome | Semi-Private Early Bird Walking Tour
---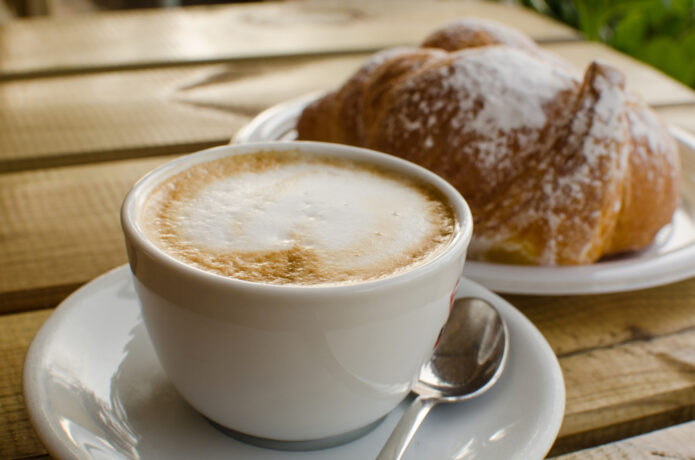 ---
LivTours Morning Tour of Rome rewards early risers with an exploration of the city's sites before the hustle and bustle that comes in the afternoon. Eat a typical Roman breakfast of strong espresso coffee or a warm, frothy cappuccino and a flaky pastry. Your guide is a local expert who will show your small group (maximum 6 people) around the city center's most iconic places. They will share the fascinating stories and anecdotes behind every corner as you go. See the Spanish Steps in the early morning sunlight, before they are lined with tourists.
Take a picture in front of the magnificent Trevi Fountain while the afternoon crowds are still asleep. Learn about Rome's incredible architectural marvel, the Pantheon, and admire the awe-inspiring dome inside. Learn about the style and artists behind the Baroque fountains and churches in Piazza Navona. Wander the city's labyrinth of narrow, cobblestone streets and find the hidden treasures along the way. This Sunrise itinerary is perfectly designed to show you the calmer side of this timeless city, without the crowds of tourists!
BOOK NOW
---
Explore Rome's city center and landmarks as the sun rises on this walking tour

Enjoy an intimate touring environment in this semi-private group of max 6 people

See the Spanish Steps, Trevi Fountain, and Pantheon with an English-speaking guide

Start your day with an Italian breakfast of warm cornetto and espresso or cappuccino

Discover the charming cobblestone streets and famous places without the crowds
BOOK NOW
Semi-Private tours and experiences are guaranteed six participants max.
Our prices always include tickets and reservations fees (no waiting in lines!)
Our tour guides and staff are selected experts and speak perfect English
Easy to book and prepay your tours with our secure payment system
Eco-sustainable tourism, designed to respect and support local culture, art and traditions
---
Your LivTours Morning Tour of Rome begins with a fresh cornetto and a warm cappuccino. This early morning start allows you to see some of Rome's most visited highlights while most of the tourists are still asleep! Your semi-private group is kept to 6 people or less in order for you to have a more intimate touring experience with your knowledgeable guide.
Start your day at the Spanish Steps. These 138 steps were designed to span the steep hill between two gorgeous piazzas. At this early hour, you can see them before they become lined with tourists and Romans taking a break. Walk the maze-like stone streets and admire centuries of art and architecture as you wander through this Eternal City.
You will visit one of Rome's most beautiful landmarks, the Pantheon. Once a pagan temple, this structure is a feat of engineering genius that attracts both tourists and students alike. Learn about the centuries of transformation behind this iconic structure. Pass through the massive columns and see the tombs of important people such as the first King of Italy and the Renaissance artist Raphael. Watch as the sunlight crawls inside through the open oculus at the center of its famous dome.
Explore the picturesque Piazza Navona. Its oval shape is a clue to this piazza's original use, a large stadium that once held 30,000 spectators! Today it boasts gorgeous Baroque art and architecture. See the famous Four Rivers Fountain by Bernini, complete with one of Rome's many repurposed ancient Egyptian obelisks. Your guide will describe the complex symbolism as you circle it.
No visit to Rome would be complete without seeing one of the most famous fountains in the world, the Trevi Fountain. Still fed water today by one of the city's ancient aqueducts, this Baroque masterpiece is in reality a celebration of water itself! In the early morning hours, you will have the rare opportunity to visit this iconic fountain without the crowds.
This semi-private Morning Tour is perfect for travelers who want to experience the calmer side of this lively city center and its major sites!
BOOK NOW
---
Walks are rain or shine so we recommend dressing comfortably and bringing rain gear as needed.

Comfortable walking shoes recommended.

Places of worship have strict dress code requirements for entry. All participants are required to have shoulders and knees covered (no tank tops or short dresses) to enter.

Religious sites such as the Pantheon have a dress code for entry. All visitors must have their shoulders and knees covered (no tank tops, no short skirts or dresses).
BOOK NOW
---
LivTours' group size of max 6 participants is and always has been based on sustainable travel, and we are proud to be at the forefront of change and innovation in the industry.  LivTours is committed to providing travelers with truly sustainable tours with the lowest possible environmental impact, all while supporting the local industries and people of each unique destination. To learn more about how you can actively support sustainable tourism  and how LivTours is contributing, click here.
BOOK NOW
---
All LivTours Semi-Private Group Tours are limited to 6 guests per tour guide. Our commitment to maintaining our uniquely tiny group sizes can sometimes be a little tricky, mathematically speaking. For example, we want to ensure that traveling families and friends can tour together so on rare occasions we may add one or two guests in order to not split groups. On that same note, you may also find yourself on tour with less than six people! We thank you for your understanding and flexibility.
BOOK NOW
---
Outstanding tour
"What an outstanding walk and talk throughout Rome (Spanish Steps, Pantheon, Piazza Navona). Veronica was so knowledgeable and warm and patient. I would highly recommend her as your guide! We enjoyed experiencing the city as it woke up. Great tour!"
Teresa - USA
---
A must do!
"This tour is something you should seriously consider doing while in Rome. We did it, and we were really happy we did! Rome is enchanting in the morning: sparkling and fresh, peaceful and enticing. The monuments, the piazzas, the fountains are all perceived differently than during the middle of the day in the height of the hussle and bussle. Our group was composed of another family of 3, ourselves and our guide, Kristin, who was the perfect guide and just the nicest person you could imagine. Both my wife and I felt "closer" and more in tune to the history and art of this fascinating city after having this special morning experience and we can guarantee that you will enjoy it as well!"
GeorgeT. - USA
---
Magical Roman experience
"We had heard from friends that this was the best walking tour to take in Rome. It was a little bit difficult to get up and going early (because of jet lag) but we were SO glad we made the effort. The experience was unforgettable. To see Rome without all of the confusion and traffic, to watch as the sun warms up the marble monuments, to stroll down the little cobblestone alleys with no one around....it was magical! Our friends were right in recommending this tour and we will do the same to everyone we know."
Jenny - USA
---
BOOK NOW
---
By selecting Choose Dates Later / Buy as Gift at booking, any tour can be purchased without fixed dates. This is the perfect option if you want to purchase your tour as a gift for a loved one, or if you are in the pre-planning phase of your vacation. After booking, you will receive a Travel Voucher Code and full instructions on how to schedule your tours when ready. Once your travel plans are confirmed, you can easily use the Travel Voucher Code on the LivTours website to formally schedule your tours. You can find out more here.
BOOK NOW