Mona Lisa First Viewing | Private Louvre Tour
---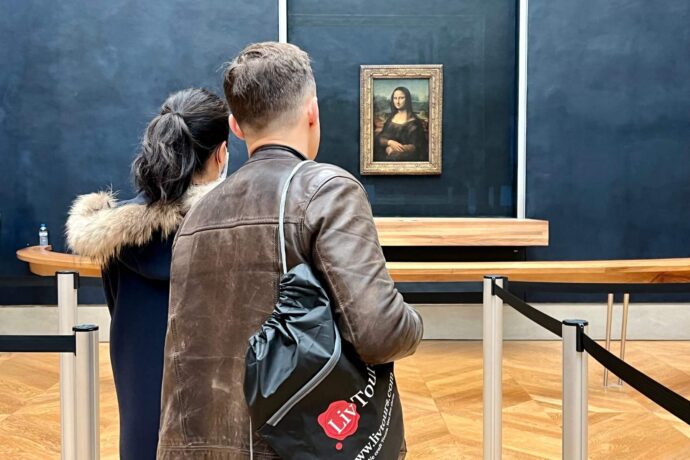 ---
Be the first to enter the Louvre Museum and make a beeline for the Mona Lisa with your expert guide. Normally the most crowded painting in the museum, this is a fantastic opportunity to have a very special private viewing of the most famous portrait in the world, with almost no one else there. Your guide will take you swiftly through the maze of halls and corridors, passing all the other treasures, straight to the Da Vinci corridor and the Mona Lisa. Afterward, you'll then enjoy a guided tour of the magnificent Louvre highlights at a more leisurely pace!
BOOK NOW
---
Have first entry into the Louvre Museum

Enjoy a private viewing of the Mona Lisa by Leonardo Da Vinci

Learn about Da Vinci, the painting and why she's so famous

Hear about the theft of the Mona Lisa - a crime that shook the art world

Enjoy an expertly guided tour of the majestic Louvre highlights
BOOK NOW
Exclusive private Tours and Experiences. Also offered in Spanish, French, Portuguese, Swedish and Russian
Our prices always include tickets and reservations fees (no waiting in lines!)
Our tour guides and staff are selected experts and speak perfect English
Easy to book and prepay your tours with our secure payment system
Eco-sustainable tourism, designed to respect and support local culture, art and traditions
---
This special early morning private tour will enable you to view Leonardo Da Vinci's world famous masterpiece, the Mona Lisa without the crowds. On entering the Louvre, your guide will lead you through the maze of halls and corridors straight to the Mona Lisa herself. You'll pass by many exquisite treasures – but we promise you'll see them properly later! 
The Louvre was formerly the palace of the Kings and Queens of France, and today is the most visited museum in the world. With over 8 miles of galleries, 10,000 years of history and some 550,000 works of art, "only" 35,000 of which are displayed at any one time, it is essential you have a guide to help you navigate this confusing labyrinth! 
Without the usual crowds jostling for prime position, you'll be able to view the Mona Lisa in a relaxed and peaceful way and hear her story, from the enigmatic smile, to the astonishing and shocking theft that took place in 1911. You'll also hear the life story of Da Vinci himself, that god-like figure of the Renaissance who became a favorite of the French court. 
As other visitors begin to enter, you'll quietly exit to enjoy a private tour of the other highlights of the Louvre, that you had to rush past earlier! You'll see all the major highlights from the Italian Renaissance, and the magnificent Greco-Roman antiquities such as the Venus de Milo and the Winged Victory of Samothrace. The architecture and gilt edged, frescoed interiors of the Louvre also contribute to its sheer magnificence. Your tour ends inside the museum, to enable you to continue exploring at your own pace. You are also welcome to exit the Louvre with your guide, who will be delighted to help you plan the rest of your morning in Paris.
BOOK NOW
---
Entrance tickets to the Louvre Museum

Expert English-speaking private guide

Early viewing of the Mona Lisa, without the crowds

Guided tour of the Louvre Museum highlights

The Da Vinci corridor

Highlights of the Italian Renaissance

Venus de Milo

Winged Victory

The Coronation of Napoleon

The Jewellery Room
BOOK NOW
---
LivTours' group size of max 6 participants is and always has been based on sustainable travel, and we are proud to be at the forefront of change and innovation in the industry.  LivTours is committed to providing travelers with truly sustainable tours with the lowest possible environmental impact, all while supporting the local industries and people of each unique destination. To learn more about how you can actively support sustainable tourism  and how LivTours is contributing, click here.
BOOK NOW
---
When you book a LivTours Private Tour or Experience, you are guaranteed a dedicated, expert guide that allows you the flexibility to start your tour at a time which is convenient for you, making planning easy. Our private tours ensure that you will get a tailored experience to meet all your needs so we go at your pace, perfect for families with younger children, elderly, or individuals with accessibility needs. Please be advised that all private tours begin at a base price starting at two people*. Prices are inclusive of entry tickets where applicable. *Some Ferrari private experiences are inclusive of one person only.
BOOK NOW
---
Make your day even more unique and comfortable by upgrading your tour with a customizable LivTours optional add on!
One Way Transfer from Hotel
90 €
156.60 A$
83.70 £
106.20 $
BOOK NOW
---
Try the LivTalks for a new experience.
"LivTours offers live talks about a multitude of topics with its fantastic guides. It's different than a virtual tour and feels like a fun conversation with a group of friends as it is led by Angelo, the founder of the company which makes it very easy going and engaging. This is a new experience I highly recommend especially for the people who want to learn more about cultural topics than regular virtual tours."
Leo - France
---
Private tour of Louvre with Josephine
"Josephine's private tour of the Louvre was amazing because we saw the Mona Lisa before the crowds! She took great care to respond to our questions and showed us art we were interested in."
Joshua - USA
---
Louvre private tour
"We had an amazing tour thank you to Vivienne because of her experience and enthusiasm. I highly recommend this tour."
Scott - Australia
---
BOOK NOW
---
By selecting Choose Dates Later / Buy as Gift at booking, any tour can be purchased without fixed dates. This is the perfect option if you want to purchase your tour as a gift for a loved one, or if you are in the pre-planning phase of your vacation. After booking, you will receive a Travel Voucher Code and full instructions on how to schedule your tours when ready. Once your travel plans are confirmed, you can easily use the Travel Voucher Code on the LivTours website to formally schedule your tours. You can find out more here.
BOOK NOW