Private Modena Walking Tour
---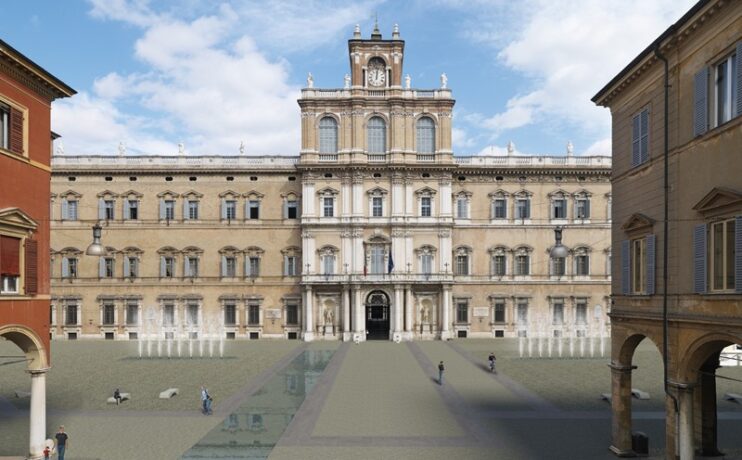 ---
LivTours' Private Modena Walking Tour is a fascinating journey through one of Italy's most beautiful cities, Modena! From its remarkably well-preserved Medieval center to its sleek and modern sports cars – this walk is ideal for curious travelers! This private tour is led by an expert guide who will share with you the incredible history and culture of Modena in English, French, German, or Italian – your choice! See the wonderful Piazza Grande with its famous 12th century cathedral and the spectacular Gothic bell tower of Ghirlandina. Marvel at the grand Ducal Palace in all its Baroque glory. Stop at the ancient church Santa Maria della Pomposa and see the tomb of Ludovico Antonio Muratori.  Stroll through the lovely porticoes on the Corso Canal Grande and get a feel for daily life here. Discover ancient Roman cobblestones among many other priceless archaeological treasures at the Novi Sad Park. Stir your appetite in the Art Nouveau decorated Albinelli Markets as you observe local wines, produce, and cheeses. Get recommendations along the way from your passionate guide on where to visit, eat, and explore next!
BOOK NOW
---
Discover the charming hometown of Luciano Pavarotti and Enzo Ferrari

Explore the lovely streets of Modena with a local expert who speaks your language

Visit the highlights of the city like the Duomo, GhirlandinaTower, and Ducal Palace

Learn about the regional gastronomic traditions like Balsamic vinegar and Parmesan

Wander through the Medieval city center and spot Modena's famous sports cars
BOOK NOW
Exclusive private Tours and Experiences. Also offered in Spanish, French, Portuguese, Swedish and Russian
Our prices always include tickets and reservations fees (no waiting in lines!)
Our tour guides and staff are selected experts and speak perfect English
Easy to book and prepay your tours with our secure payment system
Eco-sustainable tourism, designed to respect and support local culture, art and traditions
---
Your LivTours' Modena Walking Tour begins in Piazza Roma where your private guide will show you the magnificent Ducal Palace. The seat of the Este court between the 17th and 19th centuries, this historical building's exterior is a perfect example of Baroque style. As you wander the charming streets of Modena, your guide will point out the city's many lovely Renaissance palaces.
You will see the ancient church of Santa Maria della Pomposa. First built in the 12th century, this unassuming building has the tomb of Ludovico Antonio Muratori, a famous Modenese historian, and other wonderful works of religious art.  Nearby is the outdoor archaeological park Novi Sad where you can walk on an actual ancient Roman road and learn about the 2,000 year old artifacts and Roman houses you will observe here.
Next you will reach Piazza Grande, a grand stone square recognized by UNESCO as a World Heritage Site for its many important cultural and historical monuments and buildings.  Among them is Modena's picturesque Duomo, or cathedral. With its brilliant white stone façade and medieval sculptures, the Duomo di Modena is considered a masterpiece of Romanesque architecture. Pass between the protective lion statues at the entrance and go inside where your guide will show you the many intricately carved columns and awe inspiring religious artwork made from marble and terracotta. Adjacent to the Duomo you can admire the restored Ghirlandina bell tower. This 12th century bell tower's name means "little garland" and refers to the marble railings that decorate its soaring steeple. Learn about the remarkable history of the square's Town Hall with its large clock tower and gorgeous porticoes.
Next we will visit the Albinelli covered markets. Famous for its Art Nouveau style and its "Fruit Bearer" sculpture by Graziosi. Experience daily life in Modena as you wander the food stands and learn about this region's rich food traditions. Learn about the city's most famous residents such as Enzo Ferrari, whose sports car traditions continue to be part of this wonderful city's identity today. This tour will be unforgettable for art-lovers, car-lovers, and foodies!
BOOK NOW
---
Piazza Roma

Piazza Grande

Duomo di Modena

Ghirlandina bell tower

Grand Ducal Palace

Santa Maria della Pomposa

Tomb of Ludovico Antonio Muratori

Corso Canal Grand

Novi Sad Park

Albinelli Markets
BOOK NOW
---
This tour is available in English, French, Italian, or German. Please let us know under "Additional Notes"  if you prefer a different language other than English.
Holy sites such as churches have dress code requirements for both men and women for entry.  Tank tops, short dresses, and mini-skirts are not permitted.  Shorts or dresses must be knee-length.  Shoulders must be covered (a scarf wrap is allowed).
Comfortable shoes are advisable for making your walk as comfy as possible!
BOOK NOW
---
LivTours' group size of max 6 participants is and always has been based on sustainable travel, and we are proud to be at the forefront of change and innovation in the industry.  LivTours is committed to providing travelers with truly sustainable tours with the lowest possible environmental impact, all while supporting the local industries and people of each unique destination. To learn more about how you can actively support sustainable tourism  and how LivTours is contributing, click here.
BOOK NOW
---
When you book a LivTours Private Tour or Experience, you are guaranteed a dedicated, expert guide that allows you the flexibility to start your tour at a time which is convenient for you, making planning easy. Our private tours ensure that you will get a tailored experience to meet all your needs so we go at your pace, perfect for families with younger children, elderly, or individuals with accessibility needs. Please be advised that all private tours begin at a base price starting at two people*. Prices are inclusive of entry tickets where applicable. *Some Ferrari private experiences are inclusive of one person only.
BOOK NOW
---
Very interesting tour in Modena
"We found ourselves in Modena for business so decided to take a tour to be able to learn about the city. Our guide was very interesting and knowledgeable and we were pleasantly surprised about all the history and interesting sites there are to see here. We were very happy we chose LivItaly's tour!"
Brian - USA
---
BOOK NOW
---
By selecting Choose Dates Later / Buy as Gift at booking, any tour can be purchased without fixed dates. This is the perfect option if you want to purchase your tour as a gift for a loved one, or if you are in the pre-planning phase of your vacation. After booking, you will receive a Travel Voucher Code and full instructions on how to schedule your tours when ready. Once your travel plans are confirmed, you can easily use the Travel Voucher Code on the LivTours website to formally schedule your tours. You can find out more here.
BOOK NOW