Milan Last Supper Tour with City Highlights & Duomo | Semi-Private
---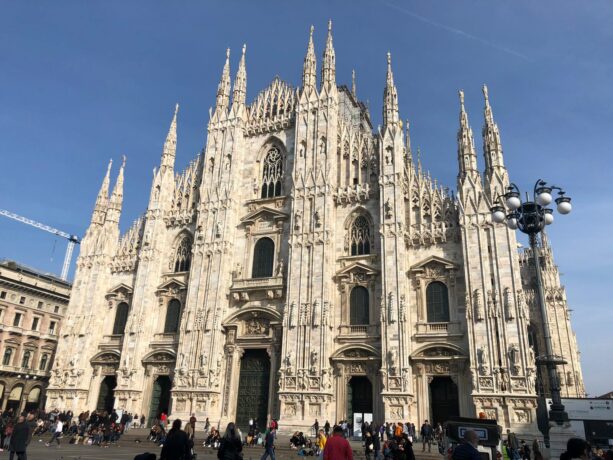 ---
LivTours' Milan Last Supper Tour with City Highlights & Duomo is a comprehensive half day tour of this vibrant city and an exclusive opportunity to see one of the most exclusive paintings in the world – Leonardo da Vinci's Last Supper.  With your expert, local guide and your group of no more than six will visit the Convent of Santa Maria delle Grazie, a 15th Century church and convent, which houses da Vinci's The Last Supper.  You will enjoy LivTours exclusive access allowing you to view this painting in a small group of up to 30 people, making it possible for you to get up close to one of the most prized works of the early Italian Renaissance.
Beginning with this highlight, your tour only gets better from there as your expert local guide unveils the history of Milan by visiting the most important highlights, including San Maurizio al Monastero Maggiore and the financial district, as well as some lesser-known corners and ends with a treat at a historic pastry shop in front of the Duomo of Milan.
BOOK NOW
---
Enjoy a semi-private comprehensive walking tour with an expert local guide

Admire Leonardo da Vinci's Last Supper in an exclusive limited-access viewing

Tour San Maurizio al Monastero Maggiore, known as the "Sistine Chapel of Milan"

See Bramante's fascinating and original optical illusions at San Satiro Church

Savor a snack at the most well known 200 year old historic bakeries of Milan
BOOK NOW
Semi-Private tours and experiences are guaranteed six participants max.
Our prices always include tickets and reservations fees (no waiting in lines!)
Our tour guides and staff are selected experts and speak perfect English
Easy to book and prepay your tours with our secure payment system
Eco-sustainable tourism, designed to respect and support local culture, art and traditions
---
Your LivTours Milan Last Supper Tour with City Highlights & Duomo begins in front of Santa Maria delle Grazie, a UNESCO World Heritage Site whose ceilings host frescoes and timeless religious artwork.  Adjacent to Santa Maria delle Grazie is the Gothic style convent from the 1400s which houses one of the most revered paintings of the Italian Renaissance – Leonardo da Vinci's Last Supper.
The Last Supper is known for its intricate detail and masterful precision and contains numerous layers of symbolism from religious  to mathematical and some say it is even known to hold a musical score in its composition. On your semi-private tour, you will have access to the viewing room of the Last Supper with only a handful of other tourists, giving you ample space to take in this awe-inspiring beauty.
After you have had time to absorb the beauty of The Last Supper, your local guide will continue the tour by visiting the San Maurizio al Monastero Maggiore to admire the spectacular 16th century frescoes across the ceiling and walls. Painted by Bernardino Luini, Antonio Campi and Simone Peterzano, your guide will tell you about the life and death of Santa Caterina, whose stories inspired one of the chapels within the church and its gorgeous Luini frescoes.  Often referred to as the Sistine Chapel of the north, this is a must see for art lovers.
Now it is time to partake in the typical Italian mid-morning coffee and where better than a cafe from nearly 200 years ago!  Get ready to have a Milanese coffee and learn how the people of Milan like to drink their coffee – standing up and on the go. You will discover what makes this coffee unlike others you have had in Italy!
Then it is off to the Piazza degli Affari, the financial district of this industrious city. The economic pulse of the city and country, Milan's fame for being the financial center of the country gives the city its eclectic mix of fashion, finance and history. Learn about its beginnings that date back to Roman times when Emperor Augustus' was ruler of the Roman Empire.  Without a doubt you will experience a bit of shock as you get catapulted back into the present with Maurizio Cattelan's controversial public sculpture called L.O.V.E. and also known to the Milanese as 'Il Dito' (the middle finger).
Your LivTours tour guide will lead you through the bustling streets of Milan to see some amazing visual effects in the church of San Satiro. Discover how the same architect who designed St Peter's Basilica in Rome, Donato Bramante, took a big risk that paid off by using new techniques in painting in this incredible interior. This church is the first time this technique was known to have been used in the world.
Your Milan Walking Tour ends just in front of one of the most recognized landmarks of Milan, the elegant cathedral. Taking nearly 600 years to finish, the Duomo of Milan, is a Roman Catholic church and is the perfect example of Italian Gothic architecture.  Set in the heart of the city center of Milan known as the city of Mediolanum during the Roman Empire. Your guide will tell you some of the highlights to see within the Duomo if you choose to later visit it on your own.
This semi-private Milan Walking Tour is a perfect comprehensive tour of this vibrant northern Italian city!
BOOK NOW
---
Guided tour through Milans highlights

Leonardo da Vinci's Last Supper tickets

San Maurizio al Monastero Maggiore

Complimentary coffee

Piazza degli Affari

L.O.V.E. sculpture

San Satiro

Duomo of Milan (from outside)
BOOK NOW
---
LivTours' group size of max 6 participants is and always has been based on sustainable travel and especially in these new times, we are proud to be at the forefront of the innovation, changes, and challenges that are presented to us during this post-pandemic time. At the moment, due to COVID-19 safety regulations, the museums and sites visited on this tour require wearing a mask while on the site. Please bring one for every participant over 6 years of age.

Due to these unprecedented times and ongoing safety and regulation changes, some sites may have limited accessibility if the venue can not guarantee social distancing which may lead to unforeseen tour modifications. Thank you for your understanding.
BOOK NOW
---
All LivTours Semi-Private Group Tours are limited to 6 guests per tour guide. Our commitment to maintaining our uniquely tiny group sizes can sometimes be a little tricky, mathematically speaking. For example, we want to ensure that traveling families and friends can tour together so on rare occasions we may add one or two guests in order to not split groups. On that same note, you may also find yourself on tour with less than six people! We thank you for your understanding and flexibility.
BOOK NOW
---
Covid-19
All of our tours and experiences are in compliance with the latest local Covid-19 safety protocols. More information can be found in the voucher you will receive upon booking your tour/s.
---
BOOK NOW
---
Walking tour in Milan
"We thoroughly enjoyed our walking tour in Milan which we booked through Livitaly. We started with a visit to see The Last Supper. It is awesome on it's own but our guide helped us appreciate subtleties in the painting even more, When we left there, we walked through the old part of the city where we stopped at this wonderful pastry shop before continuing on. Our guide was friendly and knowledgeable and took us into some truly special smaller churches on route to seeing the main Duomo from the outside to conclude our tour. We learned about the history of the Duomo and then visited the inside on our own. We really had a great time on this tour."
Eileen W. - UK
---
The best of Milan
"Maria was an excellent guide with a demonstrated passion for the history and significance of this city and its art. She set the pace for our walking tour which allowed us to really experience the city without feeling rushed or stressed. Having her expertise to guide us while seeing the Last Supper was awesome. Highly recommended! "
Andy - USA
---
When in Milan..
"If you are planning to book the walking tour in Milan, be sure to request Larissa. She's amazing! She personalized the tour and made sure we saw all parts of Milan in a unique and quite unforgettable way. We went away with a new respect and appreciation for this important city."
LindaJean - Australia
---
BOOK NOW
---
By selecting BUY AS A GIFT, you can purchase this tour as a gift for someone you care for. You will receive a gift card voucher that then can be redeemed by the person/people who will enjoy the tour.Date and Time are values that cannot be selected at the moment. You will in fact receive a gift card voucher with instructions on how to redeem the tour and then select date and time.You can create a shopping cart with multiple tours as gift cards. You may not compose a shopping cart of gift cards and actual tours with date and time.This option can also be used as an opportunity to book a tour open-dated for yourself, in case you are still in the pre-planning phase of your trip.For more information please read here.
BOOK NOW