Private Milan Last Supper Tour with Milan Highlights & Duomo
---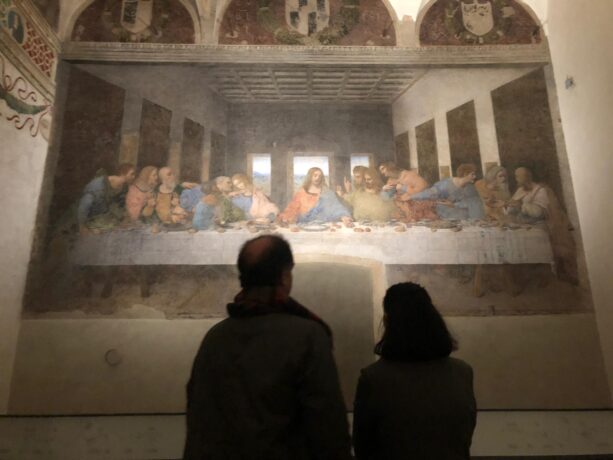 ---
LivTours' Last Supper Tour is the perfect showcase of this urbane city; from fashion to finance to fine art with a bit of history in the mix!  This private tour is packed with thousands of years of history, highlights Milan's most admired masterpieces, such as Leonardo da Vinci's Last Supper, a perfect example of the Italian Renaissance.
Your private Last Supper Tour also includes visits to the Convent of Santa Maria delle Grazie, built in the 15th Century, it houses da Vinci's The Last Supper; San Maurizio al Monastero Maggiore is known as the Sistine Chapel of the north; the Piazza degli Affari the heart of the country's financial district; stop for a typical Milanese coffee at a historic coffee bar; and of course visit Milan's Italian Gothic architectural wonder – the Duomo and its incredible terrace.
BOOK NOW
---
Admire Leonardo da Vinci's Last Supper on this exclusive private tour

Enter San Maurizio al Monastero Maggiore, known as the "Sistine Chapel of Milan"

Explore Bramante's fascinating optical illusions at charming San Satiro Church

Savor a snack and a typical coffee at the most well known historic bakeries of Milan

Revel in the luxury of priority access to the Duomo interior and guided tour

Duomo terrace tickets with elevator access to enjoy at your leisure
BOOK NOW
Exclusive private Tours and Experiences. Also offered in Spanish, French, Portuguese, Swedish and Russian
Our prices always include tickets and reservations fees (no waiting in lines!)
Our tour guides and staff are selected experts and speak perfect English
Easy to book and prepay your tours with our secure payment system
Eco-sustainable tourism, designed to respect and support local culture, art and traditions
---
Your LivTours Last Supper Tour begins at the centrally located UNESCO World Heritage site of Santa Maria delle Grazie where you will meet your expert private guide.  You will dive right in on this private tour by seeing Leonardo da Vinci's masterpiece, The Last Supper, with skip the line tickets and exclusive restricted access.  Your LivTours guide will give you an idea of why this painting has won the art world over and give you a sense of da Vinci's place in the Renaissance. Your LivTours tour will give you direct access to the renowned painting and you will access to the refectory which holds a limited amount of patrons for viewing, so you and a handful of visitors will be privy to exclusive viewing to see the painting close enough to truly experience it in all its glory. This is a once in a lifetime experience which you will keep within your vacation memories for years to come.
Known for its intricate detail and masterful precision, da Vinci's Last Supper captures the expressive moments of Jesus and his disciples during the moment that Christ reveals he will soon be betrayed by one of his own. The great master's geometric composition highlights the central figure of Christ with diagonal positioning of characters which all connect to Christ. Learn how most of the brushstrokes in this painting are not original due to the dry plaster technique that da Vinci chose to use, instead of the fresco technique. You will soon understand why this painting is a revered heirloom into the minds of geniuses of the past.
Your tour begins with one of the most important works of art in Milan, now it is time to get to know Milan. You and your guide will walk through the bustling streets of the city center and make your way over to the San Maurizio al Monastero Maggiore which is home to numerous 16th century frescoes by Bernadino Luini, Antonio Campi and Simone Peterzano. Hear the life and death of Santa Caterina, whose stories inspired one of the chapels within the church and its Luini frescoes. This is no ordinary church – San Maurizio al Monastero Maggiore is often referred to as the Sistine Chapel of the North. A must for art lovers.
Now it is time to live like a local by enjoying an afternoon coffee break, but this will be no ordinary coffee bar.  Your guide will take you to a landmark establishment that has been serving locals coffee for almost 200 years. This elegant coffee bar is decorated with precious green marble floors, while silk fabrics adorn the walls just behind the glass cases filled with typical treats. This is more than just a simple coffee break!
Now that you have had your caffeine fix, it is time to get down to business, literally, your guide accompanies you to the economic pulse of the city – Italy's only stock exchange. Milan, steeped in history, is also no stranger to modern and contemporary art, but one particular piece is the most controversial – Il Dito, known as "the middle finger", by Maurizio Cattelan was a temporary sculpture which soon became a permanent fixture.
Your private tour heads off to see one of the most famous optical illusions, quite popular during the Renaissance, the technique was used to give a sense of depth to paintings. Donato Bramante took this to a whole new level in this small church with very big surprises hidden inside. San Satiro is not only an example of skill and technique in artwork, but can also be classified among the "magic" of the city.
Your Milan Last Supper Tour will end with a guided tour of the most recognized landmarks of Milan: the Duomo. The cathedral which took nearly 600 years to finish – the Duomo of Milan. Dedicated to Santa Maria Nascente, this Roman Catholic church is a perfect example of Italian Gothic architecture, built under Archbishop Antonio da Saluzzo and remains the current seat for the Archbishop of Milan.
You and your private tour guide will skip-the-line and enjoy the majestic interior together. Once complete, your guide will give you an extensive explanation of the Milan Duomo terraces, and escort you to the elevator before saying good bye. Once reaching the top, you will then be free to enjoy the terraces giving a 360 degree absolutely breathtaking panoramic view of Milan. A magical way to end a wonderful day in Milan.
BOOK NOW
---
Guided tour through Milans highlights

Leonardo da Vinci's Last Supper tickets

San Maurizio al Monastero Maggiore

Complimentary coffee

Piazza degli Affari

L.O.V.E. sculpture

San Satiro

Milan Duomo entrance tickets and guided tour

Tickets to enjoy Duomo terraces at your leisure
BOOK NOW
---
Offered in: English, French, Spanish, Portuguese, and Italian. Please specify under "Additional notes" if you wish to book the tour in a language other than English.
BOOK NOW
---
LivTours' group size of max 6 participants is and always has been based on sustainable travel, and we are proud to be at the forefront of change and innovation in the industry.  LivTours is committed to providing travelers with truly sustainable tours with the lowest possible environmental impact, all while supporting the local industries and people of each unique destination. To learn more about how you can actively support sustainable tourism  and how LivTours is contributing, click here.
BOOK NOW
---
When you book a LivTours Private Tour or Experience, you are guaranteed a dedicated, expert guide that allows you the flexibility to start your tour at a time which is convenient for you, making planning easy. Our private tours ensure that you will get a tailored experience to meet all your needs so we go at your pace, perfect for families with younger children, elderly, or individuals with accessibility needs. Please be advised that all private tours begin at a base price starting at two people*. Prices are inclusive of entry tickets where applicable. *Some Ferrari private experiences are inclusive of one person only.
BOOK NOW
---
Make your day even more unique and comfortable by upgrading your tour with a customizable LivTours optional add on!
BOOK NOW
---
Simply wonderful
"Larissa colourfully enlightened us with the deep history of Milan and gave us a new appreciation for this beautiful city. Her depth of knowledge was clearly evident and she went above and beyond to elaborate further on areas we found interesting. We can't thank her enough for the valuable recommendations (food and shopping related!) which helped us ensure we didn't waste anytime during our short trip in Milan. We can't recommend Larissa highly enough!"
Duy
---
Highly recommend!
"We had an exceptionally memorable tour today with Larissa. She was simply outstanding. She was highly knowledgeable, entertaining, personable, humorous, patient….I could on and on about her personality and capabilities. She is a great asset to have on your team. We wish we could have spent more time with her as it was such a pleasure to be in her company. Although our tour started out a bit rocky with regard to our transportation and meeting place, it ended up exceeding our expectations thanks to Larissa. As a result, I would highly recommend your services."
Bernie - USA
---
Incredible Tour
"Larissa was a great guide. Her knowledge of art and Leonardo DeVinci added another dimension to the Last Supper Tour! "
Sean
---
BOOK NOW
---
By selecting Choose Dates Later / Buy as Gift at booking, any tour can be purchased without fixed dates. This is the perfect option if you want to purchase your tour as a gift for a loved one, or if you are in the pre-planning phase of your vacation. After booking, you will receive a Travel Voucher Code and full instructions on how to schedule your tours when ready. Once your travel plans are confirmed, you can easily use the Travel Voucher Code on the LivTours website to formally schedule your tours. You can find out more here.
BOOK NOW