Jewish Ghetto & Trastevere Tour | Semi-Private Experience
---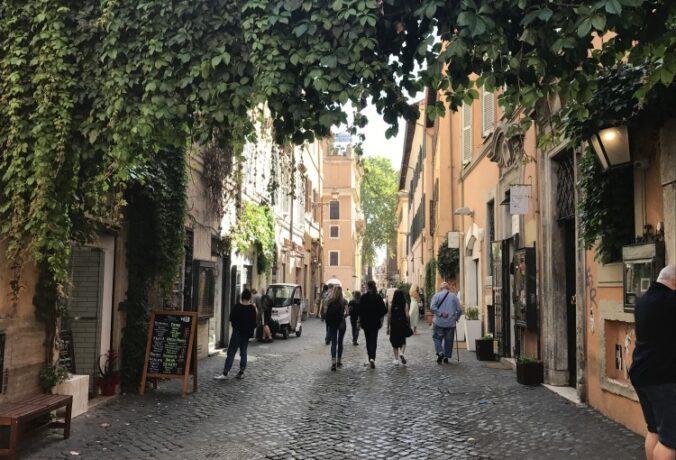 ---
LivTours Jewish Ghetto & Trastevere Tour is a fascinating exploration through two of Rome's most historically rich neighborhoods. Discover another layer of Rome's phenomenal history! Rome has many neighborhoods in its historic center, yet many remain unexplored. Join this semi-private tour to gain an insight into the fascinating neighborhoods.
Known in Rome as the Ghetto, the Jewish Quarter was both the Jewish Ghetto and Trastevere neighborhood and has histories that explain another side of Roman life over the past 2,000 years. On this semi-private tour, you will learn the gripping history of the Jewish population in Rome and their impact on the city's ancient and contemporary life.
On this exclusive semi-private tour, you will cross the River Tiber using the oldest bridge in Rome, visit the outsides of a medieval synagogue and a Christian church. You will be left daydreaming about the sun-soaked cobblestoned streets and daily life in the Eternal City after this tour. Located on either side of the River Tiber, both neighborhoods are rich in architecture, history and beauty.
BOOK NOW
---
Discover two off the beaten track neighborhoods on this semi-private tour of 6 people

Learn about the history behind the assassination of Julius Caesar in Theatre Pompey

Understand the rich and fascinating past of the Jewish community in Rome

Stroll through the cobble stoned square of Campo dei Fiori outdoor market

Explore the 13th century bronze mosaics & frescoes that decorate Santa Maria Basilica
BOOK NOW
Semi-Private tours and experiences are guaranteed six participants max.
Our prices always include tickets and reservations fees (no waiting in lines!)
Our tour guides and staff are selected experts and speak perfect English
Easy to book and prepay your tours with our secure payment system
Eco-sustainable tourism, designed to respect and support local culture, art and traditions
---
Your LivTours Jewish Ghetto & Trastevere Tour starts at Largo Argentina, an archaeological area just in the middle of Rome and very close to the foundations of the Roman Theater of Pompey, where Julius Caesar met his brutal end. Your semi-private tour proceeds towards the neighborhood of Trastevere while enjoying several stops including the vibrant square of Campo dei Fiori which is home to a morning open-air food market and Palazzo Farnese which is a perfect example of Renaissance architecture.
During your tour, you will cross Ponte Sisto leading you to the charming streets of the Trastevere neighborhood. Known for its narrow, quaint streets and abundance of tasty restaurants, this area used to be the home to a large Jewish community that dates back to the Roman Republic until the end of the Middle Ages. Your expert guide will share with you the fascinating and enriching stories about this enchanting area of the city. In Trastevere, you will visit one of Rome's most ancient Churches, the Basilica of Santa Maria, to admire its beautiful golden mosaic interior.
Your Trastevere Tour continues by crossing the famous island in the River Tiber, the Isola Tiberina. This small island is filled with the greatest secrets of Rome's origins. From the island, you will get a glimpse of Rome's most ancient bridge, Ponte Fabricio, which your guide will point out to you.
The last stop of this semi-private tour is the Jewish Ghetto, stopping first in front of the Great Synagogue of Rome. Your guide will share with you its history. Should you like to go inside, you can do so at that the end of your tour. You will hear stories of the oppressive foundations of this area, where its inhabitants lived in overcrowded and unjust conditions and the eventual destruction of the ghetto walls and absurd regulations. Enjoy stories from Ancient Rome as you admire the Teatro Marcello and the temple built by Augustus Caesar that sits just next to it.
You will finish your tour in the heart of the Jewish neighborhood, where your LivTours guide who will give you recommendations for lunch at one of the many fantastic restaurants in the area.
BOOK NOW
---
Largo Argentina

Campo di Fiori

Tiberine Island

Trastevere

Jewish Ghetto

Synagogue (outside)
BOOK NOW
---
In order to book this experience, you must be at least 2 participants.

Due to these unprecedented times and ongoing safety and regulation changes, some sites may have limited accessibility if the venue can not guarantee social distancing which may lead to unforeseen tour modifications. Thank you for your understanding.

LivTours' group size of max 6 participants is and always has been based on sustainable travel and especially in these new times, we are proud to be at the forefront of the innovation, changes, and challenges that are presented to us during this post-pandemic time. At the moment, due to COVID-19 safety regulations, the museums and sites visited on this tour require wearing a mask while on the site. Please bring one for every participant over 6 years of age.
BOOK NOW
---
All LivTours Semi-Private Group Tours are limited to 6 guests per tour guide. Our commitment to maintaining our uniquely tiny group sizes can sometimes be a little tricky, mathematically speaking. For example, we want to ensure that traveling families and friends can tour together so on rare occasions we may add one or two guests in order to not split groups. On that same note, you may also find yourself on tour with less than six people! We thank you for your understanding and flexibility.
BOOK NOW
---
Paola was an amazing tour guide!
"Paola was an amazing tour guide! We learned so much about the history of the area we are staying (Travastere) and neighboring, Tiberian Island, Los Argentina and the Jewish Ghetto. Her enthusiasm, knowledge of Rome (churches, neighborhoods, art, etc). was exceptional! I would highly recommend her."
Kenda
---
Extremely interesting tour
"We had read about the importance of the Jewish community in Rome so this tour sounded like it would be very interesting. It was, indeed! In fact, we learned things that we would never have imagined about the history of the Jews in Italy. The synagogue is fascinating since it was the center of so much that went on during the period of the Ghetto. We also strolled around Trastevere which is the area of Rome that, as our guide told us, they say the TRUE romans live. We enjoyed every minute of this tour and have already recommended it to many people."
Leah - USA
---
History of the Jews in Rome
"We visited Trastevere and the Jewish Ghetto with our amazing tour guide, Rachel. She was energetic, personable and her knowledge of history and the Jewish culture made everything we saw all that more impressive. She really brought it to life. We only had 6 in our group so it made listening and asking questions very easy and we got so much more out of the tour because of it. We also took the early morning Vatican tour with LivItaly and had an equally satisfying experience. The booking staff was responsive and directions to meet were clear and easy to follow. I highly recommend this company."
Leah K. - USA
---
BOOK NOW
---
By selecting Choose Dates Later / Buy as Gift at booking, any tour can be purchased without fixed dates. This is the perfect option if you want to purchase your tour as a gift for a loved one, or if you are in the pre-planning phase of your vacation. After booking, you will receive a Travel Voucher Code and full instructions on how to schedule your tours when ready. Once your travel plans are confirmed, you can easily use the Travel Voucher Code on the LivTours website to formally schedule your tours. You can find out more here.
BOOK NOW