Florence Full Day Tour | Semi-Private Experience
---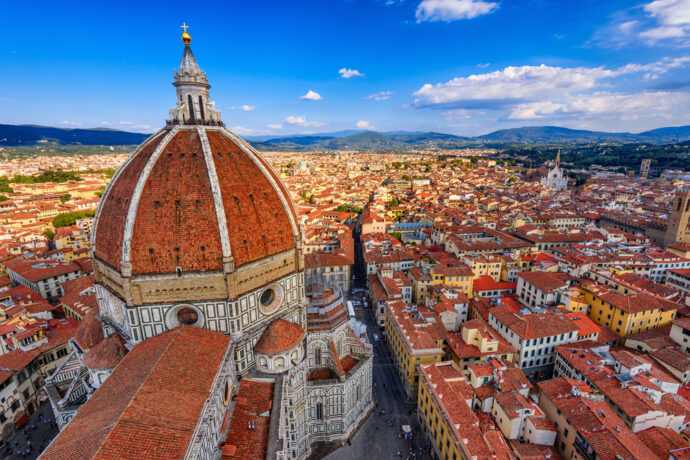 ---
LivTours' Florence Full Day Tour | Semi-Private Experience shares with you the best of the stunning Italian city known as the birthplace of the Renaissance.  Your exclusive semi-private tour enables you to see the best this city has to offer on this comprehensive tour uniquely designed to show you the highlights without rushing and optimize your time in Florence.
Florence is a beautifully elegant city gaining much of its stunning architecture and art from the time of the Renaissance.  Though originally a Roman city, Florence really enjoyed the limelight as being the most culturally and economically advanced city in the 14th to 16th centuries. As a  big trading town due to its position on the Arno River that runs all the way out to the Mediterranean, Florence prospered and under the direction of the Medici Family many of the buildings you see today were built, including the Uffizi Gallery and the stunning marble-clad Cathedral, known as the Duomo.
Florence is an explosion of your senses and your expert guide will put all the pieces of its gorgeous history together for you on this full-day semi-private tour. With your expert local guide by your side, you will see Florence masterpieces such as Michelangelo's David, Botticelli's Birth of Venus, and Boticelli's La Primavera, the Ponte Vecchio Bridge and more in just one day!
BOOK NOW
---
View some of the most important Renaissance artwork on this semi-private tour

Learn why the Botticelli painting La Primavera is such a controversial piece of art

Stroll across the only bridge left in Florence from WWII, the Ponte Vecchio

Marvel at the beautiful facades of the elegant Florence Duomo and Baptistery

Admire the 17 foot sculpture of David by Michelangelo out of one piece of stone
BOOK NOW
Semi-Private tours and experiences are guaranteed six participants max.
Our prices always include tickets and reservations fees (no waiting in lines!)
Our tour guides and staff are selected experts and speak perfect English
Easy to book and prepay your tours with our secure payment system
Eco-sustainable tourism, designed to respect and support local culture, art and traditions
---
Your LivTours Florence Full Day Tour starts by meeting your guide and your fellow travelers in the Piazza della Signoria. This L-shaped square in the heart of the city is surrounded by some of the most important buildings in Florence. You will have a chance to admire centuries of architecture as your expert local guide shares with you the history behind the facades. This important square holds buildings such as Palazzo Vecchio, Town Hall, Uffizi Gallery, with one of the most important art collections in the world, and Palazzo Uguccioni, whose facade was designed by the great Raphael. There is no better place to start your tour than in this all-important square!
Your first stop is the Uffizi Gallery – the former offices of the Medici Family. This once private art collection which consists of masterpieces by the likes of Michelangelo, Raphael, Botticelli, Leonardo da Vinci decorated the walls of the Medici Family corridors. Opening to the public in 1765, it was officially turned into a museum in 1865 allowing visitors to enjoy one of the most world-renowned art collections.
Inside your expert guide will show you masterpieces such as The Birth of Venus, one of the iconic depictions of the mythological goddess as she emerges from the sea on a shell. You will also see Michelangelo's Doni Tondo, the result of a commission from a prominent Tuscan family, showing a portrait of the Holy Family with the Virgin Mary at the forefront. Though you could spend hours, if not days, in the Uffizi, your LivTours guide will show you the most important masterpieces from this impressive collection.
TIME FOR A TUSCAN LUNCH
After marveling at centuries of artwork, you will have surely worked up an appetite. Have no fear, your LivTours guide will give you suggestions for some local restaurants accordingly. Enjoy some Tuscan classics while you refuel In Tuscany, dishes are usually made of regional products making each culinary experience fresh, local, and unique. Your LivTours guide is happy to make recommendations for local dishes. Lunch is not included in this tour.
After enjoying Tuscan lunch, it is time to continue your LivTours Florence Full Day Tour. On your semi-private tour, your expert guide will tell you the stories of Florence as you admire the melting pot of architecture from Gothic, Romanesque, and Renaissance. Take time to admire the Ponte Vecchio Bridge, the oldest bridge in Florence now filled with jewelry shops and a secret centuries-old corridor.
Admire the exterior of the dome of the largest Italian Duomo, designed by Brunelleschi. Hear the anecdotes behind its construction and marvel at the dome that perfectly frames Florence. Learn about the famous Baptistery bronze doors and the history and legends they have left us behind.
No visit to Florence is complete without visiting Galleria dell'Accademia which houses the magnificent 17-foot marble sculpture of David by Michelangelo. One of the world's most recognized and admired pieces of art and an ode to the human body, a craft that Michelangelo was known for.
UPGRADE YOUR TOUR & ADD THE DUOMO OR BELL TOWER CLIMB
Add the possibility of climbing the Duomo of Florence 30 minutes after the tour is over. By adding the optional add-on, we will provide you with skip-the-line timed tickets to climb the Duomo after the tour is over. In case the Duomo is sold out, you will be able to climb the magnificent bell tower of the Church. In addition, the tickets also include access to the Museo del Duomo. Please bear in mind that these are subject to availability and that we will need the full name and dates of birth of all participants in order to secure your climbs.
BOOK NOW
---
Skip-the-line entry to all sites

Uffizi Gallery

Botticelli, Michelangelo, Leonardo & Raffaello

Piazza della Signoria

Piazza della Repubblica

Ponte Vecchio

Duomo (from outside on walking portion)

Accademia

David & other highlights

Duomo or Bell Tower climb (optional)
BOOK NOW
---
Places of worship have strict dress code requirements for entry. All participants are required to have shoulders and knees covered (no tank tops or short dresses) to enter.

Backpacks are not permitted in the Museum.

Guests with wheelchair accessibility needs will find difficulty with this itinerary proposed in this tour. In order to ensure a barrier-free tour with alternative routes, please book the private version of this tour.

The Florence Cathedral is an active church and can be closed unexpectedly for liturgical ceremonies which may in rare cases affect those who have booked dome climb add-ons.
BOOK NOW
---
LivTours' group size of max 6 participants is and always has been based on sustainable travel, and we are proud to be at the forefront of change and innovation in the industry.  LivTours is committed to providing travelers with truly sustainable tours with the lowest possible environmental impact, all while supporting the local industries and people of each unique destination. To learn more about how you can actively support sustainable tourism  and how LivTours is contributing, click here.
BOOK NOW
---
All LivTours Semi-Private Group Tours are limited to 6 guests per tour guide. Our commitment to maintaining our uniquely tiny group sizes can sometimes be a little tricky, mathematically speaking. For example, we want to ensure that traveling families and friends can tour together so on rare occasions we may add one or two guests in order to not split groups. On that same note, you may also find yourself on tour with less than six people! We thank you for your understanding and flexibility.
BOOK NOW
---
Make your day even more unique and comfortable by upgrading your tour with a customizable LivTours optional add on!
Add Duomo Dome or Bell Tower Climb and Duomo Museum ticket
BOOK NOW
---
Great tour, wonderful guide
"With just one full day to spend it Florence and with so much that we wanted to make sure we didn't miss, this was the perfect tour for our entire family (2 teens). The guide Raffaela was SPLENDID! There's no better word to describe her great knowledge and professionalism as well as her extremely warm and friendly personality. The kids adored her , as did both my husband and myself. We saw all of the things on our bucket list, had a lovely lunch at a place she recommended including the best gelato we've EVER had. We felt we were spending the day with a dear friend instead of taking a tour. What a great experience this was! Thank you!"
Judith - Ireland
---
Great tour of Florence
"Sara was our host for a very informative tour that took us all over Florence's backstreets as well as to all the main touristy parts and more. Her knowledge of the city's history was second to none and we both thoroughly enjoyed the little snippets about more or less every part that we passed. Thank you Sara for giving us the groundwork to find our way around. I'd fully recommend."
Athena - Belgium
---
Tour of Florence
"We participated in a full day tour of Florence. LivItaly was wonderful on all fronts. Easy to communicate with, greeters were lovely and easily located, and our tour guide, Chiara, was phenomenal. Highly recommend!"
Maxine - UK
---
BOOK NOW
---
By selecting Choose Dates Later / Buy as Gift at booking, any tour can be purchased without fixed dates. This is the perfect option if you want to purchase your tour as a gift for a loved one, or if you are in the pre-planning phase of your vacation. After booking, you will receive a Travel Voucher Code and full instructions on how to schedule your tours when ready. Once your travel plans are confirmed, you can easily use the Travel Voucher Code on the LivTours website to formally schedule your tours. You can find out more here.
BOOK NOW