Family Experiences | Private Pompeii Tour for Kids
---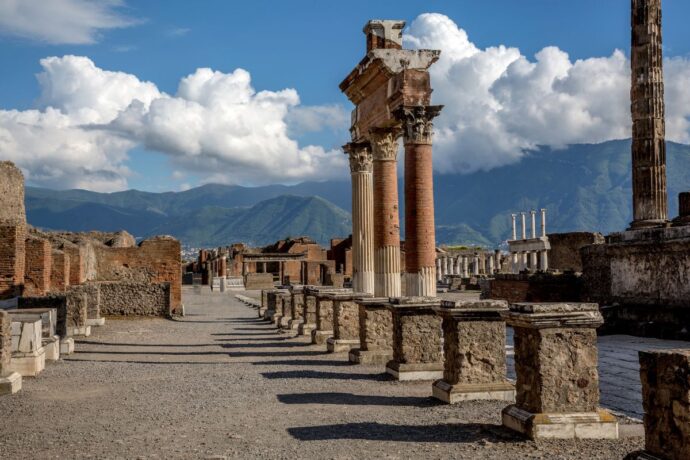 ---
Discover the exciting history of Pompeii on this adventure-filled, interactive private Pompeii tour for Kids with an expert guide! Pompeii is famous for the dramatic eruption of Mount Vesuvius in the summer of 79 A.D – a vast explosion that would bury this busy and popular ancient Roman port town.
The city was buried under burning hot ash and pumice which perfectly preserved it through the centuries for modern-day archaeologists to uncover this lost city and recover its secrets. With fun activities included, this is a great way to introduce your curious kids to the famous ruins of Pompeii.
BOOK NOW
---
Experience a family-friendly tour of the famous ancient city of Pompeii

Enjoy priority access to the archaeological site and an expert private guide

Visit the highlights of Pompeii with fun activities for the kids

Explore the amphitheater, baths, houses, forum, and temples

Learn how to dig an archeological site like an expert
BOOK NOW
Exclusive private Tours and Experiences. Also offered in Spanish, French, Portuguese, Swedish and Russian
Our prices always include tickets and reservations fees (no waiting in lines!)
Our tour guides and staff are selected experts and speak perfect English
Easy to book and prepay your tours with our secure payment system
Eco-sustainable tourism, designed to respect and support local culture, art and traditions
---
After meeting your expert local guide, you will embark on a family-friendly adventure of discovery as you enter the ancient city – enjoying priority access. Your guide will hand out a specially designed exercise book filled with engaging games and clues so the whole family can enjoy this fun, fascinating and interactive experience.
You'll learn all about life as a gladiator in the amphitheater; how they lived, what their diet was, how they got muscular and strong, what weapons they fought with, and what armor they used. You will also learn all about how to dig up a precious historic site like Pompeii, and what it takes to be a real-life archaeologist!
You will visit the vast bath houses – with their tiles and ornate stucco work intact, and learn all about ancient hygiene and bathing rituals. As you walk along the ancient cobbled streets of this once thriving and busy port town, you'll see indents worn down by carriage wheels in the cobblestones; you'll see donkeys' hooves in the bakery, learn about fast food joints called 'caupona', and even walk into an ancient house, or "domus,"  where you'll see amazing frescos – wall paintings whose colors are miraculously preserved. You will hear about the lives of people who lived here before the dramatic and devastating eruption of the volcano put an end to it all.
At the awe-inspiring temples, with their towering pillars, you'll learn all the amazing stories, myths and legends, and beliefs about the Roman gods and goddesses – like Venus, the goddess of love, who was also the patron deity of the city.
Standing in the middle of the Forum, surrounded by the once bustling market – you'll be able to enjoy stunning views out to sea and the Bay of Naples, with Mount Vesuvius rising behind the ruins, still an active volcano to this day.
As your adventure through the ancient ruins of Pompeii comes to an end, your guide will escort you out, and show you the best spot for some well-deserved refreshments!
BOOK NOW
---
Private tour guide

Skip the line tickets

Activity book and prizes

Roman mosaics

Ancient Villas

Bath Houses

Roman era frescos

Pompeii Forum
BOOK NOW
---
This activity booklet is designed for children from ages 5 – 10 years old and is perfect for mixed age families

Comfortable walking shoes recommended.

Pompeii is an ongoing excavation site. The suggested itinerary might encounter some changes depending on the archaeologist's daily duties.
Offered in: English, French, Spanish, Portuguese, and Italian. Please specify under "Additional notes" if you wish to book the tour in a language other than English.
BOOK NOW
---
LivTours' group size of max 6 participants is and always has been based on sustainable travel, and we are proud to be at the forefront of change and innovation in the industry.  LivTours is committed to providing travelers with truly sustainable tours with the lowest possible environmental impact, all while supporting the local industries and people of each unique destination. To learn more about how you can actively support sustainable tourism  and how LivTours is contributing, click here.
BOOK NOW
---
When you book a LivTours Private Tour or Experience, you are guaranteed a dedicated, expert guide that allows you the flexibility to start your tour at a time which is convenient for you, making planning easy. Our private tours ensure that you will get a tailored experience to meet all your needs so we go at your pace, perfect for families with younger children, elderly, or individuals with accessibility needs. Please be advised that all private tours begin at a base price starting at two people*. Prices are inclusive of entry tickets where applicable. *Some Ferrari private experiences are inclusive of one person only.
BOOK NOW
---
Make your day even more unique and comfortable by upgrading your tour with a customizable LivTours optional add on!
Round Trip Dedicated Chauffeur Options
350 €
609 A$
325.50 £
413 $
BOOK NOW
---
By selecting Choose Dates Later / Buy as Gift at booking, any tour can be purchased without fixed dates. This is the perfect option if you want to purchase your tour as a gift for a loved one, or if you are in the pre-planning phase of your vacation. After booking, you will receive a Travel Voucher Code and full instructions on how to schedule your tours when ready. Once your travel plans are confirmed, you can easily use the Travel Voucher Code on the LivTours website to formally schedule your tours. You can find out more here.
BOOK NOW