Express Colosseum Gladiators Gate & Arena Floor | Exclusive Semi-Private Tour
---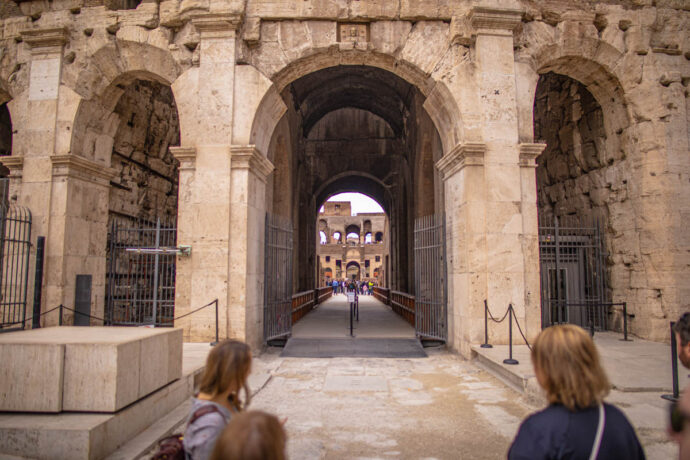 ---
Walk in the footsteps of the ancient Roman Gladiators as you step out through the Gladiators Gate and onto the Arena floor on this guided, semi-private tour of the Colosseum with VR. Enjoy skip the line entry into the mighty Colosseum – the most famous monument of the ancient world – and exclusive access to the Arena Floor on this express tour.
Breathe in the atmosphere of this ancient amphitheatre, that once held up to 80,000 spectators for the Games and Gladiatorial combat. With your expert guide, your new LivTours cardboard goggles for virtual reality reconstructions, and a small group of no more than 6 people, you will skip the long and confusing lines, walk straight into this majestic place and walk around in wonder and awe at its sheer scale and beauty, absorbing its spine tingling history brought vividly to life.  
BOOK NOW
---
Enjoy skip the line entry to the Colosseum

Take advantage of exclusive access to the Arena floor

Enjoy an expert guide and small group of 6

Learn the exciting and bloody history of the Colosseum

See virtual reconstructions through your new LivTours cardboard goggles

Walk in the footsteps of slaves, beasts and Gladiators on the Arena floor
BOOK NOW
Semi-Private tours and experiences are guaranteed six participants max.
Our prices always include tickets and reservations fees (no waiting in lines!)
Our tour guides and staff are selected experts and speak perfect English
Easy to book and prepay your tours with our secure payment system
Eco-sustainable tourism, designed to respect and support local culture, art and traditions
---
Millions of people every year visit the Flavian Amphitheatre – more commonly known as the Colosseum. But not everyone will have the chance to truly walk in the footsteps of the Gladiators, and see VR reconstructions of ancient Colosseum using the LivTours app and your very own LivTours cardboard goggles. On this tour you will! With exclusive, timed access you will be able to step out onto the Arena floor – look up to the ruins of the stands, turn all the way around you as you imagine an 80,000 strong crowd roaring and cheering you on!  
Your expert, English speaking guide will lead you past the long confusing lines of tourists with skip the line tickets. Once through security, you will wander through the mighty arches, and explore the most famous ancient monument in the world. 
The Colosseum was built in the 1st Century AD by the Flavian Emperors: Vespasian, Titus and Domitian. It was called the Flavian Amphitheatre and acquired its nickname, 'Colosseo' because it stood next to a 'colossal' gold statue of the sun god Apollo.  For centuries the Colosseum came to symbolise the power, wealth and public entertainment of the Ancient Romans. On this 1.5 hour express tour that includes exclusive access to the Arena Floor – you'll learn all about the history of this incredible place. From how the gladiators trained and fought, to what they ate to stay in shape and the kind of armour they wore and weapons they used. You'll hear about the wild beast fights and legendary staged sea battles! You'll hear tales of emperors and slaves, vestal virgins and famous gladiators.
Your tour ends inside the Colosseum for you to continuing explore at your own leisure. Once home, share your experience and the VR reconstructions with your family and friends using your new LivTours cardboard goggles. 
BOOK NOW
---
Expert English-speaking guide

Semi-private group of 6 people

Skip the line Colosseum tickets

Arena floor priority access

VR cardboard goggles

Express tour of the Colosseum
BOOK NOW
---
LivTours' group size of max 6 participants is and always has been based on sustainable travel, and we are proud to be at the forefront of change and innovation in the industry.  LivTours is committed to providing travelers with truly sustainable tours with the lowest possible environmental impact, all while supporting the local industries and people of each unique destination. To learn more about how you can actively support sustainable tourism  and how LivTours is contributing, click here.
BOOK NOW
---
All LivTours Semi-Private Group Tours are limited to 6 guests per tour guide. Our commitment to maintaining our uniquely tiny group sizes can sometimes be a little tricky, mathematically speaking. For example, we want to ensure that traveling families and friends can tour together so on rare occasions we may add one or two guests in order to not split groups. On that same note, you may also find yourself on tour with less than six people! We thank you for your understanding and flexibility.
BOOK NOW
---
Ancient Rome with Deborah
"Deborah was amazing. We had a lot of questions and Deborah answered all of them. Her knowledge of the Colosseum and the Roman Forum is amazing. I loved this tour."
Denise - UK
---
BOOK NOW
---
By selecting Choose Dates Later / Buy as Gift at booking, any tour can be purchased without fixed dates. This is the perfect option if you want to purchase your tour as a gift for a loved one, or if you are in the pre-planning phase of your vacation. After booking, you will receive a Travel Voucher Code and full instructions on how to schedule your tours when ready. Once your travel plans are confirmed, you can easily use the Travel Voucher Code on the LivTours website to formally schedule your tours. You can find out more here.
BOOK NOW