Exclusive Bologna Private Walking Tour
---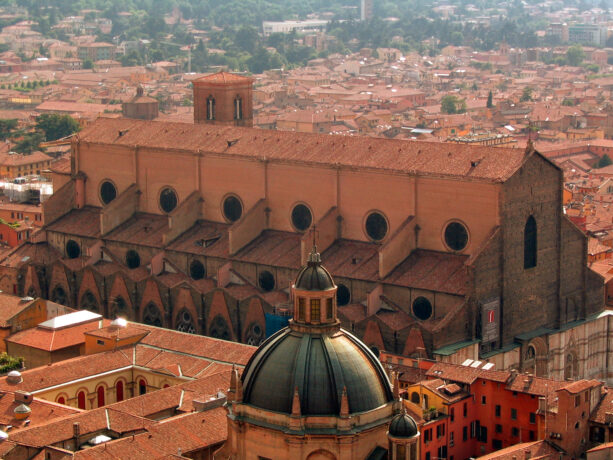 ---
LivTours Bologna Private Walking Tour uncovers the wonderful history and culture behind this incredibly preserved medieval city. Since the year 1000 BCE, Bologna has played a role in art, education, architecture, and food. This private tour is an all-access experience with a local expert who will take you through the major highlights like Piazza Maggiore and its Fontana del Nettuno, the Gothic architecture of Basilica San Petronio, the so-called "leaning towers" of Bologna, the oldest University in Europe, the Salaborsa (main library), the Municipal Palace, and the Archiginnasio courtyard.
Stroll through the characteristic porticos in the city's center, which even today offer shade during warm summer afternoons and shelter on rainy days. Wind through charming, small streets of the Quadrilatero area and immerse yourself in the city's daily rhythm as you pass by the rows of daily food markets. Learn about the gastronomy of this region and why Bologna is still considered a center for foodies. Discover with us why Bologna today remains such a popular place for Italian and International students to gather!
BOOK NOW
---
Stroll through Bologna's historic city center with your private top-rate expert guide

Explore the vivid history, art, architecture and culinary delights of Bologna

Discover this region and city's delightful gastronomy and culinary culture

Ask questions and learn from your private guide's incredible passion for their city

Unlock the secrets and stories behind the porticos and monuments of this unique city
BOOK NOW
Exclusive private Tours and Experiences. Also offered in Spanish, French, Portuguese, Swedish and Russian
Our prices always include tickets and reservations fees (no waiting in lines!)
Our tour guides and staff are selected experts and speak perfect English
Easy to book and prepay your tours with our secure payment system
Eco-sustainable tourism, designed to respect and support local culture, art and traditions
---
Your LivTours Bologna Private Walking Tour begins at Piazza Maggiore, a large square in the heart of the Old Town on Bologna. Piazza Maggiore has existed for many centuries and features a number of important buildings as well as the adjacent piazza's lovely 16th-century fountain of the Roman Sea God Neptune. One noteworthy landmark you will visit with your private guide in Piazza Maggiore is the awe-inspiring, Gothic Basilica of San Petronio. Dedicated to Bolgona's Patron Saint Petronius, this incredible church's construction began in the 14th century! See the treasures inside including the massive 15th and 16th-century organs used for the city's famous Baroque style music and the astronomy marvel Cassini's Meridian Line.
You will explore the famous Archiginnasio, the original main building of Bologna's historic University dating back to the 11th century.  This remarkable building houses Emilia-Romagna's largest library (the Municipal Library) which holds priceless writings and collections dating back to the 16th century. Also inside this historic building is the 17th-century Anatomical Theatre. This room is intricately decorated with wood, frescoes, and statues and was originally the classroom for anatomy lectures. Learn about Bologna's important connection to University and scholarly endeavors as we know them today.
You will wander through Bologna's beautiful porticos, recognized as a UNESCO Heritage Site. These gorgeous covered walkways were built in the 11th and 12th centuries and span nearly 24 miles! You also will catch a glimpse of modern-meets-Medieval Bologna as you explore the old Quadrilatero markets. Here you can find many centuries of food and goods have been sold by merchants of all types.  You will come to understand why Bologna has always been a gastronomic center and what delightful foods are typical today of this region, from Parmesan to Balsamic and Lambrusco!
Your guide will show you two of the most prominent landmarks of Bologna, the two leaning towers of Asinelli and Garisenda. Built in the 12th century, these symbols of wealth and power (and competition) are the few out of hundreds of such examples to have survived. Listen to the interesting stories behind their builders and their significance.
BOOK NOW
---
Piazza Maggiore

Fontana del Nettuno

Basilica San Petronio

The "leaning towers" of Bologna

Bologna's historic University

Quadrilatero markets

Salaborsa

Municipal Palace

Archiginnasio courtyard

Fully guided experience
BOOK NOW
---
Offered in: English, French, Spanish, Portuguese, and Italian. Please specify under "Additional notes" if you wish to book the tour in a language other than English.

Comfortable walking shoes recommended.

Places of worship have strict dress code requirements for entry. All participants are required to have shoulders and knees covered (no tank tops or short dresses) to enter.
BOOK NOW
---
LivTours' group size of max 6 participants is and always has been based on sustainable travel, and we are proud to be at the forefront of change and innovation in the industry.  LivTours is committed to providing travelers with truly sustainable tours with the lowest possible environmental impact, all while supporting the local industries and people of each unique destination. To learn more about how you can actively support sustainable tourism  and how LivTours is contributing, click here.
BOOK NOW
---
When you book a LivTours Private Tour or Experience, you are guaranteed a dedicated, expert guide that allows you the flexibility to start your tour at a time which is convenient for you, making planning easy. Our private tours ensure that you will get a tailored experience to meet all your needs so we go at your pace, perfect for families with younger children, elderly, or individuals with accessibility needs. Please be advised that all private tours begin at a base price starting at two people*. Prices are inclusive of entry tickets where applicable. *Some Ferrari private experiences are inclusive of one person only.
BOOK NOW
---
Very professional guide
"Our guide was very professional and shared with us his knowledge and love for this very beautiful and historic city. We particularly enjoyed seeing the city hall, famous twin towers and the University of Bologna -- the heart of the city. Wonderful tortellini, also!"
Elisa - Sweden
---
BOOK NOW
---
By selecting Choose Dates Later / Buy as Gift at booking, any tour can be purchased without fixed dates. This is the perfect option if you want to purchase your tour as a gift for a loved one, or if you are in the pre-planning phase of your vacation. After booking, you will receive a Travel Voucher Code and full instructions on how to schedule your tours when ready. Once your travel plans are confirmed, you can easily use the Travel Voucher Code on the LivTours website to formally schedule your tours. You can find out more here.
BOOK NOW