Evening Tour of Florence | Renaissance and Gelato
---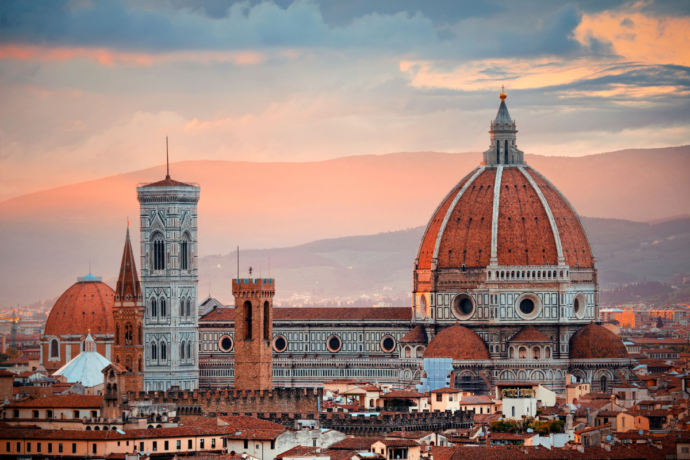 ---
Discover the history, legends, and personalities who built Florence and find your way around in the cooler evening hours. LivTours' Evening Tour of Florence is the perfect way to start your stay!
BOOK NOW
---
A great orientation to Florence

See the Duomo and Golden Gates of the Baptistery

Cross the famous Ponte Vecchio

Enjoy a delicious gelato

Get amazing local suggestions on where to eat and shop
BOOK NOW
Exclusive private Tours and Experiences. Also offered in Spanish, French, Portuguese, Swedish and Russian
Our prices always include tickets and reservations fees (no waiting in lines!)
Our tour guides and staff are selected experts and speak perfect English
Easy to book and prepay your tours with our secure payment system
Eco-sustainable tourism, designed to respect and support local culture, art and traditions
---
An Evening in Florence
Your Evening Tour of Florence will start in Piazza delle Signoria. The history of Florence comes alive with stories of events like the infamous Bonfire of the Vanities.
Even in the evening, the square is full of life: locals meeting, children playing on the Loggia dei Lanzi, visitors stopping to see where Michelangelo's David originally stood (and to snap a pic with the copy). If it's still open, peak inside the courtyard of the imposing Palazzo Vecchio, then wander past the Uffizi Gallery and down to the River Arno.
Over the Arno
You'll cross the river at its narrowest point on the famous Ponte Vecchio. On the other side, you'll discover the Oltrarno neighborhood and the Medici's Pitti Palace. You'll catch glimpses of the lovely Boboli Gardens as you walk, tempting you to come back. Many forget this quieter part of Florence and miss its treasures like the first work by the young Michelangelo at the Basilica di Santo Spirito.
Local Secrets
Stop for a tasty break at a traditional gelateria.  Like a local, you'll enjoy strolling through the streets with a gelato, marveling at the beauty of Florence. As you pass through some of the famous shopping areas, like Via Roma and Piazza della Repubblica, your guide will give you some great tips on the best places to shop and eat.
Your Evening Tour of Florence will end outside the wonderful Duomo with stories of Brunelleschi, Giotto and Ghiberti, who transformed the square with their art.
BOOK NOW
---
Piazza delle Signoria

Ponte Vecchio

Arno River

Duomo and Baptistry (outside)

Palazzo Pitti

Piazza della Repubblica

Gelato
BOOK NOW
---
LivTours' group size of max 6 participants is and always has been based on sustainable travel, and we are proud to be at the forefront of change and innovation in the industry.  LivTours is committed to providing travelers with truly sustainable tours with the lowest possible environmental impact, all while supporting the local industries and people of each unique destination. To learn more about how you can actively support sustainable tourism  and how LivTours is contributing, click here.
BOOK NOW
---
When you book a LivTours Private Tour or Experience, you are guaranteed a dedicated, expert guide that allows you the flexibility to start your tour at a time which is convenient for you, making planning easy. Our private tours ensure that you will get a tailored experience to meet all your needs so we go at your pace, perfect for families with younger children, elderly, or individuals with accessibility needs. Please be advised that all private tours begin at a base price starting at two people*. Prices are inclusive of entry tickets where applicable. *Some Ferrari private experiences are inclusive of one person only.
BOOK NOW
---
Make your day even more unique and comfortable by upgrading your tour with a customizable LivTours optional add on!
95 €
165.30 A$
88.35 £
112.10 $
BOOK NOW
---
By selecting Choose Dates Later / Buy as Gift at booking, any tour can be purchased without fixed dates. This is the perfect option if you want to purchase your tour as a gift for a loved one, or if you are in the pre-planning phase of your vacation. After booking, you will receive a Travel Voucher Code and full instructions on how to schedule your tours when ready. Once your travel plans are confirmed, you can easily use the Travel Voucher Code on the LivTours website to formally schedule your tours. You can find out more here.
BOOK NOW