Ebike Tour of Rome | Semi-Private Experience Along the Appian Way
---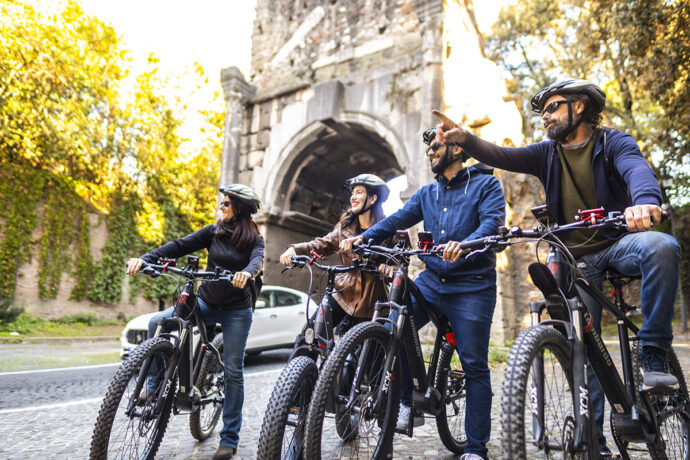 ---
LivTours Ebike Tour of Rome is a semi-private experience and is an ideal day if you want a fun and refreshing day out of the city. You will meet your LivTours guide and e-bikes in central Rome. Touring with no more than six travelers on your semi-private experience enables you to see more and have more direct communication with your guide.  Once you are comfortable, you will start your ride alongside the ancient Roman Baths of Caracalla, through the arches and onto the Via Appia Antica.
The Via Appia is one of the oldest and was one of the most important roads of the Roman Empire. Take a trip back in time as you ride along this ancient road, stopping along the way at important churches, mausoleums, and other fascinating sites in the company of your expert guide. Your LivTours expert guide will bring this ancient Roman highway to life as you learn about its military and economic importance to the Roman Empire. E-bikes are the perfect way to explore Via Appia Antica, a cobblestoned road, but these they allow more comfort than standard pedal bikes. On e-bikes you pedal a little and travel far, so get ready to enjoy riding for longer without getting tired, covering up to 4 miles of this ancient road is easy.
Soak up the calm atmosphere of this special place in the Roman countryside and enjoy a fun day out of the city while learning about the Roman Empire!
BOOK NOW
---
Have a fun day enjoying nature & ancient sites in a group of 6 people max

Ride one of Rome's oldest and most famous roads - the Appian Way

Enjoy the comfort of an electric bicycle as you pedal along cobblestoned roads

Pedal with an expert guide alongside sharing interesting history and stories

Explore many historical sites from outside, including a famous mausoleum
BOOK NOW
Semi-Private tours and experiences are guaranteed six participants max.
Our prices always include tickets and reservations fees (no waiting in lines!)
Our tour guides and staff are selected experts and speak perfect English
Easy to book and prepay your tours with our secure payment system
Eco-sustainable tourism, designed to respect and support local culture, art and traditions
---
Your LivTours Ebike Tour of Rome is a semi-private tour that starts at a central location in Rome where you will meet your local LivTours guide and get comfortable on your e-bikes. With helmets on your heads and your feet on the pedals, it is time to start your adventure!  Your guide will lead you to a bike path that runs along the Terme di Caracalla (Baths of Caracalla).  Once the city's second-largest public baths during the Roman Empire's heyday. Your e-bike means you will glide through the ancient arches that take you onto The Appian Way.  Built in 312 BC, this is one of the oldest and certainly the most important roads in Rome and stretches all the way from Rome to southern Italy.  Good roads were key for the Roman Empire in so many ways and your guide will tell you about the strategic positioning of them, as well as how the Roman's extensive and good road system was important to the military and commercial trade routes.
During Roman times, cemeteries were located outside of the walled cities, and the Appian Way soon became an important burial road. You will no doubt notice the many tombs and mausoleums and during your ride, you will see the most famous of all, the Cecilia Metella Mausoleum. Learn the history behind the Church of Quo Vadis, where St Peter is said to have met Jesus, giving him the strength to turn back to Rome instead of fleeing from persecution. Discover another layer of Rome's fascinating ancient past. Touch the original stones of The Appian Way, firmly placed thousands of years ago, as you imagine the many who traveled along it, including Roman emperors!
During your tour, you will ride past the San Callisto Private Park and San Sebastian Church, hear about the fascinating collection of catacombs underneath them. See the Circus of Maxentius, the second-largest arena in Rome after Circus Maximus near the Colosseum. This big arena is the most well-preserved stadium in Rome with its main structure and brickwork still intact. Seeing the many sites along the way, you will soon understand why this road was so important to the Romans and find out how it has a royal name!
Cruising along on your e-bike, surrounded by gorgeous fields and ancient Roman ruins will give you a real sense of how long and expansive this ancient road is, as you imagine it extending all the way down to southern Italy.
Enjoy a fun day out of the city in the countryside, discovering some of Rome's ancient archeological landmarks!
BOOK NOW
---
Ebike Rental

Baths of Caracalla

Porta San Sebastiano

Villa di Massenzio

Temple of Romulus

Appian Way and Park

Villa dei Quintilii

Fully guided experience
BOOK NOW
---
LivTours' group size of max 6 participants is and always has been based on sustainable travel, and we are proud to be at the forefront of change and innovation in the industry.  LivTours is committed to providing travelers with truly sustainable tours with the lowest possible environmental impact, all while supporting the local industries and people of each unique destination. To learn more about how you can actively support sustainable tourism  and how LivTours is contributing, click here.
BOOK NOW
---
All LivTours Semi-Private Group Tours are limited to 6 guests per tour guide. Our commitment to maintaining our uniquely tiny group sizes can sometimes be a little tricky, mathematically speaking. For example, we want to ensure that traveling families and friends can tour together so on rare occasions we may add one or two guests in order to not split groups. On that same note, you may also find yourself on tour with less than six people! We thank you for your understanding and flexibility.
BOOK NOW
---
Would do it again
"We had a great time on this tour! There was a little traffic to contend with but just on certain streets and our guide, Mike, was very careful and attentive to us. Once out towards the Appian Way, it was really great to be on a bike. The ebikes make it very easy and not tiring at all. Mike was a terrific guide and had lots of stories and insights to share as we stopped and admired so much history. We'd do this tour again and can highly recommend it to you."
Olga - Germany
---
Great fun
"What an experience we had!! We'll fondly remember our ebike tour along the Appian Way for the rest of our lives. At the beginning and at the end, it was necessary to compete with Roman auto traffic but our guide was very careful with us and using common sense gets you through safely. During the ride we did occasionally have to walk our e-bikes over 1,000-year-old Roman stones. And man, what an experience! Don't miss this ride. Our guide Melanie could teach a class in Roman history and obviously loves the subject. The e-bikes are great fun too. Go for it."
Vincent - Australia
---
Biking along the Appian Way
"The weather was perfect (sunny but not hot) for our fun ebike trip down the Appian Way. Rachel our guide was perfect: enthusiastic, flexible, fun, knowledgable and was able to give a really interesting perspective on life in Rome, especially because she is fluent in Italian and other languages. We actually can't imagine cycling in Rome any other way due to the crazy traffic. It was nice to be able to stop and take pictures and a really fun way of learning about all that history!"
Josephine - USA
---
BOOK NOW
---
By selecting Choose Dates Later / Buy as Gift at booking, any tour can be purchased without fixed dates. This is the perfect option if you want to purchase your tour as a gift for a loved one, or if you are in the pre-planning phase of your vacation. After booking, you will receive a Travel Voucher Code and full instructions on how to schedule your tours when ready. Once your travel plans are confirmed, you can easily use the Travel Voucher Code on the LivTours website to formally schedule your tours. You can find out more here.
BOOK NOW