Deluxe Private Vatican Tour with Secret Rooms
---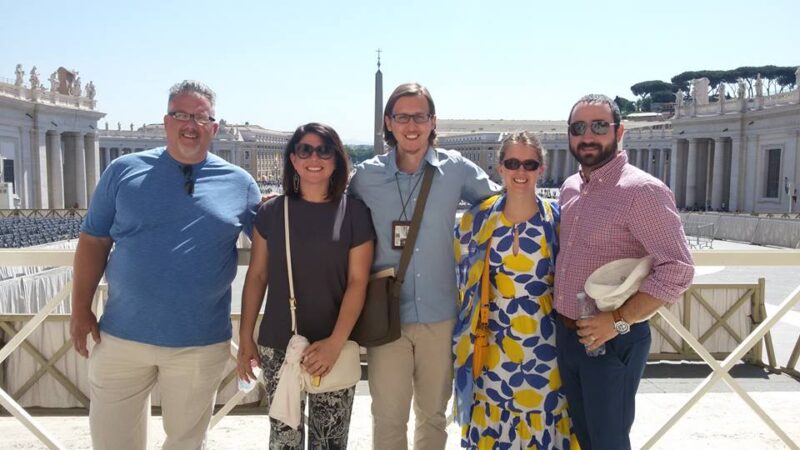 ---
LivTours Deluxe Private Vatican Tour with Secret Rooms is the ultimate tour if you want a comprehensive overview of one of the greatest museums in the world, as well as exclusive access into three hidden rooms, closed to the general public. Your expert private guide leads this comprehensive tour designed for serious art and history buffs! The expansive Vatican Museums house over 9 miles of stunning artwork and LivTours Deluxe Vatican Tour is designed to highlight its most significant collections such as Michelangelo's Sistine Chapel, plus other amazing and exclusive collections. Thanks to LivTours' Gold Level Collaborator Status, you now have the privilege to go behind the velvet ropes of three secret rooms!
Saint Peter's is the largest Catholic church in the world and hosts a dome designed by Michelangelo and his only signed work amongst a plethora of other stunning pieces and your private guide will personalize your tour based on your interests.
Come experience the Vatican as you have always imagined, calmly in the company of an expert private guide!
BOOK NOW
Exclusive private Tours and Experiences. Also offered in Spanish, French, Portuguese, Swedish and Russian
Our prices always include tickets and reservations fees (no waiting in lines!)
Our tour guides and staff are selected experts and speak perfect English
Easy to book and prepay your tours with our secure payment system
Eco-sustainable tourism, designed to respect and support local culture, art and traditions
---
Your LivTours Deluxe Private Vatican Tour with Secret Rooms gives you access to three Secret Rooms in an exclusive experience designed especially for you. Your LivTours private guide will accompany you straight into the museums with our special priority access, so you spend time admiring the beauty and not waiting in line!
A LOOK BEHIND CLOSED DOORS | 3 SECRET VATICAN ROOMS
LivTours is pleased to offer you exclusive access to three secret rooms that are normally locked to the public, but open to LivTours thanks to our Vatican Gold Level Collaborator status. Seeing these rooms – the Niccoline Chapel, Bramante Staircase, and Cabinet of the Masks – fawned over by scholars for centuries, firsthand is an unforgettable treat. On the way to the three secret rooms, you will get the chance to see the Hall of Busts and Hall of Animals, an extra bonus!
Your private VIP experience begins in the beautiful Octagonal Courtyard and Pinecone Courtyard where you can enjoy an open-air view of St. Peter's Basilica! LivTours Vatican VIP Tour also allows you more time than the average tour to explore the highlights of the museums.  You will get to see the best of the Greek and Roman sculptures on this tour and learn the stories behind these magnificent pieces with your expert tour guide.  Take in the detailed descriptions of the Gallery of the Candelabras, the Gallery of the Tapestries, and the Gallery of the Maps all pieces by master craftsmen with art that extends from floor to ceiling!
After all of this exploration you will certainly have worked up an appetite! Your guide will escort you to the Vatican cafeteria where you will have some free time to purchase snacks and refreshments before continuing your journey.
RAPHAEL ROOMS & MICHELANGELO'S SISTINE CHAPEL
The colorfully painted Raphael Rooms are a must-see for any visitor to the Vatican Museums. Your guide will share with you little-known secrets behind the paintings of the stunning, and sometimes over-the-top, former Papal apartments. Your Vatican VIP Tour includes seeing the most famous masterpiece in the museum – Michelangelo's Sistine Chapel. Enjoy the luxury of time as you take in the magnitude of his creation.
The last stop on your tour is St. Peter's Basilica, the largest Catholic church in the world, with an in-depth visit. This basilica is filled with ornate art and architecture, as well as being the final resting place of Popes whose tombs are tucked away in the basement crypt.
Time flies on this tour as you take in this spectacular art collection. Your private guide is a passionate expert filled with fascinating stories, historical gossip, and vast knowledge of art and religious history. There is no need to be an art student or an expert to sign up for our Vatican VIP Tour. This luxury experience is for anyone who has an insatiable curiosity and the attitude that anything worth doing is worth doing right… including touring this massive and magnificent museum!
ABOUT VATICAN SECRET ROOMS & WHAT MAKES THEM EXCLUSIVE

VATICAN NICCOLINE CHAPEL
The Niccoline Chapel, aside from the Sistine Chapel, is known as one of the most beautiful of all the Vatican Museum chapels. You and your private group will get exclusive access into the Tower of Innocent III allowing you to see the fresco paintings by Fra Angelico, as well as frescos from the Life of St Stephen, St Laurence, and figures of the Four Evangelists. A site to remember!
VATICAN BRAMANTE STAIRCASE
The Bramante Staircase is one of the most iconic sites of the Vatican Museums, so get your cameras ready! Your private guide will lead you to this Renaissance staircase designed by Donato Bramante for Pope Julius II. Its double-helix formation gives it a stunning visual effect. This is an exclusive secret room, closed off to the general public.
VATICAN CABINET OF THE MASKS
The Cabinet of Masks is a restricted area open to LivTours clients. Your guide will show you the beautiful ancient mosaics from Hadrian's Villa in Tivoli, after which the hall is named. In addition, the room is full of wonderful sculptures such as the statue of the nymph and statues of Aphrodite.
BOOK NOW
---
VIP Access into the Vatican Museums

Pinecone Courtyard

Octagonal Courtyard

Bramante Staircase (Secret Room)

Hall of the Busts (Secret Room)

Cabinet of the Masks (Secret Room)

Muses Room

Round Room

Greek Cross Room

Gallery of Candelabra

Gallery of Tapestries

Gallery of Maps

Raphael Rooms

Hall of the Chiaroscuri (Secret Room)

Niccoline Chapel (Secret Room)

Raphael Rooms

Borgia Apartments

Sistine Chapel

St. Peter's Basilica

St. Peter's Square
BOOK NOW
---
Due to the limited accesses to the Secret Rooms your order will not be immediately confirmed and will go into Pending without charging your credit card. Thanks to our Silver Collaboration with the Vatican Museums, LivTours has a privileged communication channel with the Museums and will request your desired day and time. Once confirmed, we will charge your card and confirm your tour.

Places of worship have strict dress code requirements for entry. All participants are required to have shoulders and knees covered (no tank tops or short dresses) to enter.

There is no photography allowed inside the Sistine Chapel.

St. Peter's Basilica is an active church and can be closed unexpectedly for liturgical ceremonies. If closed, the time inside the Vatican Museums will be extended.

Backpacks are not permitted in the museum.

Offered in: English, French, Spanish, Portuguese, and Italian. Please specify under "Additional notes" if you wish to book the tour in a language other than English.
BOOK NOW
---
LivTours' group size of max 6 participants is and always has been based on sustainable travel, and we are proud to be at the forefront of change and innovation in the industry.  LivTours is committed to providing travelers with truly sustainable tours with the lowest possible environmental impact, all while supporting the local industries and people of each unique destination. To learn more about how you can actively support sustainable tourism  and how LivTours is contributing, click here.
BOOK NOW
---
When you book a LivTours Private Tour or Experience, you are guaranteed a dedicated, expert guide that allows you the flexibility to start your tour at a time which is convenient for you, making planning easy. Our private tours ensure that you will get a tailored experience to meet all your needs so we go at your pace, perfect for families with younger children, elderly, or individuals with accessibility needs. Please be advised that all private tours begin at a base price starting at two people*. Prices are inclusive of entry tickets where applicable. *Some Ferrari private experiences are inclusive of one person only.
BOOK NOW
---
Make your day even more unique and comfortable by upgrading your tour with a customizable LivTours optional add on!
One Way Pick-Up Transfer Service
75 €
130.50 A$
69.75 £
88.50 $
BOOK NOW
---
Vatican complex tour
"Sabrina was my guide for the Vatican, Sistine Chapel and St Peter's Basilica tour. She was very knowledgeable and friendly and I really enjoyed the organization and pace of the tour. It was definitely one of the highlights of my trip to Rome!"
Eden - UK
---
We learned so much!
"Yesterday was an amazing tour! Michaela was wonderful, very, very knowledgable and super friendly. We learned so much information about the Vatican and history of the Bible. I feel very grateful to have had the opportunity to be there. Mikaela answered so many questions, we never missed out on anything she was saying and she had all of the answered! Thank you!"
Paul - Canada
---
THE Vatican Tour to take
"We had the most moving and special experience visiting the Vatican because we were lucky enough to take our tour with Sev. Sev is deeply knowledgeable, patient (with 10,000 questions from us and our 2 kids), thoughtful of everyone's particular interests, generous with his time, and enviably connected with officials at the Vatican to help you smoothly tour rooms not available to the public! We are so grateful to have had the chance to meet Sev and learn what he had to share. It brought the Vatican and all its treasures very much to life for all of us. The Vatican is the moment to do a tour and this is the one to take."
Holly
---
BOOK NOW
---
By selecting Choose Dates Later / Buy as Gift at booking, any tour can be purchased without fixed dates. This is the perfect option if you want to purchase your tour as a gift for a loved one, or if you are in the pre-planning phase of your vacation. After booking, you will receive a Travel Voucher Code and full instructions on how to schedule your tours when ready. Once your travel plans are confirmed, you can easily use the Travel Voucher Code on the LivTours website to formally schedule your tours. You can find out more here.
BOOK NOW