Colosseum & Domus Aurea Virtual Reality Tour | Semi-Private
---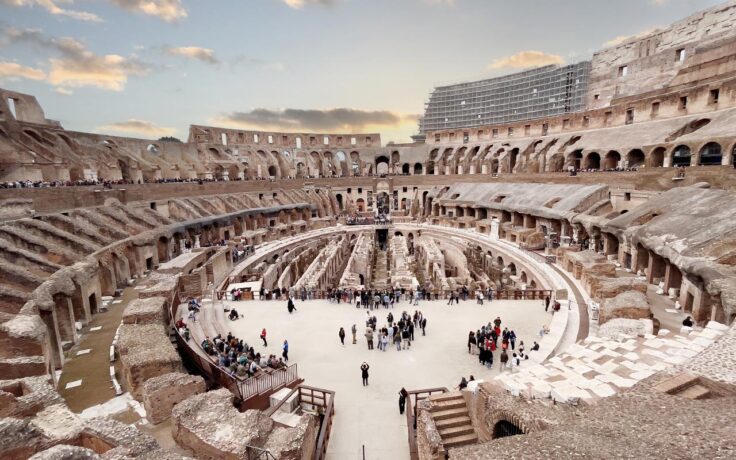 ---
LivTours Colosseum and Domus Aurea Virtual Reality Tour is a must for visitors interested in getting a visual idea of what Ancient Rome looked like 2,000 years ago. You will enjoy LivTours exclusive priority access during this entire tour. You and your semi-private group, of no more than six people, will be guided throughout the Colosseum with an expert local guide sharing with you the tales of gore and glory as you look down on the very arena floor where battles were fought, as it all comes to life with VR!
Your journey does not stop here, as your guide will accompany you and your semi-private group just a short walk outside the Colosseum to the ornate Domus Aurea, Nero's Golden Palace! Strategically built for Nero right in the heart of the Eternal City. You will gain an understanding of the connection between the world's greatest arena and the world's most hated emperor, Nero.  Virtual reality reconstructions of this palace will give you an idea of the wealth and opulence of the Roman Empire in its prime!
BOOK NOW
---
Enjoy an outstanding semi-private tour of the Colosseum with a dedicated expert guide

Discover the Colosseum with your very own LivTours' virtual reality cardboard glasses

Hear stories about one of the most infamous emperors of Rome - Emperor Nero

Experience the still preserved Emperor Nero's home, the Golden House, firsthand

Soak up the details of what daily life was like in Rome over 2,000 years ago
BOOK NOW
Semi-Private tours and experiences are guaranteed six participants max.
Our prices always include tickets and reservations fees (no waiting in lines!)
Our tour guides and staff are selected experts and speak perfect English
Easy to book and prepay your tours with our secure payment system
Eco-sustainable tourism, designed to respect and support local culture, art and traditions
---
**All Colosseum tours require photo ID for all participants; plan to bring your passports on the day of your tour. Failure to show identification will result in the denial of entry to the site.**
Your LivTours Semi-Private Colosseum and Domus Aurea Tour starts just outside the Colosseum Metro Station, where you and your semi-private group will be met by your expert LivTours guide. You guide will then accompany you into the Colosseum with priority access, allowing you to skip the often long entrance lines! Once inside, you will be given a brief intro of this impressive 160-foot high structure, which was once the site of gladiator games, mass crucifixions, and exotic animal fights – to name just few uses!
Your expert guide will give you your very own LivTours Virtual Reality cardboard glasses so you can enjoy a 360° virtual reality reconstruction of the Colosseum. Making your way up into the seating area, you are sure to be inspired as you stand where over 50,000 Roman spectators once stood in high anticipation of the games. It is here that one million lives were lost in battles, as crowds roared at the gore and emperors smiled with grim satisfaction. The Colosseum is undoubtedly one of the greatest entertainment venues in the world and your VR cardboard glasses will give the visual needed to imagine what the inside of the Colosseum looked like during the games.
Nero's Golden Palace – the Domus Aurea
Once you have finished exploring the Colosseum, you and your semi-private group will now take a short walk to the Colle Oppio Park,  located just down the street of the Colosseum. Upon arrival, you will be given hard hats to wear during your discovery of the home of one of the most notorious emperors in all of Roman history – Nero. You may have heard these stories of the great Roman fire during Nero's reign, but it is likely you have not heard what he did afterward. He built himself a palace, covering a mere 200 acres as only Emperors can do. You and your semi-private group will be seeing a few of the highlights of this extravagant home.
By now you will have a good idea of what ancient Rome really looked like through virtual reality simulations. At the Domus Aurea you will enjoy Augmented Reality of Nero's Golden Palace and what it would have looked like when it was at its height.
Your LivTours guide will accompany you to this active excavation site, so get your hard hats on! Travelers will be left in good hands with a Domus Aurea official English-speaking tour guide who specializes in either Art History or Archeology. Please note that your group will now increase in size (up to 22 people) as per Domus Aurea excavation ground policy. The archeological guides are just as passionate about history.
LivTours has combined two iconic sites of ancient Rome – the Colosseum and Domus Aurea – so you get a complete overview of the life of an average citizen from 2000 years ago and learn how it differed from that of a wealthy citizen or even an emperor.
Please note: VR cardboard glasses by no means replace your tour guides' efforts and descriptions and serve only as an enhancement to the tour. They are in no way, shape, or form a video game, but instead are designed to give a 360-degree visual reconstruction of what ancient Rome looked like thousands of years ago.
BOOK NOW
---
As seen on National Geographic Travel

Skip-the-line entry into the Colosseum

Main Floor & 1st Ring

Domus Aurea Archeology and VR Tour

VR Goggles and reconstructions
BOOK NOW
---
Guests with limited mobility or accessible needs will find difficulty with this itinerary proposed in this tour. In order to ensure a barrier-free tour with alternative routes, please book the private version of this tour.

Please note that all Colosseum tour starting times are subject to change based on ticket availability.
All Colosseum tours require photo ID for all participants; plan to bring your passports on the day of your tour.

Failure to show identification will result in the denial of entry to the site.
BOOK NOW
---
LivTours' group size of max 6 participants is and always has been based on sustainable travel, and we are proud to be at the forefront of change and innovation in the industry.  LivTours is committed to providing travelers with truly sustainable tours with the lowest possible environmental impact, all while supporting the local industries and people of each unique destination. To learn more about how you can actively support sustainable tourism  and how LivTours is contributing, click here.
BOOK NOW
---
All LivTours Semi-Private Group Tours are limited to 6 guests per tour guide. Our commitment to maintaining our uniquely tiny group sizes can sometimes be a little tricky, mathematically speaking. For example, we want to ensure that traveling families and friends can tour together so on rare occasions we may add one or two guests in order to not split groups. On that same note, you may also find yourself on tour with less than six people! We thank you for your understanding and flexibility.
BOOK NOW
---
Fun and interesting tour
"We chose this tour for 2 reasons: it included the Domus Aurea (Nero's Golden House which is totally underground) and also had the virtual reality tools, which we figured would help get our two pre-teens more interested. For these reasons -- and many more -- this was a fantastic tour which we can heartily recommend. (By the way, the virtual reality glasses make it fun for the adults as well as for the kids!)"
Daryl - UK
---
Colosseum and Domus Aurea
"We had the best experience throughout the whole tour - every place was amazing but what really made the tour so great was Giulia! She was so welcoming to our group and paid attention to what we were interested in and wanted to see. We can't say enough great things about her! The Virtual Reality was very cool because it helped you to visualize what it would have looked like back in time. At Nero's palace we had an archeologist take us underground -- just fascinating. Overall, it was the best tour we had in Italy!"
Becky B. - USA
---
Don't miss Nero's Domus Aurea when you visit the Colosseum
"Our guide, Tom, was full of very interesting and memorable information. This small group tour was fantastic. Seeing the Colosseum is one thing but seeing the above and underground Colosseum is absolutely the way to go. Nero's Golden House is awesome as well. It's all buried underground and it's amazing to see how they are slowly excavating the many rooms. This tour will always stick in our memories as "one of the better ones"."
Gary Stanton - USA
---
BOOK NOW
---
By selecting Choose Dates Later / Buy as Gift at booking, any tour can be purchased without fixed dates. This is the perfect option if you want to purchase your tour as a gift for a loved one, or if you are in the pre-planning phase of your vacation. After booking, you will receive a Travel Voucher Code and full instructions on how to schedule your tours when ready. Once your travel plans are confirmed, you can easily use the Travel Voucher Code on the LivTours website to formally schedule your tours. You can find out more here.
BOOK NOW