Private Cinque Terre Boat Tour | Italian Riviera Experience
---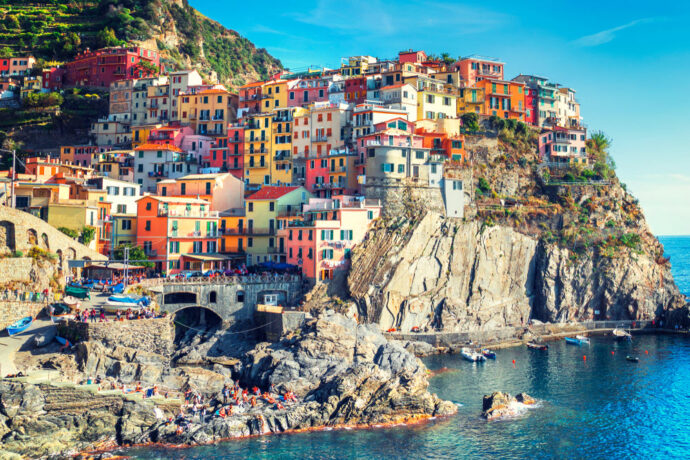 ---
LivTours' Cinque Terre Boat Tour is ideal for travelers who want the best of both worlds when it comes to leisure and sightseeing. Get out onto the brilliant blue waters of the Italian Riviera with your own private boat and English-speaking skipper. Discover hidden treasures as you sail like cascading waterfalls and the coastline's many steep cliffs and secluded beaches. Your friendly skipper will point out the charming fishing villages and famously colorful towns as you pass by in the comfort of your private boat.
Drop anchor and have a dip to cool off or snorkel and spot the beautiful sea life. Listen to the tranquil waters lapping against your boat and enjoy lunch and a drink on board. You need only bring your swimsuit – we provide towels, refreshments, and snorkeling gear. Upgrade to a larger boat for groups over 6 people or add 2 hours to your tour to spend more time out on the water. Treat yourself to this unique chance to have a luxurious private boat excursion, you'll be glad that you did!
BOOK NOW
---
Explore the Cinque Terre coastline for 3 hours by private boat, away from the crowds.

Enjoy a day of luxury, relaxation with a private boat and English-speaking skipper.

Drop anchor and have a swim or snorkel in the blue waters of the Mediterranean.

Find hidden caves and secluded beaches with your local skipper who knows where to go!

Upgrades available for larger private groups or add time for a full day experience.
BOOK NOW
Exclusive private Tours and Experiences. Also offered in Spanish, French, Portuguese, Swedish and Russian
Our prices always include tickets and reservations fees (no waiting in lines!)
Our tour guides and staff are selected experts and speak perfect English
Easy to book and prepay your tours with our secure payment system
Eco-sustainable tourism, designed to respect and support local culture, art and traditions
---
Your LivTours' Cinque Terre Boat Tour begins when you meet your private skipper and classic Ligurian boat at the harbor in Vernazza, one of the small fishing villages of Cinque Terre famous for its pastel colored houses. Your English-speaking skipper is a local professional who has a wealth of knowledge about the region. They will be happy to share with you stories and anecdotes as you sail by, find secret caves, hidden waterfuls, and allow you to relax and simply take in the scenery.
The Cinque Terre is an incredibly gorgeous UNESCO recognized region. Five small coastal towns make up this historic area, characterized by rugged cliffs, turquoise waters, and brightly painted villages. The steep terrain and lack of roads mean that many visitors to the region hike through the towns via scenic trails. Exploring the coastline by boat is the other, more relaxing option! Your private skipper will tailor your excursion according to how you'd like to spend your time, whether it's swimming underneath waterfalls and snorkeling past schools of fish or laying back and sunbathing on deck with only the soothing sounds of the sea. Enjoy snacks and fresh, locally made wines as you take in the stunning Riviera scenery. Upgrade your tour to a full 5 hour day to make the absolute most of your holiday!
Your 3 hour boat excursion finishes either at the Vernazza harbor where you began or at Riomaggiore, another seaside town in the Cinque Terre. This luxurious boat tour offers a once in a lifetime opportunity to see one of Italy's most beautiful coastlines, swim in pristine waters, and have lunch, all in the privacy of your own boat away from the crowds.
BOOK NOW
---
Private Typical Ligurian Boat

Bi-lingual Skipper

Snacks & Drinks on board

Snorkeling equipment and towels
BOOK NOW
---
Base tour pricing is for up to 6 participants for 3 hours of water time.
Upgrades are available for bigger private groups or adding 2 hours of tour time.
Participants who plan to swim need to bring their own swimwear. Towels, snorkels, and refreshments will be provided by us.
BOOK NOW
---
LivTours' group size of max 6 participants is and always has been based on sustainable travel, and we are proud to be at the forefront of change and innovation in the industry.  LivTours is committed to providing travelers with truly sustainable tours with the lowest possible environmental impact, all while supporting the local industries and people of each unique destination. To learn more about how you can actively support sustainable tourism  and how LivTours is contributing, click here.
BOOK NOW
---
When you book a LivTours Private Tour or Experience, you are guaranteed a dedicated, expert guide that allows you the flexibility to start your tour at a time which is convenient for you, making planning easy. Our private tours ensure that you will get a tailored experience to meet all your needs so we go at your pace, perfect for families with younger children, elderly, or individuals with accessibility needs. Please be advised that all private tours begin at a base price starting at two people*. Prices are inclusive of entry tickets where applicable. *Some Ferrari private experiences are inclusive of one person only.
BOOK NOW
---
Make your day even more unique and comfortable by upgrading your tour with a customizable LivTours optional add on!
Additional Boat Time - 2 hrs
490 €
852.60 A$
455.70 £
578.20 $
Roundtrip Transfer from La Spezia
475 €
826.50 A$
441.75 £
560.50 $
Roundtrip Transfer from Livorno
850 €
1,479 A$
790.50 £
1,003 $
Roundtrip Transfer from Florence
999 €
1,738.26 A$
929.07 £
1,178.82 $
BOOK NOW
---
Just beautiful!
"We absolutely LOVED our day in the Cinque Terre. We were taken on a private boat to see each of the five villages, we swam in some of the most beautiful water and saw ghottos and waterfalls that were breathtaking. A beautiful day in a very beautiful area of Italy! Definitely worth it!!"
Mitchel - USA
---
BOOK NOW
---
By selecting Choose Dates Later / Buy as Gift at booking, any tour can be purchased without fixed dates. This is the perfect option if you want to purchase your tour as a gift for a loved one, or if you are in the pre-planning phase of your vacation. After booking, you will receive a Travel Voucher Code and full instructions on how to schedule your tours when ready. Once your travel plans are confirmed, you can easily use the Travel Voucher Code on the LivTours website to formally schedule your tours. You can find out more here.
BOOK NOW