British Museum Tour | Semi-Private Experience
---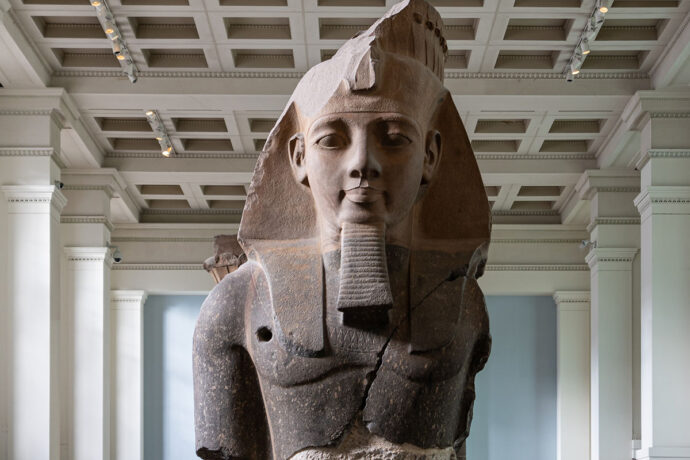 ---
With an expert guide and small groups under six, Livtours British Museum Tour is a personal and fascinating way to see the highlights of this incredible and extensive collection. Avoid wandering through the gigantic collection of over 8,000 as your local expert guides you across the galleries bringing to life each era and its most famous artifacts. Opened in 1756 The British Museum is not only older than many counties but contains some of the oldest artifacts in the world, it is home to one of the most extensive and comprehensive collections on earth, as The British Empire expanded as did the Museum. 
Yet trying to maximize your time and experiencing such a vast collection to its full is a difficult task for many visitors. By taking a semi-private guided tour the stories, histories, and importance of these world-famous artifacts are made more accessible with the entertaining and gripping stories your guide will provide, from the incredible and controversial Elgin Marbles to the groundbreaking Rosetta stone, that allowed historians to understand hieroglyphics for the first time. Discover, uncover, and adventure through time across all four corners of the world on your 2-hour tour of all the best the British Museum has to offer. 
BOOK NOW
---
Discover the fascinating stories of more than 4000 years of history with expert guide

Experience the British Museum in comfort with small groups under 6 people

Maximixe your time in one of the worlds largest museums with our 2 hour highlights

Marvel and magnificent objects of old from Egyption Mummies to Ancient Marbles

Uncover the lesser known stories behind the most famous objects in the world

Witness over 4000 years of human history on your Semi-Private British Museum
BOOK NOW
Semi-Private tours and experiences are guaranteed six participants max.
Our prices always include tickets and reservations fees (no waiting in lines!)
Our tour guides and staff are selected experts and speak perfect English
Easy to book and prepay your tours with our secure payment system
Eco-sustainable tourism, designed to respect and support local culture, art and traditions
---
Your Livtours Semi-Private British Museum Tour takes you on a journey inside one of the most prestigious museums in the world. Opened in fashionable Bloomsbury ( the original location was supposed to be Buckingham House, now a palace of the Queen) The British Museum is more than just a collection of antiques; it is a visual interaction with the world of the past, a museum that can transport you to any century anywhere. 
From India, China, and Egypt to Greece, you will explore the greatest achievements of mankind through the art, artifacts, and objects they have left behind. Beginning as a small private collection, developing into the national library and natural history museum the British Museum has grown and grown until the division of institutions. Today the sight displays the greatest and most important artifacts and objects of the entire national collection. With an expert guide by your side and groups of no more than six, benefit from engaging with your guide, questioning and discussing some of the most iconic artifacts from history. 
Marvel at the world-famous Elgin Marbles built to honor the goddess Athena or stand in front of the Rosetta stone, a tablet written in ancient Greek and Egyptian Hieroglyphics allowing linguists to understand the illusive ancient symbols for the first time. contemplate the determination and tenacity of previous explorers, archaeologists, and historians who cracked codes, unraveled mysteries, and revealed the secrets of the past*. 
With the museum's unusual art effects and your guide's wonderful storytelling they will ensure that two hours is the perfect amount of time to unpack the fascinating histories behind the world's treasures from Egyptian mummies to Anglo-Saxon weapons, your guide will focus on the must-see objects as well as answering any questions you may have on the collections. Put the pieces in place on a timeline of world history and leave feeling educated in history, art, and the culture of the world.
BOOK NOW
---
Enlightenment Gallery

Easter Island head

Aztec and Mayan collection

Sutton Hoo ship burial

Medieval Europe collection

Ancient Egypt & mummies

Roman Britain collection

Portland vase

Ancient Rome collection

Money Gallery

Warren Cup

Ancient Greece collection

The Rosetta Stone (unavailable until March 2023)

Assyrian collection

Parthenon Marbles

Fully guided experience
BOOK NOW
---
LivTours' group size of max 6 participants is and always has been based on sustainable travel, and we are proud to be at the forefront of change and innovation in the industry.  LivTours is committed to providing travelers with truly sustainable tours with the lowest possible environmental impact, all while supporting the local industries and people of each unique destination. To learn more about how you can actively support sustainable tourism  and how LivTours is contributing, click here.
BOOK NOW
---
All LivTours Semi-Private Group Tours are limited to 6 guests per tour guide. Our commitment to maintaining our uniquely tiny group sizes can sometimes be a little tricky, mathematically speaking. For example, we want to ensure that traveling families and friends can tour together so on rare occasions we may add one or two guests in order to not split groups. On that same note, you may also find yourself on tour with less than six people! We thank you for your understanding and flexibility.
BOOK NOW
---
Excellent in every way
"We got so much more out of the museum thanks to this tour. Our guide was Thomas and he was very knowledgeable and friendly. Our group consisted of just 6 of us so easy to become friendly and to interact with the guide. He answered all of our questions and then some! Couldn't have asked for more."
Babett - Belgium
---
We recommend this company!
"This company promises small groups of no more than 6 and that's exactly what we had for our tour of the British Museum. Their guide, Jessica, was also really good: really knew the museum collections and was very passionate about the history behind all that we were seeing. Her enthusiasm was contagious and she had us hanging on her every word right up until the tour ended. She spent extra time with us too to make recommendations of other places to see and where to eat. We received excellent service before, during and after the tour. This is really a great tour company!"
Kimberly - USA
---
Great museum tour
"We were in a group of 5 people total with an awesome guide named Jessica. She's an art historian and so knowledgeable about all the pieces that are in the museum. We appreciated having such an expert helping us see everything and giving us hints and insights. She set just the right pace and was very attentive to everyone's interests and needs. We were very pleased with this tour and will tell everyone about it."
BertaM. - Canada
---
BOOK NOW
---
By selecting Choose Dates Later / Buy as Gift at booking, any tour can be purchased without fixed dates. This is the perfect option if you want to purchase your tour as a gift for a loved one, or if you are in the pre-planning phase of your vacation. After booking, you will receive a Travel Voucher Code and full instructions on how to schedule your tours when ready. Once your travel plans are confirmed, you can easily use the Travel Voucher Code on the LivTours website to formally schedule your tours. You can find out more here.
BOOK NOW