All-inclusive Private Tour of Barcelona | Full Day Experience
---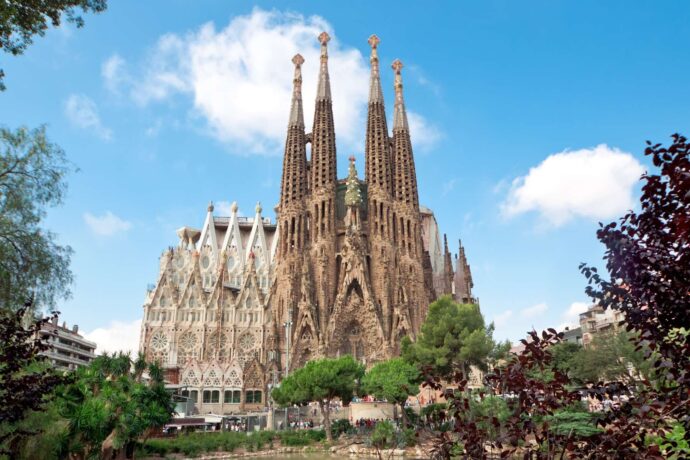 ---
Discover Barcelona with a private day tour. With your guide, you will explore the beauties of Barcelona's historical Gothic Quarter, experience stunning views and unique architecture in Park Guell, and visit Gaudí's iconic masterpiece, La Sagrada Familia. Throughout the tour, you'll have skip-the-line entrance to all sites, so you'll never have to wait in line.
BOOK NOW
---
Enjoy a private guided experience exploring the highlights of Barcelona

Take advantage of exclusive skip the line tickets to Sagrada Familia and Park Guell

Explore the stunning Barcelona Cathedral with entrance tickets and terrace visit

Marvel at the magical sculptures and monuments in Park Guell

Relax with transport between sites included, and free time for a local lunch
BOOK NOW
Exclusive private Tours and Experiences. Also offered in Spanish, French, Portuguese, Swedish and Russian
Our prices always include tickets and reservations fees (no waiting in lines!)
Our tour guides and staff are selected experts and speak perfect English
Easy to book and prepay your tours with our secure payment system
Eco-sustainable tourism, designed to respect and support local culture, art and traditions
---
Your private tour of Barcelona will begin when you meet your guide at the entrance to the famous Gothic Quarter.
The Gothic Quarter
From Roman ruins to Cubist art, your walk in Barcelona's famous Gothic Quarter will take you on a journey through centuries of history. As you walk through the maze of streets, you'll hear stories of the young Picasso  and his first exhibitions; you'll see the scars left by the Spanish Civil War and visit the lovely Gothic Cathedral of St. Eulalia where you'll learn why geese are living in the cloister. Take the elevator up to the roof for an amazing bird's eye view of the Gothic Quarter and get your first look at La Sagrada Familia in the distance.
La Sagrada Familia
After a break for lunch (not included), you'll head to Gaudí's last project, left incomplete at the time of his tragic death. Do you know what each of the 18 spires represents? Or why Gaudí planned for the cathedral to not be more than 170m high? There's so much to learn about this incredible building, fortunately, your guide will make sure you aren't overwhelmed as they explain the symbolism all around you.
Thanks to our skip-the-line tickets, you won't have to wait in line before entering Gaudí's magnificent temple of light and stone. The guide will help you pick out details of the architecture and the decorations reflecting Gaudí's faith and love of nature. Marvel at the tree-like columns and learn about what the original architect had planned for the church before Gaudí took over. 
Park Guell
After enjoying the magnificence of Sagrada Familia, you'll head out of the hustle and bustle of the city, and to another Gaudis creation; the magical Park Guell. This was once a barren hill, but how did Gaudí plan to turn it into a luxury housing estate? Discover the ingenious engineering solutions he came up with, while respecting the nature around. Don't leave without getting some of the best photos in Barcelona! The best views are from the enchanting terrace decorated with Gaudí's signature mosaic designs, which is also a great place to relax. You'll also have the chance to admire the colorful monuments and statues including the El Drac, Gaudí's smiling lizard that has become the symbol of his beloved Catalonia.
Your tour will end inside the park, so you can choose to continue exploring and relaxing if you wish to take time to let the events of such an  extraordinarily beautiful day sink in!
BOOK NOW
---
The Medieval streets of the Gothic Quarter

Barcelona's Cathedral

Ruins of the Temple of Augustus

Skip-the-line entrance to Park Guell

Skip-the-line entrance to La Sagrada Familia

5-star private English speaking guide

Transport between sites
BOOK NOW
---
LivTours' group size of max 6 participants is and always has been based on sustainable travel, and we are proud to be at the forefront of change and innovation in the industry.  LivTours is committed to providing travelers with truly sustainable tours with the lowest possible environmental impact, all while supporting the local industries and people of each unique destination. To learn more about how you can actively support sustainable tourism  and how LivTours is contributing, click here.
BOOK NOW
---
When you book a LivTours Private Tour or Experience, you are guaranteed a dedicated, expert guide that allows you the flexibility to start your tour at a time which is convenient for you, making planning easy. Our private tours ensure that you will get a tailored experience to meet all your needs so we go at your pace, perfect for families with younger children, elderly, or individuals with accessibility needs. Please be advised that all private tours begin at a base price starting at two people*. Prices are inclusive of entry tickets where applicable. *Some Ferrari private experiences are inclusive of one person only.
BOOK NOW
---
Walking through the narrow streets of the Gothic Quarter
Barcelona's imposing Gothic cathedral
The resident geese of Barcelona Cathedral
Visiting Park Guell
El Drac
La Sagrada Familia
Skip-the-line entrance tickets
Your own private guide
BOOK NOW
---
Make your day even more unique and comfortable by upgrading your tour with a customizable LivTours optional add on!
Add Sagrada Familia Tower Tickets
25 €
43.50 A$
23.25 £
29.50 $
90 €
156.60 A$
83.70 £
106.20 $
Full Day Chauffeur Barcelona
460 €
800.40 A$
427.80 £
542.80 $
BOOK NOW
---
Incredible walking tour of Barcelona!
"We had an excellent two+ hour walking tour of the Gothic Quarter and the neighborhoods that surrounded it with Nancy who was an amazing guide. she know tons of information about the architecture and design, as well as the history of the city. She was able to answer all of the random questions we asked her. The pace and timing of the tour was perfect and Nancy was very thorough at each stop. We would recommend Nancy as a guide 100%. (Also, Nancy is from America, so she did not have a Spanish accent in case others have a preference). LIV tours has constantly delivered with their tours and exceeded our expectations."
Drew - United States
---
BOOK NOW
---
By selecting Choose Dates Later / Buy as Gift at booking, any tour can be purchased without fixed dates. This is the perfect option if you want to purchase your tour as a gift for a loved one, or if you are in the pre-planning phase of your vacation. After booking, you will receive a Travel Voucher Code and full instructions on how to schedule your tours when ready. Once your travel plans are confirmed, you can easily use the Travel Voucher Code on the LivTours website to formally schedule your tours. You can find out more here.
BOOK NOW