Women of Florence Walking Tour | City highlights and Medici Chapel
---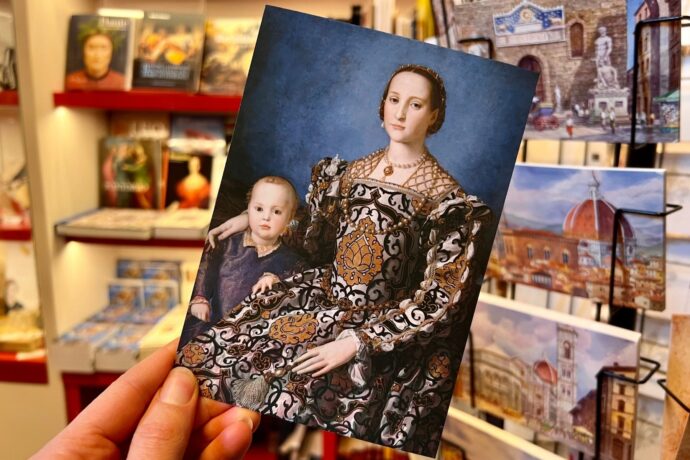 ---
This walking tour will introduce you to the often forgotten women of Florence. Visiting some of the most famous monuments of the city, you'll learn stories of women, real and fictional, who inspired politics and art here.
BOOK NOW
Exclusive private Tours and Experiences. Also offered in Spanish, French, Portuguese, Swedish and Russian
Our prices always include tickets and reservations fees (no waiting in lines!)
Our tour guides and staff are selected experts and speak perfect English
Easy to book and prepay your tours with our secure payment system
Eco-sustainable tourism, designed to respect and support local culture, art and traditions
---
Like our traditional Highlights of Florence Tour, this Women of Florence tour begins at Piazza delle Signoria. You'll visit some of the city's most famous monuments, like the Loggia dei Lanzi and the spectacular Duomo but the stories you hear will be less traditional.
The Medici Women
The powerful Medici family dominated politics in Florence for centuries. They changed the city and sponsored a generation of artists, but we rarely hear about the Medici women. But this tour is designed to change that! You'll learn about the strategic marriages the Medici made with the royal families of Europe. You'll hear stories of the women who came to Florence as brides and see  Palazzo Vecchio where they lived. Some won the respect of the citizens and made an impact on their new city; others were less successful. Did you know that the decline of the Duchy of Tuscany is often blamed on the regency of two Medici women? Or that the amazing Medici art collection will never leave Florence, thanks to the last of the Medici daughters?
Women in Art
While the famous artists of Florence were mostly men, women, real and fictional, were the subjects that inspired them. At the beautiful Loggia dei Lanzi, your guide will tell you about the mythical women depicted here and the political meanings behind the statues.  From the helpless Sabines, taken against their will to ensure the survival of the newly founded city of Rome, to Donatello's powerful depiction of Judith about to decapitate Holofernes, the famous sculptures capture different aspects of femininity.
The Women of Florence tour ends with a visit to the Medici Chapel, one of the loveliest buildings in Florence. This mausoleum for prominent members of the Medici is also home to Michelangelo's last works in Florence. Learn why his statues of Night and Dawn have such a masculine quality and which ancient sculpture they were based on.
BOOK NOW
---
Piazza delle Signoria

Palazzo Vecchio (outside)

The Duomo and Baptistery (outside)

Visit to the Medici Chapel

Loggia dei Lanzi
BOOK NOW
---
When you book a LivTours Private Tour or Experience, you are guaranteed a dedicated, expert guide that allows you the flexibility to start your tour at a time which is convenient for you, making planning easy. Our private tours ensure that you will get a tailored experience to meet all your needs so we go at your pace, perfect for families with younger children, elderly, or individuals with accessibility needs. Please be advised that all private tours begin at a base price starting at two people*. Prices are inclusive of entry tickets where applicable.
*Our Tuscan motorcycle tour and some Ferrari private experiences are inclusive of one person only.
BOOK NOW
---
Make your day even more unique and comfortable by upgrading your tour with a customizable LivTours optional add on!
BOOK NOW
---
By selecting BUY AS A GIFT, you can purchase this tour as a gift for someone you care for. You will receive a gift card voucher that then can be redeemed by the person/people who will enjoy the tour.Date and Time are values that cannot be selected at the moment. You will in fact receive a gift card voucher with instructions on how to redeem the tour and then select date and time.You can create a shopping cart with multiple tours as gift cards. You may not compose a shopping cart of gift cards and actual tours with date and time.This option can also be used as an opportunity to book a tour open-dated for yourself, in case you are still in the pre-planning phase of your trip.For more information please read here.
BOOK NOW