Women of Ancient Rome Tour | Colosseum Forum & Palatine Hill
---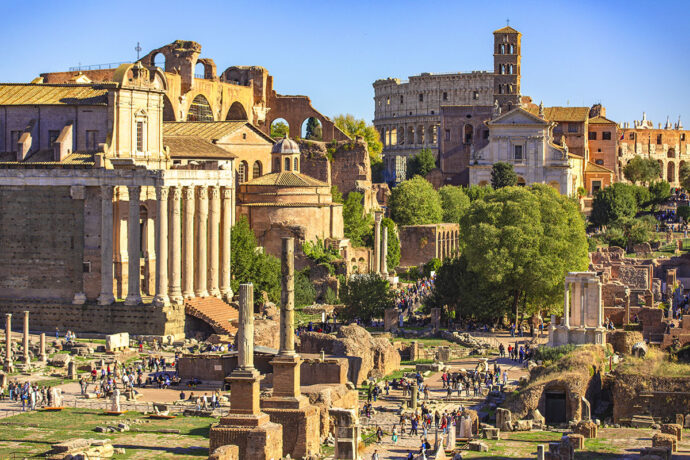 ---
LivTours' Women of Ancient Rome Tour is an incredible opportunity to focus on the women who lived in ancient Rome. On this amazing journey, visit the incredible sites with skip-the-line access, and learn the stories that are often untold or forgotten. Learn about the status quo, roles, and forgotten importance women had behind the scenes in ancient Roman society.
BOOK NOW
Exclusive private Tours and Experiences. Also offered in Spanish, French, Portuguese, Swedish and Russian
Our prices always include tickets and reservations fees (no waiting in lines!)
Our tour guides and staff are selected experts and speak perfect English
Easy to book and prepay your tours with our secure payment system
Eco-sustainable tourism, designed to respect and support local culture, art and traditions
---
**All Colosseum tours require photo ID for all participants; plan to bring your passports on the day of your tour. Failure to show identification will result in the denial of entry to the site.**
Your LivTours Women of Ancient Rome Tour will commence just outside of the Colosseum. After a short introduction from your expert tour guide, you'll be off to the era of gladiators, generals, and Caesars to learn about the role of women in ancient times.
---
The Colosseum
Once inside the Colosseum, take a moment to admire its amazing architecture and engineering. The Colosseum is famous for its gladiators, but did female gladiators exist? Did they ever fight in the arena? And what about the women who came to watch the games? See where female spectators sat and understand the importance of how they dressed. Learn also about the cult of Vesta, whose priestesses were important enough to sit in the royal box.
Gladiators were often wounded, and women had an important role in medical care. What were their medical and healing skills and how much did they know about treating the wounded?
---
The Roman Forum
Your guide will introduce you to the origins of Rome, the Monarchy, Republic, and Imperial eras while you walk across the road to the Forum. The second part of the tour will look in detail at some of the Imperial women of ancient Rome: the wives, mothers, and daughters who lived here.
In no particular order, you will see the Arch of Septimius Severus and learn about his wife, Julia Domna. Like all women of her time, Julia had an arranged marriage. She took care of her children's education and assisted her husband with his political duties. But when their older child became emperor, conflict developed between her sons. Julia's attempts at mediation were useless, and her younger son was killed. Amazingly she then became co-empress with her son, Caracalla.
You will then lean on the Rostra Iulia and learn about Fulvia, Marc Anthony's wife. A dominating woman who wanted to command not only a husband but the great commander of armies.
---
The Palatine Hill
The intrigue and amazing facts and anecdotes of the lives of women in ancient Rome continue among the ruins of the imperial palaces.
The Emperor Augustus was the first to live here. He arranged for his only child, Julia, to marry his trusted general, Agrippa, hoping for direct male descendants. When two sons were born, Augustus wasted no time in adopting the boys as his heirs.
While admiring the Houses of Augustus and Livia, learn about Livia Drusilla, the first Empress and final wife of Augustus. Faithful, reliable, and a quiet supporter of her husband, he respected her opinions so much that he would discuss matters of state with her. Her son Tiberius, and grandson Claudius would both become emperors and she was eventually deified Diva Augusta.
BOOK NOW
---
Please note that all Colosseum tour starting times are subject to change based on ticket availability.
All Colosseum tours require photo ID for all participants; plan to bring your passports on the day of your tour.

Failure to show identification will result in the denial of entry to the site.
BOOK NOW
---
LivTours' group size of max 6 participants is and always has been based on sustainable travel, and we are proud to be at the forefront of change and innovation in the industry.  LivTours is committed to providing travelers with truly sustainable tours with the lowest possible environmental impact, all while supporting the local industries and people of each unique destination. To learn more about how you can actively support sustainable tourism  and how LivTours is contributing, click here.
BOOK NOW
---
When you book a LivTours Private Tour or Experience, you are guaranteed a dedicated, expert guide that allows you the flexibility to start your tour at a time which is convenient for you, making planning easy. Our private tours ensure that you will get a tailored experience to meet all your needs so we go at your pace, perfect for families with younger children, elderly, or individuals with accessibility needs. Please be advised that all private tours begin at a base price starting at two people*. Prices are inclusive of entry tickets where applicable. *Some Ferrari private experiences are inclusive of one person only.
BOOK NOW
---
Make your day even more unique and comfortable by upgrading your tour with a customizable LivTours optional add on!
30 €
52.20 A$
27.90 £
35.40 $
One Way Pick-Up Transfer Service
85 €
147.90 A$
79.05 £
100.30 $
BOOK NOW
---
By selecting Choose Dates Later / Buy as Gift at booking, any tour can be purchased without fixed dates. This is the perfect option if you want to purchase your tour as a gift for a loved one, or if you are in the pre-planning phase of your vacation. After booking, you will receive a Travel Voucher Code and full instructions on how to schedule your tours when ready. Once your travel plans are confirmed, you can easily use the Travel Voucher Code on the LivTours website to formally schedule your tours. You can find out more here.
BOOK NOW