Women of Ancient Rome Tour | Colosseum Forum & Palatine Hill
---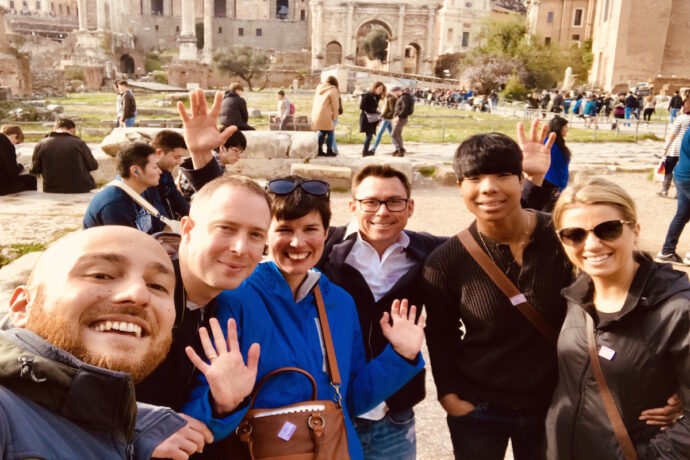 ---
LivTours' Women of Ancient Rome Tour is an incredible opportunity to focus your 3 hrs inside the Roman Forum, Palatine Hill and Colosseum to the women that filled the streets and the palaces of Ancient Rome. In this amazing journey, you will not only be able to visit the incredible sites with skip-the-line access, but, most importantly, have your guide specifically only enlighten your knowledge with stories often times untold or forgotten.
The focus of this Women of Ancient Rome tour is to open people's minds about the status quo, role and neglected importance women had in ancient Roman society. And how certainly, they played a far more important role in the unfolding of historical events than we were ever told.
BOOK NOW
Exclusive private Tours and Experiences. Also offered in Spanish, French, Portuguese, Swedish and Russian
Our prices always include tickets and reservations fees (no waiting in lines!)
Our tour guides and staff are selected experts and speak perfect English
Easy to book and prepay your tours with our secure payment system
Eco-sustainable tourism, designed to respect and support local culture, art and traditions
---
Your LivTours Women Of Ancient Rome Tour will commence just outside of the Colosseum, the important Amphiteatre Flavius. A short introduction with your high-quality tour guide and off you travel with your mind and imagination to the era of gladiators, generals and Caesars. Your guide will explain the role that females played in Ancient Times, anything from family life to Mythology. You will dig deep with our guide and understand the value of passion, infidelity and union between human beings and Goddessess.
Once inside the Colosseum, after admiring its amazing architecture and engineer, you will start wondering about the existence of Gladiatrixes: did they really exist? Did they ever fight on the Arena? Were they trained to be hunters? And is it true they had to combat with dwarves?
Clearly a misty subject, you will then concentrate on what is known and certain: female spectators. Understand where they were seated and why were they seated together. Understand the importance of dresses, habits and jewelry worn and capture the essence and meaning of the cult of Vesta and the Vestal Virgins: who sat at the royal box and participated in the myth of the thumbs up or down.
Gladiators were often wounded, and women had an incredible role in medicine at the time: what was their medical and healing capacity? What was their knowledge?
Off you go to the Roman Forum and Palatine Hill. The hike is incredible and so are the view. Your guide will introduce you to the origins of Rome, the Monarchy, Republic and Imperial eras and then dive into the women that inhabited or have been filling the roads of this remarkable site.
In no particular order, you will see the Arch of Septimius Severus and learn about Giulia Domna. Giulia, like all women of her time, was promised and granded marriage to an offerer, Septimius Severus. Giulia Domna peronally took care of the children's education and assisted her husband with his daily political duties. But when their older son Antonino Bassiano became Emperor, the contrast between him and his brother Geta became unbearable. Their mother's attempt at mediation was useless, and Geta was killed. He became co-empress, in a singular and unprecedented diarchy with her Son. More on the tour….
You will then lean onto the Rostra Iulia and learn about Fulvia, Marc Anthony's wife. A dominatrix, a woman who wanted not only to command a husband, but a great commander of armies. Of course, there would be no tour of Women in Ancient Rome without naming Aurelia Cotta, mother of Julius Caesar or Lucilla, daughter of Emperor Marcus Aurelius.
The stories will get thicker and more intrigued, filled with amazing facts and anecdotes that no other tour will be able to cover. And after naming leading female roles, Orators, 2 Livillas, Vestal Virgins, female Saints, mothers and grandmothers and many more, you will climb your way up to the Palatine Hill, the most Sacred of ancient Roman hills.
Julia, daughter and only child of Emperor Augustus: married to Augustus' trusted general Agrippa hoping for a direct line of descent, if necessary, until any male children came of age. And Augustus wasted no time in claiming this family for himself and adopted the boys and the story got thicker and wilder after that. Walk through the incredible ruins of the Hill and while adoring the House of Augustus and Livia, learn about Livia Drusilla, 1st Empress, third and final wife of Augustus: faithful, reliable and quiet support of her husband, he respected her thoughts and opinions so much that he would discuss things within the Empire with her, and because of this, many considered her influence extraordinary on the Emperor. She was even said to be able to convince him to be merciful towards his opponents. Mother of Tiberius, and grandmother of Emperor Claudius, she was eventually named Diva Augusta, the Divine Augusta.
The tour will end outside of the Palatine Hill and your top-rated tour guide will now have enlightened you on a side of history that often times is too easily omitted in the story-telling of how events and influences unfolded.
BOOK NOW
---
When you book a LivTours Private Tour or Experience, you are guaranteed a dedicated, expert guide that allows you the flexibility to start your tour at a time which is convenient for you, making planning easy. Our private tours ensure that you will get a tailored experience to meet all your needs so we go at your pace, perfect for families with younger children, elderly, or individuals with accessibility needs. Please be advised that all private tours begin at a base price starting at two people*. Prices are inclusive of entry tickets where applicable.
*Our Tuscan motorcycle tour and some Ferrari private experiences are inclusive of one person only.
BOOK NOW
---
Make your day even more unique and comfortable by upgrading your tour with a customizable LivTours optional add on!
BOOK NOW
---
Must show Vaccination or Negative test for Italy & France Tours
For all France and Italy tours that include an indoor activity, a museum or an archeological park visit, it is now National Law in both countries, to present a covid-19 vaccination card OR negative covid-19 test result from the past 48 hrs accompanied by your personal ID to the local authorities for all adults over the age of 12. Lack of ability to present such documentation may result in loss of tour and funds lifting LivTours from all responsibilities.
---
BOOK NOW
---
By selecting BUY AS A GIFT, you can purchase this tour as a gift for someone you care for. You will receive a gift card voucher that then can be redeemed by the person/people who will enjoy the tour.Date and Time are values that cannot be selected at the moment. You will in fact receive a gift card voucher with instructions on how to redeem the tour and then select date and time.You can create a shopping cart with multiple tours as gift cards. You may not compose a shopping cart of gift cards and actual tours with date and time.This option can also be used as an opportunity to book a tour open-dated for yourself, in case you are still in the pre-planning phase of your trip.For more information please read here.
BOOK NOW