Windsor Castle from London | Private Chauffered Visit
---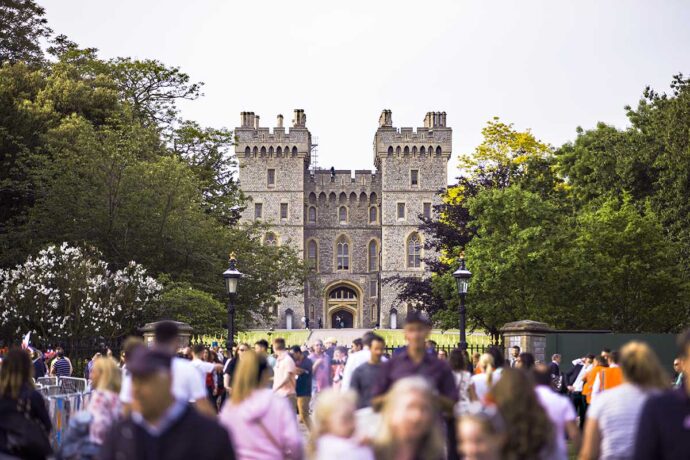 ---
Your LivTours Windsor Castle from London Private Chauffeured Visit will take you around 25 miles from the London City center. Here lies Windsor, the longest-occupied royal home in Europe. For more than 1000 years, the castle has been home to the monarchs of England and is still a popular escape today! We will pick you up from your hotel and smoothly escort you to Windsor Castle in royal splendor in a private Mercedes, so you can avoid the fuss of crowded trains and public transport.
Relax as your driver takes you right up the castle gates, entering the hallowed medieval fortress. From state apartments built for visiting dignitaries to the gothic masterpiece of St George's Chapel, where Henry VIII is buried and where royals are wed, not to mention the 100-year-old dollhouse of Queen Mary. Once you have discovered all the wonders of the castle, palace, and royal home your private driver will take you back to your hotel or any other London location at ease in luxurious style.
BOOK NOW
---
Visit Windsor Castle in royal style with your private chauffeured trip out of London

Discover private rooms built to host royals, presidents and politicians

Witness over 1000 years of Royal and British history with this half day experience

Sit back and be chauffeured to the country for a visit of a functioning royal castle

Marvel at ancient english architecture from medieval castles to opulent ballrooms
BOOK NOW
Exclusive private Tours and Experiences. Also offered in Spanish, French, Portuguese, Swedish and Russian
Our prices always include tickets and reservations fees (no waiting in lines!)
Our tour guides and staff are selected experts and speak perfect English
Easy to book and prepay your tours with our secure payment system
Eco-sustainable tourism, designed to respect and support local culture, art and traditions
---
Your LivTours Windsor Castle from London Chauffeured visit is the only way to truly visit Windsor in comfort and royal style. With your private Mercedes and very own chauffeur, we will take you out of London to the charming and quaint English countryside to the stately and favorite English home of the Royal Family. The town of Windsor is of great importance and in times of war became the new home of the family. Though packed full of fascinating artifacts and historical gems, this medieval fortress is not just a museum but a functioning political building and home of the reigning monarch.
From its small but crucial origins as a collection of wooden castles built aside the river Thames to its grand and expensive medieval redevelopment. Windsor's first function was defense. Moving with the times Windsor showcases all the latest architectural styles from the last 1000 years. With elegant ballrooms and hosting spaces for dignitaries built to be so decadent they could rival Versailles, you will feel truly royal as you walk through the castle grounds. Your private chauffeur will drive you straight to the palace gates, leaving you to wonder at your own leisure before bringing you back to the city to your hotel, bar, restaurant, or location of choice for an afternoon of reflection on the royal splendor. For those who wish to upgrade, the tour can be fully accompanied by a private tour guide for the entire tour at an additional fee, otherwise, simply enjoy the stories and explanations of the private chauffeur on route!
Experience the lavish beauty of the secret private rooms belonging to the monarchy, enter the enchanting church that witnessed the explosive burial of one of England's 'Largest' monarchs, and follow in the footsteps of Prince Harry and Megan Markle at the sight of their wedding. Wander through state apartments like a royal guest and stand in rooms that have hosted kings, queens, and heads of state for hundreds of years, before heading back to London after a day of luxury.
For those who don't want to visit the castle completely independently, you can choose the "private guide on board" add-on and you will be accompanied by an expert Blue Badge guide for the entirety of the drive and tour.
* Entry tickets are included. Please note that there might be a security line to enter the castle.
BOOK NOW
---
English speaking chauffeur

Hotel pickup and drop off

Windsor castle entrance tickets

St George's chapel

Famous dollhouse of Queen Mary

The State Apartments

Audio tour with King Charles

Changing of the Guard (depending on day)

The Moat Room

Windsor's fine art collection

The porcelain China museum
BOOK NOW
---
LivTours' group size of max 6 participants is and always has been based on sustainable travel, and we are proud to be at the forefront of change and innovation in the industry.  LivTours is committed to providing travelers with truly sustainable tours with the lowest possible environmental impact, all while supporting the local industries and people of each unique destination. To learn more about how you can actively support sustainable tourism  and how LivTours is contributing, click here.
BOOK NOW
---
When you book a LivTours Private Tour or Experience, you are guaranteed a dedicated, expert guide that allows you the flexibility to start your tour at a time which is convenient for you, making planning easy. Our private tours ensure that you will get a tailored experience to meet all your needs so we go at your pace, perfect for families with younger children, elderly, or individuals with accessibility needs. Please be advised that all private tours begin at a base price starting at two people*. Prices are inclusive of entry tickets where applicable. *Some Ferrari private experiences are inclusive of one person only.
BOOK NOW
---
Make your day even more unique and comfortable by upgrading your tour with a customizable LivTours optional add on!
550 €
957 A$
511.50 £
649 $
BOOK NOW
---
Stress-free visit to Windsor
"This escorted trip to visit Windsor Castle takes all of the hassle out of trying to take a day trip outside of London. The service is very reliable and comfortable. Our driver, Jonathan, was extremely friendly and full of insights and information that we thoroughly enjoyed hearing about. Of course, we loved visiting Windsor and learning all about the royals. Absolutely amazing history!!!"
Jackie - USA
---
Best way to see Windsor Castle
"We were very happy that we had booked the visit to Windsor Castle through this company. It was a very comfortable trip out to the Castle and back and our driver was very friendly and helpful. We felt we were receiving VIP service but in a relaxed and enjoyable atmosphere."
Stephen and co. - USA
---
Windsor Castle visit
"We were picked up from our hotel in a comfortable limousine and driven outside of the city to visit Windsor Castle. After the visit, we were taken back to our hotel. The driver John was very entertaining and told some very colorful stories about the royal family on our way to the Castle. He made sure we were exactly where we should be and that our creature comforts were taken care of. We can definitely recommend you contact this company if you wish to see Windsor Castle."
Jason - Belgium
---
BOOK NOW
---
By selecting Choose Dates Later / Buy as Gift at booking, any tour can be purchased without fixed dates. This is the perfect option if you want to purchase your tour as a gift for a loved one, or if you are in the pre-planning phase of your vacation. After booking, you will receive a Travel Voucher Code and full instructions on how to schedule your tours when ready. Once your travel plans are confirmed, you can easily use the Travel Voucher Code on the LivTours website to formally schedule your tours. You can find out more here.
BOOK NOW