VIP Private Gaudi Tour of Barcelona
---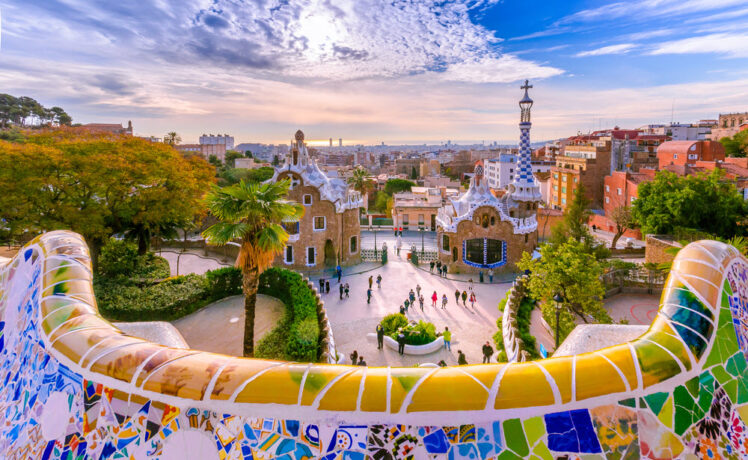 ---
LivTours Private Gaudi Tour of Barcelona is the best way to explore the outstanding works of Barcelona's most eccentric architect in-depth with your own private tour guide. Certainly, the most associated name with the Art Nouveau movement in Catalonia, Modernism as it is known locally. Your guide will share with you the intricacies behind the world-renowned architectural genius.
You will see the exteriors of Gaudi's most well-known apartment buildings, Casa Batllo and la Pedrera before heading over to Casa Vicens, the architect's first commission and a home just recently opened to the public. You will enjoy the stunning views from Park Güell as the sun sets over the bustling Mediterranean city, as well as enjoying skip the line tickets to his masterpiece, la Sagrada Familia. With an expected completion date of 2026, you will be able to admire a 95% complete interior and a well underway exterior and go to the heights to soak in the views across this vibrant city, all in the company of your VIP private guide.
BOOK NOW
---
Enjoy skip-the-line entrance to Gaudi's renown buildings, including Sagrada Familia

Explore his designs from his first commission to his masterpiece with an expert guide

Revel in the luxury of a private tour with private guide and transport between sites

Hear about Gaudi's clever designs and how his inspiration came from Mother Nature

See how he cleverly designed furniture and buildings that are functional & beautiful
BOOK NOW
Exclusive private Tours and Experiences. Also offered in Spanish, French, Portuguese, Swedish and Russian
Our prices always include tickets and reservations fees (no waiting in lines!)
Our tour guides and staff are selected experts and speak perfect English
Easy to book and prepay your tours with our secure payment system
Eco-sustainable tourism, designed to respect and support local culture, art and traditions
---
Your Private Gaudi Tour of Barcelona starts in Paseo de Gracia, a still elegant avenue that was the most fashionable address in Barcelona at the turn of the 20th century and known as the street where Gaudi left his mark. See the two architectural designs by the artist, very different apartment buildings for the city's uber-wealthy. The first building that you will admire with your private guide is the bluish hued façade of Casa Batllo. Designed and built right at the beginning of the 1900s, this is the building where Gaudi had his most artistic freedom and is based on local Catalan legend. Just a few blocks away is the stunning Casa Mila, which is known locally as la Pedrera – the stone quarry. Find out how it got this nickname and what made it a forerunner in architecture through the knowledge and lively commentary of your private guide.
Once you have taken your photos and are ready to move on, your private luxury van will be there to pick you up and whisk you along to the newly restored Casa Vicens. This was a project completed by a very young Gaudi not too long after he had graduated from architectural school, to be a summer home for the wealthy Vicens family, and was just recently opened to the public after being used as a private residence since it was built in 1885.
Then it is on to the masterpiece, la Sagrada Familia Basilica, a project that Gaudi was commissioned to lead the same year he was designing Casa Vicens, 1883. With skip-the-line entrance tickets, you will be given priority access to enter the most visited monument in Spain. This amazing feat of architecture takes up a complete city block with a storybook-like exterior showing the life of Jesus on Earth on one side and The Stations of the Cross on the other side and was designed to have a forest-like interior. The magic of the stained glass windows makes you feel like you are walking inside a color-filled forest. Once you have had your fill of this almost finished spectacular masterpiece, you and your private guide will take a short taxi ride up into the hills of the city to visit Gaudi's Park Güell, watching the sun set over the city.
The Park was one of Gaudi's most expansive creations with 42 acres of land, which is now a public park. As your guide leads you through Park Güell, you'll have the unique experience of walking through an entire community created by Gaudi, giving you the feeling that you've stepped inside his mind.
Park Güell was originally designed by Gaudi for the industrialist, Eusebio Güell, at the turn of the 20th century. Gaudi was commissioned by Güell to create a community of exclusive houses, each with its own small garden, as well as a large public area.  Güell's vision of an upmarket gated neighborhood never came to fruition, so upon his death he left the park to the city with the stipulation that it always be kept as a public park – lucky us!
BOOK NOW
---
Paseo de Gracia

Casa Batllo

Casa Mila

Casa Vicens

Skip the line la Sagrada Familia tickets

Park Güell

Transport between sites

Fully guided tour
BOOK NOW
---
Comfortable walking shoes recommended.

Places of worship have strict dress code requirements for entry. All participants are required to have shoulders and knees covered (no tank tops or short dresses) to enter.

There is no photography allowed in some or all areas of this tour.
BOOK NOW
---
LivTours' group size of max 6 participants is and always has been based on sustainable travel, and we are proud to be at the forefront of change and innovation in the industry.  LivTours is committed to providing travelers with truly sustainable tours with the lowest possible environmental impact, all while supporting the local industries and people of each unique destination. To learn more about how you can actively support sustainable tourism  and how LivTours is contributing, click here.
BOOK NOW
---
When you book a LivTours Private Tour or Experience, you are guaranteed a dedicated, expert guide that allows you the flexibility to start your tour at a time which is convenient for you, making planning easy. Our private tours ensure that you will get a tailored experience to meet all your needs so we go at your pace, perfect for families with younger children, elderly, or individuals with accessibility needs. Please be advised that all private tours begin at a base price starting at two people*. Prices are inclusive of entry tickets where applicable. *Some Ferrari private experiences are inclusive of one person only.
BOOK NOW
---
Make your day even more unique and comfortable by upgrading your tour with a customizable LivTours optional add on!
90 €
156.60 A$
83.70 £
106.20 $
Half Day Chauffeur Options
BOOK NOW
---
Gaudi
"I think my wife and I really understood (and appreciated) Gaudi's style better thanks to LivSpain's tour. Having our great guide, Jorge, explain Gaudi's life and the things that influenced his style, made it much easier to enjoy what we were seeing."
Harrison - UK
---
A tour worth doing
"We were really looking foward to seeing the many different works of Gaudi while in Barcelona and we are so glad that we booked this tour to do so. Having a guide, especially the very good one that we had, to help you navigate the city and to describe the architecture and point out details and insights into the artist, made the experience very meaningful and memorable. Don't hesitate to book this tour (either private or in a small group) as it is definitely worth doing!"
Annie Lockwood - USA
---
Very interesting tour
"Experiencing Gaudi in Barcelona merits doing so with a professional guide. Gaudi's style makes so much more sense when you know the history of the artist's life and the influences that touched him. Our guide pointed out many details that we wouldn't have noticed without him which made the experience so much more memorable. We also learned alot about life in Barcelona from our guide. We felt the tour was very comprehensive and we were very happy we had booked it."
Walter - USA
---
BOOK NOW
---
By selecting Choose Dates Later / Buy as Gift at booking, any tour can be purchased without fixed dates. This is the perfect option if you want to purchase your tour as a gift for a loved one, or if you are in the pre-planning phase of your vacation. After booking, you will receive a Travel Voucher Code and full instructions on how to schedule your tours when ready. Once your travel plans are confirmed, you can easily use the Travel Voucher Code on the LivTours website to formally schedule your tours. You can find out more here.
BOOK NOW