VIP Private Capri Dining Experience with Luxury Yacht Transfer & Aperitif
---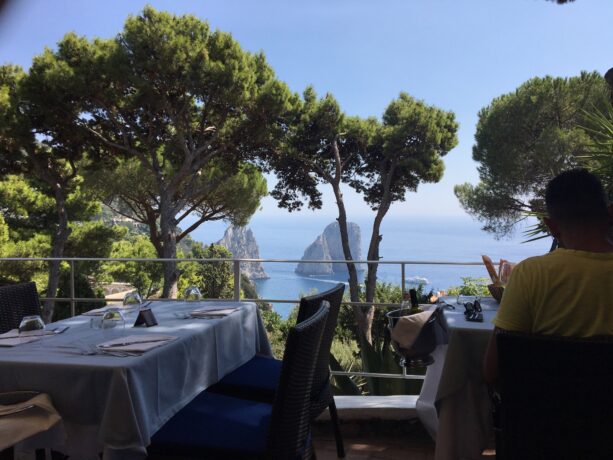 ---
Enjoy a fast, luxury evening transfer with aperitif from Sorrento to Capri on board the brand new LivTours luxury Tornado 38 Yacht. Enjoy complimentary drinks as you sail into the evening sun. Arrive on the beautiful island of Capri to meet your open-top taxi, which will take you to your pre-booked restaurant (cost of dinner not included) for a delicious supper with truly incredible views overlooking the famous Faraglioni rocks. Enjoy a relaxed evening of delicious Italian cuisine and magical views, before your luxurious and speedy return to Sorrento on board the Tornado 38 yacht under the stars.
BOOK NOW
---
Enjoy an exhilarating ride aboard the new luxury Tornado 38 Yacht

Skim over the crystal-clear turquoise sea toward a glorious Italian sunset

View the spectacular scenery of the Amalfi Coastline

Dine out at our recommended restaurant on Capri (Cost of dinner not included)

Photograph the incredible views of the Faraglioni Rocks
BOOK NOW
Exclusive private Tours and Experiences. Also offered in Spanish, French, Portuguese, Swedish and Russian
Our prices always include tickets and reservations fees (no waiting in lines!)
Our tour guides and staff are selected experts and speak perfect English
Easy to book and prepay your tours with our secure payment system
Eco-sustainable tourism, designed to respect and support local culture, art and traditions
---
Meet your expert English-speaking Skipper at the Sorrento dock in the evening and climb aboard the exclusive LivTours Tornado 38 Yacht – a brand new 2023 model, designed for speed, style, comfort, and high-end luxury. Enjoy a fast, exhilarating boat ride out onto the turquoise waters of the Tyrrhenian sea, towards the sunset and the beautiful island of Capri. The journey takes about one hour, so sit back, relax and enjoy the wind in your hair and stunning views of the rugged Amalfi Coastline, sea views of crystal clear waters, the many islands, caves and coves as you speed across the waves to Capri.
Capri is an island steeped in history and Hollywood glamour. It is famous for its breathtakingly beautiful scenery, sheer cliffs, amazing caves and mysterious grottos. It was the playground of Hollywood legends like Elizabeth Taylor and Richard Burton, these days celebrities like Mariah Carey and Leonardo di Caprio spend time on the island, and two thousand years ago, the Emperor Tiberius had a holiday villa here!
Sail past the jetset super yachts that surround Capri, and be picked up by an open-top taxi, that will take you up the hill to an amazing restaurant with delicious Italian food and truly spectacular views of the iconic Faraglioni Rocks. (Dinner is not included in the price). Forged millions of years ago, these majestic rocks jut out dramatically from the sea and have become one of the most photographed geological phenomena in the world.
Enjoy your evening meal in the warmth of the evening Mediterranean air, and the heady, romantic atmosphere of Capri, before your luxury return journey on the Tornado 38 – speeding across the waves, under the stars… back to the Amalfi Coast and beautiful Sorrento.
Please specify in the "additional notes box" if children will be joining the excursion. We will need to know the age of each child to be able to provide the correct life jacket onboard.
BOOK NOW
---
Private Tornado 38 luxury yacht

Speedy, roundtrip crossing from Sorrento to Capri

Private open-top taxi

Dinner reservations (Cost of meal not included)

English speaking skipper

Stunning views
BOOK NOW
---
Please specify in the "additional notes box" if children will be joining the excursion. We will need to know the age of each child to be able to provide the correct life jacket onboard.

The Tornado 38 yacht has a max capacity of 10 passengers. If you book for more than 10 passengers you will have two boats.
BOOK NOW
---
LivTours' group size of max 6 participants is and always has been based on sustainable travel, and we are proud to be at the forefront of change and innovation in the industry.  LivTours is committed to providing travelers with truly sustainable tours with the lowest possible environmental impact, all while supporting the local industries and people of each unique destination. To learn more about how you can actively support sustainable tourism  and how LivTours is contributing, click here.
BOOK NOW
---
When you book a LivTours Private Tour or Experience, you are guaranteed a dedicated, expert guide that allows you the flexibility to start your tour at a time which is convenient for you, making planning easy. Our private tours ensure that you will get a tailored experience to meet all your needs so we go at your pace, perfect for families with younger children, elderly, or individuals with accessibility needs. Please be advised that all private tours begin at a base price starting at two people*. Prices are inclusive of entry tickets where applicable. *Some Ferrari private experiences are inclusive of one person only.
BOOK NOW
---
Make your day even more unique and comfortable by upgrading your tour with a customizable LivTours optional add on!
Add a Bottle of Champagne
Start your Experience from the Naples Marina
BOOK NOW
---
By selecting Choose Dates Later / Buy as Gift at booking, any tour can be purchased without fixed dates. This is the perfect option if you want to purchase your tour as a gift for a loved one, or if you are in the pre-planning phase of your vacation. After booking, you will receive a Travel Voucher Code and full instructions on how to schedule your tours when ready. Once your travel plans are confirmed, you can easily use the Travel Voucher Code on the LivTours website to formally schedule your tours. You can find out more here.
BOOK NOW