VIP Le Marais Paris Food Tour | Semi-Private Experience
---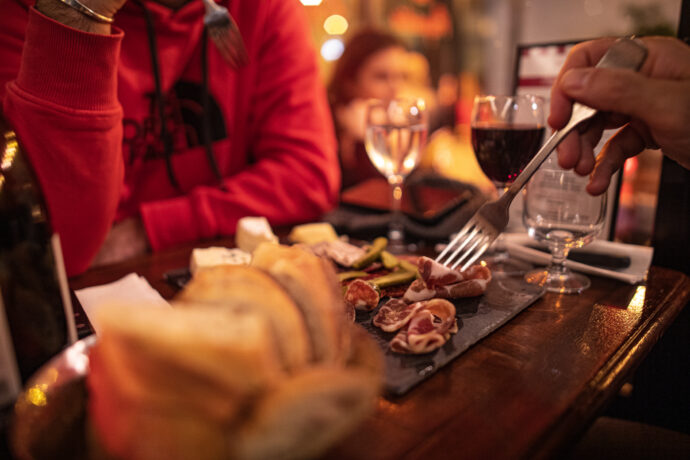 ---
Explore the fashionable neighborhood of Le Marais on this VIP semi-private food tour: a truly personalized experience with a maximum of 6 people in your small group. With your expert local guide, explore the labyrinth of medieval cobbled streets, picturesque squares, chic boutiques, and the delicious cuisine of Le Marais! The streets are lined with cafes and bars, museums and mansions, libraries, bookshops, buskers, and food stalls. Walk past contemporary galleries, chi-chi jewelers, and fashion shops. Enjoy a variety of delicious tastings including famous French pastries and sweet treats, an array of cheeses with classic baguettes, and a flavorsome and filling dish of French onion soup with well-paired wine!  
BOOK NOW
---
Enjoy a delicious food tour in an exclusive small group (maximum of 6 people)

Explore Le Marais, an historic area of Paris with medieval and Jewish origins

Enjoy several tastings of French pastries and sweet treats

Try a variety of traditional cheeses with freshly baked baguette

Savor local favorites like Falafel and French onion soup with wine
BOOK NOW
Semi-Private tours and experiences are guaranteed six participants max.
Our prices always include tickets and reservations fees (no waiting in lines!)
Our tour guides and staff are selected experts and speak perfect English
Easy to book and prepay your tours with our secure payment system
Eco-sustainable tourism, designed to respect and support local culture, art and traditions
---
Enjoy a delicious three-hour morning tour of French food tasting with traditional pastries, cheeses, hot dishes with well-paired wines, macaroons, and chocolates, in the beautiful area of Le Marais in Paris. Le Marais is a beautiful medieval arrondissement of Paris, a maze of narrow cobbled streets, old timbered buildings, aristocratic mansions, and many hidden gems with picturesque squares like Place des Vosges. Named for the marshland it was originally built on, Le Marais was once the headquarters of the infamous Knights Templar. Today it is one of Paris's most upmarket, multi-ethnic, and trendy neighborhoods, and this is reflected in its international cuisine. It is also home to the Jewish community, and popular with art lovers, bookworms, fashionistas, and foodies alike! 
Your tour meets at 10.30 a.m in the very heart of Le Marais, and begins at a charming patisserie, famous for its elaborate decor, where you'll sample the traditional French breakfast pastry: the croissant! Your expert English-speaking guide will tell you all about the area and the traditions of French cuisine, and then lead you around this vibrant neighborhood. 
Next up is a mouth-watering tasting of a variety of traditional French cheeses with freshly baked baguette, and a well-paired glass of wine. 
It may sound strange that Paris is world famous for its falafel, which originates in the middle east, but it's true. Falafel is the most popular street food in Paris. Head to the buzzing Rue des Rosiers, in the heart of the Jewish neighborhood, to sample the best falafel in the world! The street with its vibrant atmosphere is home to many kosher food shops, stalls, and restaurants. 
Now it's time for a well-deserved sit down at a local restaurant for a delicious French onion soup and expertly paired wine. After lunch, you'll be taken to two more specialist venues for two samplings of famously French sweet treats: a delicate macaroon, followed by an award-winning chocolatier, for a melt-in-the-mouth tasting experience! 

BOOK NOW
---
Expert English-speaking guide

Exclusive small group (6 people max)

A guided food tour of Le Marais

Traditional pastries, chocolates, and macaroons

Cheese, baguette, and wine

Falafel and Jewish history on Rue Rosiers

French onion soup
BOOK NOW
---
LivTours' group size of max 6 participants is and always has been based on sustainable travel, and we are proud to be at the forefront of change and innovation in the industry.  LivTours is committed to providing travelers with truly sustainable tours with the lowest possible environmental impact, all while supporting the local industries and people of each unique destination. To learn more about how you can actively support sustainable tourism  and how LivTours is contributing, click here.
BOOK NOW
---
All LivTours Semi-Private Group Tours are limited to 6 guests per tour guide. Our commitment to maintaining our uniquely tiny group sizes can sometimes be a little tricky, mathematically speaking. For example, we want to ensure that traveling families and friends can tour together so on rare occasions we may add one or two guests in order to not split groups. On that same note, you may also find yourself on tour with less than six people! We thank you for your understanding and flexibility.
BOOK NOW
---
By selecting Choose Dates Later / Buy as Gift at booking, any tour can be purchased without fixed dates. This is the perfect option if you want to purchase your tour as a gift for a loved one, or if you are in the pre-planning phase of your vacation. After booking, you will receive a Travel Voucher Code and full instructions on how to schedule your tours when ready. Once your travel plans are confirmed, you can easily use the Travel Voucher Code on the LivTours website to formally schedule your tours. You can find out more here.
BOOK NOW