VIP Lake Como Boat Tour From Milan | Private Experience
---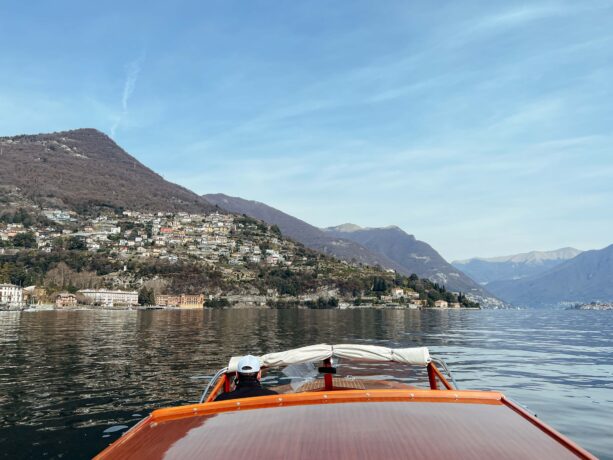 ---
Enjoy a fun and adventurous day trip to Como from Milan for a luxurious VIP private boat tour around the spectacular Lake Como!
You'll be picked up at your hotel by a private chauffeur and driven just under an hour away to the famous shores of the beautiful Lake Como. Here you'll meet your skipper on the dock and climb aboard your luxury boat for a fabulous four-hour tour of the lake, with views of the dramatic Alpine scenery and colorful towns and villages that line the lake shore.
Enjoy a stop off in the gorgeous village of Bellagio for lunch, before cruising back to the dock, where your private chauffeur will be waiting to take you to Milan in time for an afternoon tour or aperitivo!
BOOK NOW
---
Enjoy a luxurious VIP boat tour of the beautiful Lake Como

Benefit from a luxury private transfer from your Milan hotel

View the dramatic, mountainous scenery of Lake Como

Explore the colorful towns and villages overlooking the lake

Admire the blue-green of the lagoon waters of Italy's deepest lake!
BOOK NOW
Exclusive private Tours and Experiences. Also offered in Spanish, French, Portuguese, Swedish and Russian
Our prices always include tickets and reservations fees (no waiting in lines!)
Our tour guides and staff are selected experts and speak perfect English
Easy to book and prepay your tours with our secure payment system
Eco-sustainable tourism, designed to respect and support local culture, art and traditions
---
Your exciting day begins when your private chauffeur will pick you up from your Milan hotel. Then enjoy a one-hour, stress-free ride in a luxury vehicle, out of Milan towards Lake Como. 
Upon arrival, you'll be met by your skipper and embark on a private VIP boat for a stunning four-hour tour of the beautiful Lake Como. It is famously Italy's deepest lake, at 410 meters, and is shaped like an upside-down Y, with two long narrow branches meeting at the top. The town of Como itself is famous for its arresting Renaissance architecture and the towns and villages perched on the shores of the lake are all brightly colored, quaint, and pretty as a picture too. 
Enjoy the wind whipping through your hair as your boat speeds out onto the lake and admire the breathtaking, dramatic scenery of the mountains. Lake Como is situated in the foothills of the Alps, which makes for a truly magnificent viewing experience! The lake water glows blue and green under the sun, like a fairytale lagoon, and is surrounded by dramatic cliffs, a variety of lush green trees, and brightly colored villages. The best way to experience Lake Como is truly on a VIP boat cruise!
On your tour, you will stop off in the idyllic village of Bellagio situated on a peninsula in the middle of the lake. There are some fabulous restaurants for lunch, as well as many souvenir shops. The area is particularly famous for its silk production – so you'll find many fine silk scarves, ties, and other items on sale in the local shops. 
After lunch, it's time to sail back across the lake to your dock, where you'll disembark and be met once again by your driver for your return trip to Milan. You should arrive back at your hotel in time for a nap before heading out for a traditional Italian passeggiata and aperitivo, or an evening tour of the city!
BOOK NOW
---
VIP private boat tour of Lake Como

Roundtrip private transfer from Milan

Stop off in Bellagio

Spectacular views of the Alps

Private professional skipper

Photo ops of quaint lakeshore towns
BOOK NOW
---
Please note that while your boat model may change based on availability and may not be pictured above, LivTours always guarantees the highest quality service, with professional skippers and luxury comfort.
BOOK NOW
---
LivTours' group size of max 6 participants is and always has been based on sustainable travel, and we are proud to be at the forefront of change and innovation in the industry.  LivTours is committed to providing travelers with truly sustainable tours with the lowest possible environmental impact, all while supporting the local industries and people of each unique destination. To learn more about how you can actively support sustainable tourism  and how LivTours is contributing, click here.
BOOK NOW
---
When you book a LivTours Private Tour or Experience, you are guaranteed a dedicated, expert guide that allows you the flexibility to start your tour at a time which is convenient for you, making planning easy. Our private tours ensure that you will get a tailored experience to meet all your needs so we go at your pace, perfect for families with younger children, elderly, or individuals with accessibility needs. Please be advised that all private tours begin at a base price starting at two people*. Prices are inclusive of entry tickets where applicable. *Some Ferrari private experiences are inclusive of one person only.
BOOK NOW
---
Make your day even more unique and comfortable by upgrading your tour with a customizable LivTours optional add on!
550 €
957 A$
511.50 £
649 $
BOOK NOW
---
By selecting Choose Dates Later / Buy as Gift at booking, any tour can be purchased without fixed dates. This is the perfect option if you want to purchase your tour as a gift for a loved one, or if you are in the pre-planning phase of your vacation. After booking, you will receive a Travel Voucher Code and full instructions on how to schedule your tours when ready. Once your travel plans are confirmed, you can easily use the Travel Voucher Code on the LivTours website to formally schedule your tours. You can find out more here.
BOOK NOW