All-Inclusive Versailles Palace & Louvre Museum Tour | Semi-Private Experience
---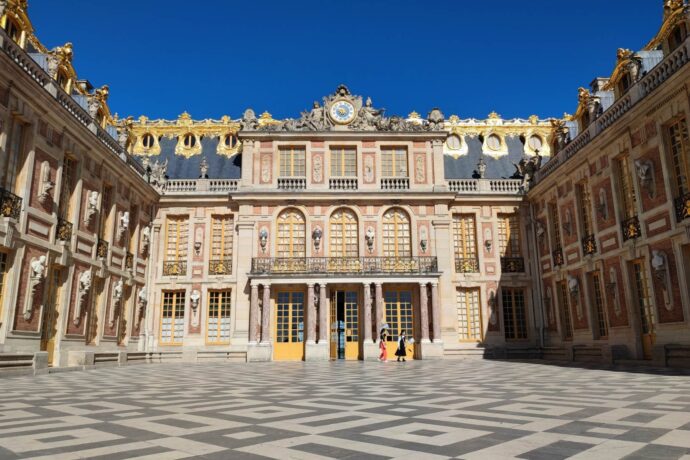 ---
Enjoy a full day immersed in historic royal splendor and artistic brilliance on this semi-private guided tour of two iconic French palaces: the Palace of the Sun King at Versailles, and the Louvre in the heart of Paris.
Begin your day at Versailles, famous for its golden opulence, and learn all the court gossip in the famous Galleries des Glaces and admire the magnificent fountains in the formal gardens.
After your in-depth tour, you'll ride the train back to Paris with your guide, have some free time for lunch, and then enjoy a fascinating tour of the palatial Louvre Museum, once home to the Kings and Queens of France, and now the most famous museum in the world housing masterpieces like the Venus de Milo and the Mona Lisa.
BOOK NOW
---
See two icons of French history and art in a day: Versailles and the Louvre

Enjoy the expert storytelling of your English-speaking guide

Explore the golden palace, gardens & fountains of the Sun King at Versailles

Discover the world-famous masterpieces in the Louvre, home to French Royalty

See the Mona Lisa, Venus de Milo & Nike of Samothrace with your expert guide
BOOK NOW
Semi-Private tours and experiences are guaranteed six participants max.
Our prices always include tickets and reservations fees (no waiting in lines!)
Our tour guides and staff are selected experts and speak perfect English
Easy to book and prepay your tours with our secure payment system
Eco-sustainable tourism, designed to respect and support local culture, art and traditions
---
Enjoy exploring the historic opulence and artistic masterpieces of the French monarchy on this semi-private full-day guided tour of two iconic French palaces turned museums: the Palace and Gardens of Versailles in the morning, and the Louvre Museum in the afternoon.
In a group of no more than six people, you'll start the day at the shining gates of the Palace of Versailles. Here, you will meet your expert, English-speaking guide at the heroic equestrian statue of King Louis XIV – the Sun King himself! Ignoring the long lines, you'll walk through the gleaming golden gates and straight through security with your priority access tickets to begin your tour.
Versailles was once a humble hunting lodge, but in the 17th century, King Louis XIV decided to transform it into the most lavish palace Europe had ever seen. He moved the whole French court there in 1682. As you wander through the King's Apartments and the famous Hall of Mirrors, you'll learn how Louis called himself the Sun King and would dress up as Apollo; you'll hear many royal scandals of love affairs and gambling debts, a high society fashion, intrigue, and plots of regicide! You'll see the sumptuous chapel where the ill-fated King Louis XVI married Marie Antoinette – and hear how the Revolution brought about the destruction of the French monarchy and its trappings of wealth like Versailles. You'll hear about the restoration of Versailles as you wander through the magical fountains that adorn the gardens, after which your guide will take you back to Paris on the train.
After a generous break for lunch (lunch is not included, but your guide will happily make recommendations in the local area) you will reconvene for a fascinating guided tour of the Louvre, with priority access tickets. The Louvre was built as a vast, majestic palace, and for many centuries was the home of the Kings and Queens of France. Sections of it are still departments of the French government. The Louvre houses over 35,000 pieces of art – including some of the most famous works ever discovered in Ancient Egypt, Greece, and Rome as well as an incomparable collection of Italian Renaissance masterpieces and French painters like Delacroix and Gericault. Highlights of the tour include the Nike of Samthrace, Venus de Milo, and of course the Mona Lisa by Leonardo Da Vinci.
BOOK NOW
---
Guided tour of Versailles Palace

Guided walk of the gardens

Accompanied train ride and tickets back to Paris

Louvre Museum guided tour

Priority access tickets for Versailles

Priority access tickets for the Louvre
BOOK NOW
---
LivTours' group size of max 6 participants is and always has been based on sustainable travel, and we are proud to be at the forefront of change and innovation in the industry.  LivTours is committed to providing travelers with truly sustainable tours with the lowest possible environmental impact, all while supporting the local industries and people of each unique destination. To learn more about how you can actively support sustainable tourism  and how LivTours is contributing, click here.
BOOK NOW
---
All LivTours Semi-Private Group Tours are limited to 6 guests per tour guide. Our commitment to maintaining our uniquely tiny group sizes can sometimes be a little tricky, mathematically speaking. For example, we want to ensure that traveling families and friends can tour together so on rare occasions we may add one or two guests in order to not split groups. On that same note, you may also find yourself on tour with less than six people! We thank you for your understanding and flexibility.
BOOK NOW
---
By selecting Choose Dates Later / Buy as Gift at booking, any tour can be purchased without fixed dates. This is the perfect option if you want to purchase your tour as a gift for a loved one, or if you are in the pre-planning phase of your vacation. After booking, you will receive a Travel Voucher Code and full instructions on how to schedule your tours when ready. Once your travel plans are confirmed, you can easily use the Travel Voucher Code on the LivTours website to formally schedule your tours. You can find out more here.
BOOK NOW