Private Venice Shore Excursion | City Highlights & Gondola Ride
---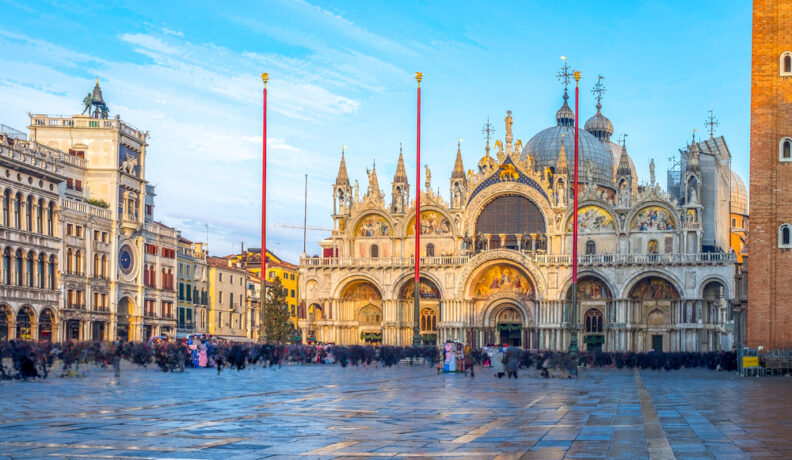 ---
LivTours'  Venice Shore Excursion is an excellent tour designed so you can make the most of your time in the city of canals.  Your  LivTours private guide will share with you a myriad of engaging stories about this centuries-old city.  Beginning with a private motorboat transfer from your cruise ship in the company of your private expert guide, you will begin to get a feel for Venice. Once on land, your guide will give you an introduction to the history of Venice, as they accompany you on a journey back in time sharing with you highlights such as the Rialto Bridge, Marco Polo's house and Campo Santa Maria Formosa as you wind your way through the maze of narrow streets and hidden bridges that make Venice the most romantic city in the world.
You will enjoy priority access to the breathtaking 9th-century Saint Mark's Basilica – a must see with its ornate golden mosaics, uneven floor, and amazing history. Surprisingly this was formerly the private chapel of the Doge (a type of local Duke) until the 19th century!  In fact, there is a covered walkway that connects the Basilica to the Doge's luxurious palace which you will get a chance to explore with priority access and your knowledgeable private guide.
You will end your tour with a private 30 minute gondola ride through the canals of Venice!
What better way to spend your day in Venice?  Come make your trip to Venice unforgettable!
BOOK NOW
---
Maximize your time in the city of a thousand bridges on a full day private tour

See the highlights of Venice in one day with an expert private local guide

Miss the long line with LivTours priority access to the Basilica and the Doge's Palac

Enjoy a private gondola ride through the narrow picturesque canals with great views

Travel in style with private motor boat transfers to and from your cruise ship
BOOK NOW
Exclusive private Tours and Experiences. Also offered in Spanish, French, Portuguese, Swedish and Russian
Our prices always include tickets and reservations fees (no waiting in lines!)
Our tour guides and staff are selected experts and speak perfect English
Easy to book and prepay your tours with our secure payment system
Eco-sustainable tourism, designed to respect and support local culture, art and traditions
---
Your LivTours' Venice Shore Excursion is an excellent way to see the city of bridges and islands.  LivTours all inclusive tour means you do not have to plan anything, just sit back, relax and take in all the beauty.  Your private tour starts directly outside your cruise ship where a private motor boat and your expert guide will be waiting for you with a personalized sign.  Glide into Venice and see the city waking up; fishermen coming back from the sea, market sellers setting out their fresh produce and the postman delivering the mail.
Your private motorboat will leave you at Campo San Giacometto where your private walking tour of Venice will begin!  Your private expert local guide will make sure you see all the beautiful highlights such as Rialto bridge, Marco Polo's house and Campo Santa Maria Formosa, but they will also take you to the narrow streets and hidden gems that make Venice so special and romantic.  Navigating the maze of canals, bridges and islands can be challenging, but your private local tour guide will lead the way while giving you the best insight, not only about the history of Venice, but also the daily life in this city built on water.
Once your walking tour reaches the heart of Venice, Saint Mark's Square, take a moment to enjoy the spectacular view of the façade of Saint Mark's Basilica, decorated in golden mosaic, dating back to the 9th century.  Once you have taken your photos, your LivTours guide will lead you into the basilica with our priority access, you will skip the often long lines.
Saint Mark's Basilica is connected to the stunning Doge's Palace.  Doge roughly translates into Duke and the basilica served as the private chapel to this self appointed aristocrat until the 19th century.  As soon as you enter, you will understand why Venetians call it the Basilica d'Oro.  Its importance and wealth are clear and after exploring the numerous treasures with your passionate LivTours guide, you will have gained a true understanding of its historical significance.
Now that you have explored the history of Venice and the religious influence in the city, It is time to move on to discovering its political and economic center, the Doge's Palace. For over a thousand years this palace housed 120 Doges (Dukes), you will enjoy priority access and skip another (usually) long line with  your private expert guide. The Doge, who was elected for life, was the reason behind Venice's wealth and power, but the Duke also symbolized terror and darkness. Your private guide will tell you the most engaging stories and amaze you with facts, anecdotes and scary secrets.  Imagine yourself walking through the huge halls that housed independent governments, luxurious apartments where the Doge lived his daily life, ornate rooms and jaw-dropping prisons. Learn about the unpolished and sometimes even cruel side of Venice. Before leaving the palace, you will have a chance to make a stop at the notorious bridge of Sighs and come to understand its Anglo-Saxon name.
No visit to Venice is complete without a gondola ride! Just a stone's throw away, a private gondola is waiting for you.   Your private guide will make sure that you are sitting comfortably before waving you off. You will enjoy a 30 minute ride with your fellow travelers.  Imagine gliding through narrow peaceful canals and gazing at the impressive palaces.
When your gondola docks, your private motorboat will be waiting for you to whisk you back to your cruise ship in style!
BOOK NOW
---
Round-trip Transfer on Luxury Water Taxi

Private Tour guide for the whole day

Entry tickets and tour to St Mark's Basilica

Entry tickets and tour to Doge's Palace

Walking Tour of Venice Highlights

30 mins Gondola Ride
BOOK NOW
---
Please remember to provide information about your cruise ship under "Additional information" in the booking form.
Offered in: English, French, Spanish, Portuguese and Italian. Please specify under "Additional notes" if you wish to book the tour in a language other than English.
BOOK NOW
---
LivTours' group size of max 6 participants is and always has been based on sustainable travel, and we are proud to be at the forefront of change and innovation in the industry.  LivTours is committed to providing travelers with truly sustainable tours with the lowest possible environmental impact, all while supporting the local industries and people of each unique destination. To learn more about how you can actively support sustainable tourism  and how LivTours is contributing, click here.
BOOK NOW
---
When you book a LivTours Private Tour or Experience, you are guaranteed a dedicated, expert guide that allows you the flexibility to start your tour at a time which is convenient for you, making planning easy. Our private tours ensure that you will get a tailored experience to meet all your needs so we go at your pace, perfect for families with younger children, elderly, or individuals with accessibility needs. Please be advised that all private tours begin at a base price starting at two people*. Prices are inclusive of entry tickets where applicable. *Some Ferrari private experiences are inclusive of one person only.
BOOK NOW
---
Best tour of Venice
"My family of 6 adults did the LivItaly "Best of Venice: All-Inclusive Shore Excursion" private tour (one of three LivItaly tours we took on this trip). Bottom line is, I highly recommend LivItaly, this tour, and Marie. Our contact met us at the port and took us to our awaiting private water taxi where we traveled down the Grand Canal to meet our tour guide, Marie. Marie was awesome! She is very knowledgeable about the city's history, culture, religion, government, and it's evolution to modern day and current challenges. As Marie has lived in Venice for some time, she expertly navigated the numerous narrow streets, alleys, and bridges during our walking tour of the city, providing insightful information along the way. We visited Saint Mark's Square where we toured Saint Mark's Basilica and Doge's Palace without waiting in any lines -- wonderful architecture, beautiful art, and fascinating history. We ended the tour with a gondola ride under the Bridge of Sighs and through the narrow canals, then a private water taxi took us back to the ship. We had a great time in Venice! Thank you LivItaly and Marie!"
Daniela - USA
---
BOOK NOW
---
By selecting Choose Dates Later / Buy as Gift at booking, any tour can be purchased without fixed dates. This is the perfect option if you want to purchase your tour as a gift for a loved one, or if you are in the pre-planning phase of your vacation. After booking, you will receive a Travel Voucher Code and full instructions on how to schedule your tours when ready. Once your travel plans are confirmed, you can easily use the Travel Voucher Code on the LivTours website to formally schedule your tours. You can find out more here.
BOOK NOW