Private Venice Ghost Tour with Gondola Ride
---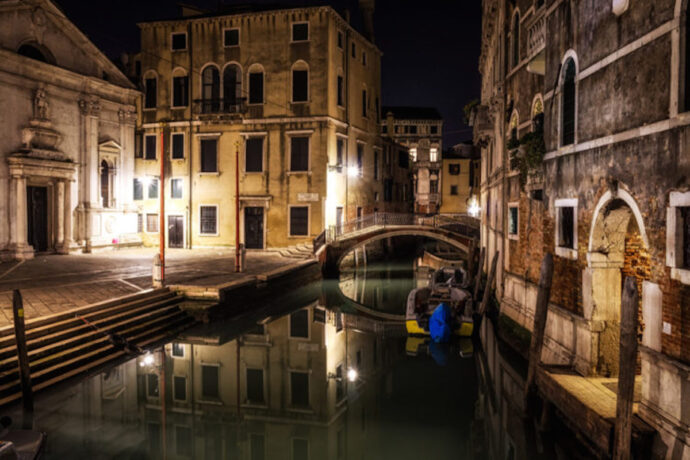 ---
LivTours' Venice Ghost Tour is a unique and ghostly way to explore the city! Your private local guide will share with you eerie stories and legends that fill the narrow streets and canals of Venice. This part walking, part gondola tour is your chance to learn about the darkest sides of the city of 118 islands and over 400 bridges. With alleys that abruptly end at the edge of dark canals, deep wells in the middle of squares from days gone past, a dense fog that tends to envelop the lagoon nightly and eerie Gothic palaces dotted along the dark canals, together all set the scene for an evening of ghostly tales.
When the sun sets, Venice takes a turn towards the eerie and spooky. For example, you will visit the site where a child's ghost is said to be trapped in the boutique shops.
Get ready to see Venice and hear about its dark side!
BOOK NOW
---
Spend an evening exploring the darker side of Venice with a local guide

Enjoy a private gondola ride through the dark and silent canals of Venice

Visit the Bridge of Sighs, said to be the last view of Venice prisoners would get

Hear the eerie stories behind the executions that took place in old Venice

Admire the city at its finest hour, in the early evening light, perfect for photos
BOOK NOW
Exclusive private Tours and Experiences. Also offered in Spanish, French, Portuguese, Swedish and Russian
Our prices always include tickets and reservations fees (no waiting in lines!)
Our tour guides and staff are selected experts and speak perfect English
Easy to book and prepay your tours with our secure payment system
Eco-sustainable tourism, designed to respect and support local culture, art and traditions
---
Your LivTours' Venice Ghost Tour starts in Campo San Giacometto where you meet your local expert guide who will take you through the spooky labyrinth of streets to hear stories about the dark side of Campo della Fava, Marco Polo's house and his Chinese wife, the bloody well story of Corte Lucatelli and San Gallo where the world-famous sculptor Antonio Canova died, where one of the most terrible murders of Venice occurred.
Your private Venice Ghost Tour continues as you take to the water for a 30 minute Gondola Ride with your guide.  Imagine yourself silently floating through the narrow dark canals, with only the sound of the paddles touching the water and the reflections of the glowing windows of palaces on the surface as your only company. Your guide continues to regale you with the mysteries of Venice while you silently glide by the sites.  St Mark's Square, home to the Basilica by the same name, is not exempt from mysteries with the two giant columns used for public executions and the stunning clock tower that was made by sculptors who later became blinded, making sure they could not recreate the same beauty anywhere else.  Gliding under the Bridge of Sighs as you hear how it got is English name and into Campiello Querini and Santa Maria Formosa that hosts a bell tower that was designed to scare away the devil.
The Venice Ghost tour ends at Campo Santi Giovanni e Paolo, house of Venice's hospital where they say the Doge's (Duke) ghost continues to live and haunt the city.
At the end of the tour you can let your guide know if you are too scared to walk back to your hotel on your own!
BOOK NOW
---
Campo San Giacometto

Marco Polo's house (outside)

Location of Canova's death

Rialto bridge

30 minute gondola ride

Bridge of Sighs

St Mark's Square

Campo Santi Giovanni e Paolo
BOOK NOW
---
LivTours' group size of max 6 participants is and always has been based on sustainable travel, and we are proud to be at the forefront of change and innovation in the industry.  LivTours is committed to providing travelers with truly sustainable tours with the lowest possible environmental impact, all while supporting the local industries and people of each unique destination. To learn more about how you can actively support sustainable tourism  and how LivTours is contributing, click here.
BOOK NOW
---
When you book a LivTours Private Tour or Experience, you are guaranteed a dedicated, expert guide that allows you the flexibility to start your tour at a time which is convenient for you, making planning easy. Our private tours ensure that you will get a tailored experience to meet all your needs so we go at your pace, perfect for families with younger children, elderly, or individuals with accessibility needs. Please be advised that all private tours begin at a base price starting at two people*. Prices are inclusive of entry tickets where applicable. *Some Ferrari private experiences are inclusive of one person only.
BOOK NOW
---
Make your day even more unique and comfortable by upgrading your tour with a customizable LivTours optional add on!
Guide's Pickup at Central Hotel (Transport Excluded)
BOOK NOW
---
The mysteries of Venice
"Great tour very informative and fun. The tour guide discriptions had me visualizing a seance from the past. A wonderfully immaginative way to see this fascinating city."
Rudy Williams - USA
---
BOOK NOW
---
By selecting Choose Dates Later / Buy as Gift at booking, any tour can be purchased without fixed dates. This is the perfect option if you want to purchase your tour as a gift for a loved one, or if you are in the pre-planning phase of your vacation. After booking, you will receive a Travel Voucher Code and full instructions on how to schedule your tours when ready. Once your travel plans are confirmed, you can easily use the Travel Voucher Code on the LivTours website to formally schedule your tours. You can find out more here.
BOOK NOW