Alert!
Must show Vaccination or Negative test for Italy & France Tours
Read more...
Vatican at Night Tour with Secret Room | Semi-Private Experience
---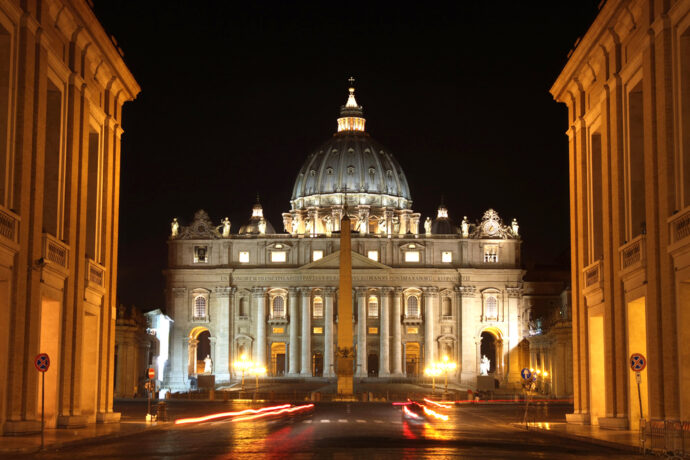 ---
LivTours Vatican at Night Tour with Secret Room is the perfect way to spend an evening touring a treasure trove of art.  Touring in the evening is an ideal way to avoid the heat and crowds of the daytime. This is certainly a must-see for first-time visitors to the Eternal City. The magical feel of visiting in the evening with the glowing lights of the Vatican with an expert guide at your side is an unforgettable experience. Our semi-private tours mean that it will be you, your tour guide, and no more than six people in any group. This is the ideal sized group, allowing you to enjoy a more personalized experience, ask your guide questions, and get closer to different works of art. Additionally, you will enjoy LivTours special access to a Secret Room in the Vatican which is normally off-limits to the general public. A special treat for art lovers!
With nearly 9 miles filled with extraordinary art, you could spend days just admiring the paintings in the Vatican, but LivTours has designed this tour to show you the most remarkable highlights. In the company of your expert guide, you will see the highlights of the Vatican museums collection, the Secret Room, and Michelangelo's Sistine Chapel.
Come enjoy an unforgettable evening admiring one of the most visited museums in the company of an expert guide!
BOOK NOW
---
Enter the Vatican at night with few crowds, an evening glow & an expert guide

See some of the most famous artworks in the world by Michelangelo, Raphael & more

Listen to the stories of papal power & experience 2000 years of art under their rule

Enjoy exclusive access to a Vatican Secret Room, not open to the general public

Discover the luxury of LivTours exclusive priority access and avoid waiting in line
BOOK NOW
Semi-Private tours and experiences are guaranteed six participants max.
Our prices always include tickets and reservations fees (no waiting in lines!)
Our tour guides and staff are selected experts and speak perfect English
Easy to book and prepay your tours with our secure payment system
Eco-sustainable tourism, designed to respect and support local culture, art and traditions
---
Your LivTours Vatican at Night Tour with Secret Room starts when you meet your guide and your fellow travelers very close to the Vatican. After giving you an introduction to the Vatican, its history, the art you will see, and the plan for your tour, you will enjoy LivTours' priority access entrance tickets allowing you to jump the often long lines. Your tour has been designed through years of experience to share with you the highlights of the vast museum. Starting in the serene Pinecone Courtyard, you first explore the Greek and Roman sculptures such as the Belvedere Torso, while your guide fills your head with the history and anecdotes of these important characters from the Greek and Roman worlds.  Next, it is off to see the Gallery of Maps, one of the most amazing rooms that was crafted by the best craftsmen of the time with their stunning floor to ceiling work.  Just a short distance away is the Gallery of the Tapestries where you will be awe-struck by the detailed beauty of these handcrafted floor to ceiling pieces.
Imagine having the chance to see the well-preserved mosaics from the Roman Emperor Hadrian's villa – which was located just outside of Rome in Tivoli – in person.  You will have that chance on this tour which includes a visit to The Cabinet of Masks where the mosaics are kept, along with a series of wonderful sculptures such as the statues of the Nymph and Aphrodite and The Three Graces. As your expert local guide leads you to the most important pieces, they will be giving you the history that links them to important moments in history, as well as leading you to see The Hall of Animals, Gallery of the Statues, and Hall of Busts that hold further artistic gems.
Moving towards more recent events, your expert LivTours guide will focus on the Renaissance. You will discover what inspired Raphael to paint one of his masterpieces, The School of Athens, for Pope Julius II's private rooms, and hear the anecdotes about how Michelangelo was nearly driven to craziness during the four years it took him to paint the Sistine Chapel – hardly surprising considering he painting every inch of the 8,000 square foot space! Visiting the Sistine Chapel in the soft evening light is truly an enchanting experience as the golden light filters through the windows, illuminating the rich hues of Michelangelo's paintings. Your tour ends with viewing this masterpiece, allowing you to spend more time soaking up the unique evening atmosphere should you wish.
BOOK NOW
---
Museums Skip-the-line tickets

Pinecone Courtyard

Octagonal Courtyard

Room of the Animals (exclusive access)

Hall of Busts (exclusive access)

Cabinet of the Masks (Secret Room)

Muses Room

Round Room

Gallery of Candelabra

Gallery of Tapestries

Gallery of Maps

Raphael Rooms

Borgia Apartments

Sistine Chapel

Michelangelos ceiling

Fully guided experience
BOOK NOW
---
The Vatican Night semi-private group Tour is seasonal. It is offered every Friday at 8 pm from May-October (excluding August). Tickets are very limited.

Places of worship have strict dress code requirements for entry. All participants are required to have shoulders and knees covered (no tank tops or short dresses) to enter.

There is no photography allowed inside the Sistine Chapel.


Please be aware that the Sistine Chapel is a Holy Place and talking during your visit inside is strictly forbidden, therefore your guide will give you an explanation of the Sistine Chapel beforehand during your tour, in order to give you a comprehensive explanation before entering the chapel.

Backpacks are not permitted in the museum.

Guests with wheelchair accessibility needs will find difficulty with this itinerary proposed in this tour. In order to ensure a barrier-free tour with alternative routes, please book the private version of this tour.

LivTours' group size of max 6 participants is and always has been based on sustainable travel and especially in these new times, we are proud to be at the forefront of the innovation, changes, and challenges that are presented to us during this post-pandemic time. At the moment, due to COVID-19 safety regulations, you are required to wear a mask for the entire duration of the tour. Please bring one for every participant over 6 years of age.

Due to these unprecedented times and ongoing safety and regulation changes, some sites may have limited accessibility if the venue can not guarantee social distancing which may lead to unforeseen tour modifications. Thank you for your understanding.
BOOK NOW
---
All LivTours Semi-Private Group Tours are limited to 6 guests per tour guide. Our commitment to maintaining our uniquely tiny group sizes can sometimes be a little tricky, mathematically speaking. For example, we want to ensure that traveling families and friends can tour together so on rare occasions we may add one or two guests in order to not split groups. On that same note, you may also find yourself on tour with less than six people! We thank you for your understanding and flexibility.
BOOK NOW
---
Must show Vaccination or Negative test for Italy & France Tours
For all France and Italy tours that include an indoor activity, a museum or an archeological park visit, it is now National Law in both countries, to present a covid-19 vaccination card OR negative covid-19 test result from the past 48 hrs accompanied by your personal ID to the local authorities for all adults over the age of 12. Lack of ability to present such documentation may result in loss of tour and funds lifting LivTours from all responsibilities.
---
St Peter's Basilica Direct Access
The passage between the Sistine Chapel and Saint Peter's Basilica is currently closed due to covid-19 physical distancing measures. This means that in order to enter the Church your tour will need to go around the Vatican State walls. Our top-rated guides will do their best to include a tour of the Basilica, but this may not always be possible due to the distance between the sites. In the eventuality this would not be possible, our guides will ensure a complete orientation of the Basilica so that you will collect the information prior to your visit. Please be aware that this alert may have expired by the date of your tour.
---
BOOK NOW
---
An evening at the Vatican
"We booked a small tour (6 people) to see the Vatican museums and Sistine Chapel. The night tour fit best into our schedule but also allowed us to see the museum and chapel with fewer crowds and in a more intimate fashion. Raffaela was our guide and was very charismatic and knowledgeable. We had a great time and really enjoyed learning about the artists' backgrounds and insights into the artworks. It was especially enjoyable with the small group because we were able to go at a good pace, stop for pics, hear everything Raffaela said and ask questions."
Nina O. - Canada
---
Vatican at night with Massimo
"Our truly small group Vatican night tour was just perfect with 6 guests. Our guide, Massimo, was fantastic! His experience and knowledge surpassed anything we were expecting and we thoroughly enjoyed ourselves. He knew the right pace to set, just how much time we should allow at each stop, and left plenty of time and attention for everyone's questions. Seeing the Vatican and Sistine Chapel at night is very suggestive. If you book this tour, you won't be disappointed. If you can ask for Massimo, do it! "
Dina Z. - Italy
---
The Vatican at night
"Annalisa was our tour guide for this wonderful small group, night tour of the Sistine chapel and the Vatican Museums. Annalisa was very engaging and sensitive to our interests. Her knowledge was outstanding, and she frequently connected the art with pertinent history of the time period. During the tour she asked about our interests and advised us on other sites in Rome that were "must sees". Our experience was wonderful, the location and meeting time were easy to locate and, being at night, there weren't the normal crowds. I would absolutely recommend Livitaly to friends and family members. We loved all aspects of the tour."
Carol L. - USA
---
BOOK NOW
---
By selecting BUY AS A GIFT, you can purchase this tour as a gift for someone you care for. You will receive a gift card voucher that then can be redeemed by the person/people who will enjoy the tour.Date and Time are values that cannot be selected at the moment. You will in fact receive a gift card voucher with instructions on how to redeem the tour and then select date and time.You can create a shopping cart with multiple tours as gift cards. You may not compose a shopping cart of gift cards and actual tours with date and time.This option can also be used as an opportunity to book a tour open-dated for yourself, in case you are still in the pre-planning phase of your trip.For more information please read here.
BOOK NOW