Vatican at Night Tour with Secret Room | Semi-Private Experience
---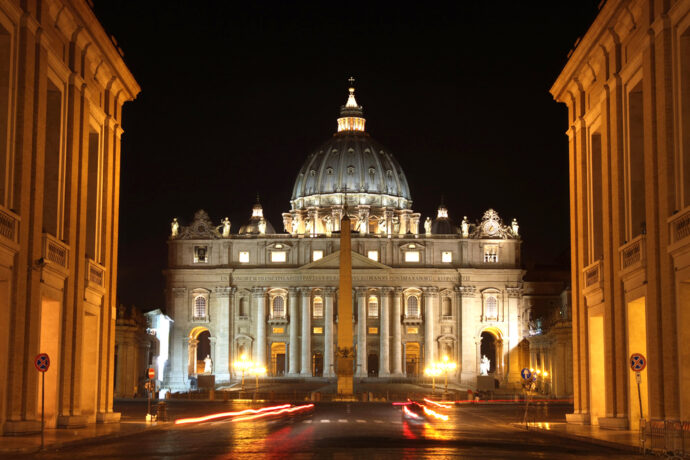 ---
LivTours' Vatican at Night Tour with Secret Room is the perfect way to spend an evening touring a treasure trove of art. Touring in the evening is an ideal way to avoid the heat and crowds of the daytime. This is certainly a must-see for first-time visitors to the Eternal City.
BOOK NOW
---
Enter the Vatican at night with few crowds, an evening glow & an expert guide

See some of the most famous artworks in the world by Michelangelo, Raphael & more

Listen to the stories of papal power & experience 2000 years of art under their rule

Enjoy exclusive access to a Vatican Secret Room, not open to the general public

Discover the luxury of LivTours exclusive priority access and avoid waiting in line
BOOK NOW
Semi-Private tours and experiences are guaranteed six participants max.
Our prices always include tickets and reservations fees (no waiting in lines!)
Our tour guides and staff are selected experts and speak perfect English
Easy to book and prepay your tours with our secure payment system
Eco-sustainable tourism, designed to respect and support local culture, art and traditions
---
Your Vatican at Night Tour with Secret Room starts when you meet your guide and your fellow travelers close to the Vatican. After an introduction, you will enjoy LivTours' priority entrance and head straight inside.
Greek & Roman Art
First explore Greek and Roman sculptures, like the Belvedere Torso, while your guide fills your head with the history and anecdotes of important characters from antiquity.  Next, it is off to see the Gallery of Maps, one of the most amazing rooms, decorated in extraordinary detail.
Secret Rooms
Imagine having the chance to see the well-preserved mosaics from the Hadrian's villa in person! Inside The Cabinet of Masks you'll see these amazing mosaics and more, like the stunning sculpture of The Three Graces. Your tour continues through The Hall of Animals, the Gallery of the Statues, and the Hall of Busts.
The Sistine Chapel at Night
In the Raphael Rooms, you will discover what inspired this artist to paint his masterpieces, The School of Athens, for Pope Julius II's. Hear anecdotes about how Michelangelo nearly went mad painting the Sistine Chapel – hardly surprising considering he painting every inch of the 8,000 square foot space! Visiting the Sistine Chapel in the soft evening light is truly an enchanting experience which you will cherish.
BOOK NOW
---
Museums Skip-the-line tickets

Pinecone Courtyard

Octagonal Courtyard

Room of the Animals (exclusive access)

Hall of Busts (exclusive access)

Cabinet of the Masks (Secret Room)

Muses Room

Round Room

Gallery of Tapestries

Gallery of Maps

Raphael Rooms

Borgia Apartments

Sistine Chapel

Michelangelo's ceiling

Fully guided experience
BOOK NOW
---
NB:
The Vatican Night semi-private group Tour is seasonal. It is offered every Friday at 8 pm from May-October (excluding August). Tickets are very limited.
Dress Code
Places of worship have strict dress codes. All visitors must cover their shoulders and knees (no tank tops or short dresses) to enter. Backpacks are not permitted in the museum.
Photographs
You can't take photos inside the Sistine Chapel.

Sistine Chapel Rules
Please be aware that the Sistine Chapel is a Holy Place and we cannot talk inside. Your guide will give you an explanation of the Sistine Chapel using visual supports before you enter.
Wheelchair access
This itinerary is not suitable for wheelchairs. In order to ensure a barrier-free tour with alternative routes, please book the private version of this tour.
BOOK NOW
---
LivTours' group size of max 6 participants is and always has been based on sustainable travel, and we are proud to be at the forefront of change and innovation in the industry.  LivTours is committed to providing travelers with truly sustainable tours with the lowest possible environmental impact, all while supporting the local industries and people of each unique destination. To learn more about how you can actively support sustainable tourism  and how LivTours is contributing, click here.
BOOK NOW
---
All LivTours Semi-Private Group Tours are limited to 6 guests per tour guide. Our commitment to maintaining our uniquely tiny group sizes can sometimes be a little tricky, mathematically speaking. For example, we want to ensure that traveling families and friends can tour together so on rare occasions we may add one or two guests in order to not split groups. On that same note, you may also find yourself on tour with less than six people! We thank you for your understanding and flexibility.
BOOK NOW
---
By selecting Choose Dates Later / Buy as Gift at booking, any tour can be purchased without fixed dates. This is the perfect option if you want to purchase your tour as a gift for a loved one, or if you are in the pre-planning phase of your vacation. After booking, you will receive a Travel Voucher Code and full instructions on how to schedule your tours when ready. Once your travel plans are confirmed, you can easily use the Travel Voucher Code on the LivTours website to formally schedule your tours. You can find out more here.
BOOK NOW