Top Tier Eiffel Tower Tour | Exclusive Semi Private Experience
---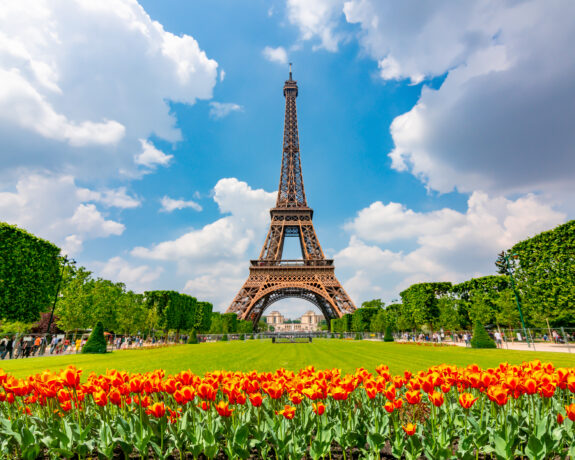 ---
The Eiffel Tower is the enduring symbol of Paris, and no trip to Paris is complete without visiting the magnificent 'Iron Lady'. This very special semi-private Top Tier Eiffel Tower Tour takes you to the top of the Tower. You'll enjoy an epic ascent in a glass elevator to the Eiffel Summit – which at 276 meters high, is an adrenaline-fueled experience! Your expert guide will show you the amazingly well-preserved office of Gustave Eiffel himself, complete with wax-work figures. Learn all about the Eiffel Tower's history, and be sure to enjoy the champagne bar before your descent!   
BOOK NOW
---
Enjoy exclusive access to the summit of the Eiffel Tower with amazing views

Visit the Eiffel Tower in a small group of 6 people & English-speaking guide

Enjoy the epic ascent to nearly 300 meters in a glass elevator

See Gustav Eiffel's Office complete with wax-work figures

Explore the top tier with interactive displays, 360 views, and the champagne bar!
BOOK NOW
Semi-Private tours and experiences are guaranteed six participants max.
Our prices always include tickets and reservations fees (no waiting in lines!)
Our tour guides and staff are selected experts and speak perfect English
Easy to book and prepay your tours with our secure payment system
Eco-sustainable tourism, designed to respect and support local culture, art and traditions
---
Begin your exciting Top Tier Eiffel Tower Tour at the base, where your expert English-speaking guide will escort your small semi-private group of no more than 6 people past the long lines, and straight to the glass elevator that will take you on a giddy ascent to the very top of the Eiffel Tower. Standing in the elevator as it takes you up, up, up to nearly 300 meters in the air, with all of Paris spread out beneath you, is a truly exhilarating experience! 
As the most iconic monument of Paris, the Eiffel Tower has become a global symbol of the City of Lights. Built in just two years for the World's Fair of 1889 – which Paris hosted on the centenary of the French Revolution – it was only meant to stand for 20 years. Today, we cannot imagine Paris without the Iron Lady! On your semi-private tour, your guide will regale you with the fascinating story of the Eiffel Tower – and the man who gave his name to it, Gustav Eiffel. You'll hear about the competition for a monument to welcome the world to Paris, the amazing engineering ingenuity of its architects, and the many controversies that accompanied it. Many writers and artists of the day believed it to be an eye-sore, and the novelist Guy de Maupassant had lunch on the Eiffel every day for a year in protest, claiming it was the only place he could get a decent view of the city! 
Today the Tower is loved and recognized globally: it plays host to countless proposals of marriage, and the whole city enjoys the magic of its nightly light show. 
An extraordinary feat of engineering, the Eiffel Tower weighs a colossal 10,100 tons, and was made with 18,038 pieces of iron – which are held together in that famous lattice structure with 2.5 million rivets. 
This tour enables you to explore the Tower from the bottom to the very top, with exclusive summit access: it is a daring adventure as much as a guided tour! At the top, you'll see the fantastic exhibitions on display including Gustav Eiffel's office with wax works of him, his daughter, and the American inventor Thomas Edison. Be sure to toast your daring ascent in the champagne bar too! You're free to stay on the Eiffel Tower at your leisure or return to ground level with your guide. 
BOOK NOW
---
Exclusive tickets to the Eiffel Tower summit

Expert English-speaking guide

Skip-the-Line guided tour of the Eiffel Tower

Office of Gustav Eiffel

Interactive displays

Free time on the Eiffel Tower
BOOK NOW
---
LivTours' group size of max 6 participants is and always has been based on sustainable travel, and we are proud to be at the forefront of change and innovation in the industry.  LivTours is committed to providing travelers with truly sustainable tours with the lowest possible environmental impact, all while supporting the local industries and people of each unique destination. To learn more about how you can actively support sustainable tourism  and how LivTours is contributing, click here.
BOOK NOW
---
All LivTours Semi-Private Group Tours are limited to 6 guests per tour guide. Our commitment to maintaining our uniquely tiny group sizes can sometimes be a little tricky, mathematically speaking. For example, we want to ensure that traveling families and friends can tour together so on rare occasions we may add one or two guests in order to not split groups. On that same note, you may also find yourself on tour with less than six people! We thank you for your understanding and flexibility.
BOOK NOW
---
Make your day even more unique and comfortable by upgrading your tour with a customizable LivTours optional add on!
Add Seine River Cruise Tickets
35 €
60.90 A$
32.55 £
41.30 $
BOOK NOW
---
By selecting Choose Dates Later / Buy as Gift at booking, any tour can be purchased without fixed dates. This is the perfect option if you want to purchase your tour as a gift for a loved one, or if you are in the pre-planning phase of your vacation. After booking, you will receive a Travel Voucher Code and full instructions on how to schedule your tours when ready. Once your travel plans are confirmed, you can easily use the Travel Voucher Code on the LivTours website to formally schedule your tours. You can find out more here.
BOOK NOW