Tivoli Tour from Rome | Semi-Private Experience
---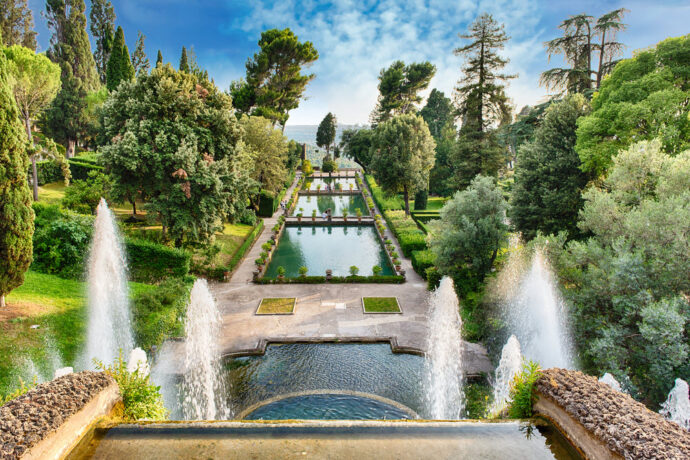 ---
LivTours' Tivoli Tour From Rome is a full day semi-private tour of the stunning villas, ancient ruins, complex gardens, fountains, and beautiful ceiling frescoes. Traveling by luxury transportation to and from the center of Rome, you will have a chance to admire the beautiful Italian countryside.  This semi-private tour allows you to discover one of the hidden gems of Italy within an hours' drive from Rome!
Spend a day seeing how the rich and famous of Italy's past lived and marveling at the feats of engineering in the complex fountains. Part of your day is spent exploring a 16th century villa that was lived in by a Cardinal that was meant to become Pope, designed to surpass any Roman villa and, in 2001, this sometimes very controversial villa became a UNESCO World Heritage Site.  The garden has a complex system of water with 64 waterfalls, endless meters of man-made canals, the ornate gardens of this outstanding villa are sure to be a treat.  You will also get a chance to explore, in the company of your semi-private tour of no more than six travelers and your expert guide, the ruins of the massive villa that was summer residence to Roman Emperor Hadrian and dates back to the 2nd century!
BOOK NOW
---
Enjoy a semi-private tour of no more than six travelers with a dedicated expert guide

Revel in the luxury of traveling to and from Rome in a chauffeured luxury vehicle

Soak up the beauty and history of two majestic UNESCO World Heritage sites

Enjoy free time for lunch in the charming village of Tivoli (lunch not included)

Discover how Rome's rich and famous lived in Roman times and the Renaissance
BOOK NOW
Semi-Private tours and experiences are guaranteed six participants max.
Our prices always include tickets and reservations fees (no waiting in lines!)
Our tour guides and staff are selected experts and speak perfect English
Easy to book and prepay your tours with our secure payment system
Eco-sustainable tourism, designed to respect and support local culture, art and traditions
---
Your LivTours' Tivoli from Rome, is a semi-private tour taking you back in time.  Your day begins in the center of Rome where you will meet your driver and top rated tour guide. As you travel through the Italian countryside, enjoy the views before arriving at Tivoli.
Your semi-private tour starts by visiting the jaw-dropping ruins of Emperor Hadrian's villa.   Built in the early part of the 2nd century as a summer retreat, this immense complex host underground service passageways that are big enough for vehicles (glimpses are still visible), along with lakes, fountains, libraries, bath houses, temples and gardens. This complex covers a large area and even armed with a map it can be tricky to navigate, so it is easy to imagine the emperor himself asking for directions!
After your visit to Hadrian's Villa is complete, it is time to enjoy a short lunch break in the quaint little town of Tivoli, your guide will recommend somewhere local based on your personal preferences (lunch is not included in the price of the tour).
With full bellies, it is on to visit the elegant Renaissance Villa d'Este, built in the 16th century, this villa is famous for its staircase waterfalls  and outstanding reception rooms with colorful frescoes and endless gardens. Designed to impress Rome's wealthy of the 16th century, Cardinal Ippolito d'Este was commissioned by his family with the thought he would one day become Pope! You will find out if the family counted their eggs before they hatched from your expert local guide. Villa d'Este's gardens are composed almost exclusively of water features hosting 64 water fountains, a purposely built canal system and 220 basins with no water pump in sight. You will visit the grand Fountain of the Dragons and the Hundred Fountains, as well as a miniature watery reproduction of Rome. Just as all roads lead to Rome, in this garden, all fountains lead to the Water Organ Fountain, where you can admire the beautiful water as it dances down into quiet, peaceful pools.
BOOK NOW
---
Round trip chauffeur from Rome to Tivoli

Tickets and tour of Hadians Villa ruins

Tickets and guided tour of villa d'Este

Free time for a local lunch (not included)
BOOK NOW
---
LivTours' group size of max 6 participants is and always has been based on sustainable travel, and we are proud to be at the forefront of change and innovation in the industry.  LivTours is committed to providing travelers with truly sustainable tours with the lowest possible environmental impact, all while supporting the local industries and people of each unique destination. To learn more about how you can actively support sustainable tourism  and how LivTours is contributing, click here.
BOOK NOW
---
All LivTours Semi-Private Group Tours are limited to 6 guests per tour guide. Our commitment to maintaining our uniquely tiny group sizes can sometimes be a little tricky, mathematically speaking. For example, we want to ensure that traveling families and friends can tour together so on rare occasions we may add one or two guests in order to not split groups. On that same note, you may also find yourself on tour with less than six people! We thank you for your understanding and flexibility.
BOOK NOW
---
A good small group tour to Tivoli
"Since this was our third visit to Rome, we wanted to spend time seeing some of the outlying areas. Tivoli was recommended to us and this tour by LivItaly was very good. We were driven out, with another couple and our guide, in a comfortable van and first visited the ruins of Hadrian's villa (awesome!) and then walked through the fantastical fountains and water works that make up the gardens at Villa d'Este in Tivoli. Our guide was very friendly and interesting and answered all of our many questions. The small group aspect makes it very easy to make new friends and we ended up going out to dinner with the other couple, when we got back to Rome. This was certainly a very easy and enjoyable way to visit the Tivoli area!"
Brad - USA
---
Villa d'Este and Villa Adriana just outside of Rome
"We booked a day tour from Rome to Tivoli to see both Villa D'Este and Villa Adriana. This was supposed to be a small group tour but we were the only 2 so we had a very personal experience with our guide Silvia. At the outset the weather was foul, torrential rain, thunder and lightening, but despite this Silvia was excellent and enthusiastic. She was extremely knowledgeable and able to put the historical apsects of Villa d'Este and Adriana in perspective. Her expertise made things understandable, especially considering the size of each site. She managed the day very well, sorting the transport and lunch. Thoroughly enjoyable."
Douglas - UK
---
BOOK NOW
---
By selecting Choose Dates Later / Buy as Gift at booking, any tour can be purchased without fixed dates. This is the perfect option if you want to purchase your tour as a gift for a loved one, or if you are in the pre-planning phase of your vacation. After booking, you will receive a Travel Voucher Code and full instructions on how to schedule your tours when ready. Once your travel plans are confirmed, you can easily use the Travel Voucher Code on the LivTours website to formally schedule your tours. You can find out more here.
BOOK NOW