Tate Modern Guided Tour | Private
---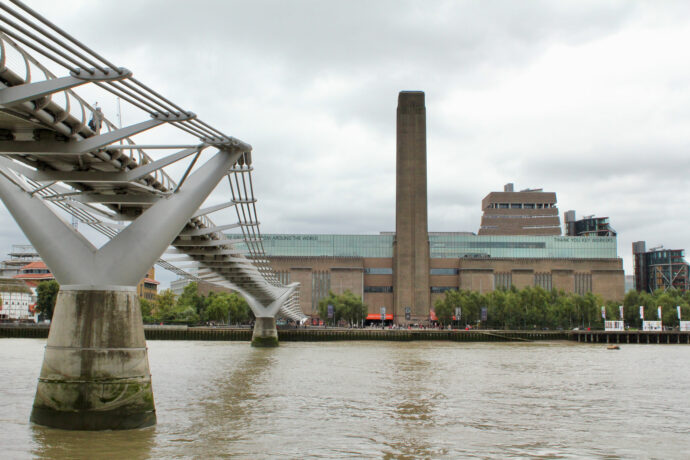 ---
Your Livtours Private Tate Modern Guided Tour is the best way to learn, engage, and gain a deep understanding of Great Britain's largest collection of Modern Art. With an expert in the subject leading you around the most important and interesting works of art, benefit from engaging, discussing, and proposing questions with your guide as you explore the museum in VIP luxury. Pass large groups, herded through the museum as you begin a discourse on your favorite paintings or uncover new knowledge on up-and-coming artists.
Avoid feeling lost in a world of complex symbolism and understand how the art of our time relates to the world around us. Looming over the river Thames, the Tate Modern is a genius repurposing of a 20th-century power station, now housing works of art from Picasso, Dali, Money, Warhol, and Lichtenstein. Bring to life the giants of modern art with this tailor-made personalized tour and leave understanding the codes, messages, and symbols to identify meaning in other works of modern art around the world.
BOOK NOW
---
See world famous works of art from Picasso, Dali to Warhol with a private guide

Enjoy the luxury of a private customised tour with an expert guide at your side

Engage with your private expert as they guide you through the museum highlights

Understand the messages behind the greatest works of art on a 2 hour tour

Avoid crowds and go straight to the highlights of this renowned museum
BOOK NOW
Exclusive private Tours and Experiences. Also offered in Spanish, French, Portuguese, Swedish and Russian
Our prices always include tickets and reservations fees (no waiting in lines!)
Our tour guides and staff are selected experts and speak perfect English
Easy to book and prepay your tours with our secure payment system
Eco-sustainable tourism, designed to respect and support local culture, art and traditions
---
Beginning your Livtours Private Tate Modern Guided Tour, on the banks of the river Thames, your expert will begin by introducing the subject in hand and the fascinating area the museum is located in. Southwark has been associated with the arts and entertainment since the 16th century. Setting the scene you will enter a beautifully restored power station, combining industrial grandeur with open spaces to create a perfectly calm atmosphere to view the richest collection of modern art in the UK. Described as an industrial cathedral originally designed to generate power, the brick building that now houses the art was designed by London architect Sir Giles Gilbert Scot (designer of London's iconic red telephone boxes) the building has changed, adapted, and reinvented itself, just like the art it houses and the city it calls home.
As your expert art historian leads you into the museum, begin discussing the nature of art and how we approach, interpret, and interact with images. How modern art affects the way we view the world and what even defines art as a subject. With your tailor-made private tour engage with your guide at different levels, beginning with a crash course in modern art if you wish or discussing your favorite works of art you have come to see. There is no other way to fully immerse yourself in the world of impressionism, DADA, surrealism, or cubism than with your very own expert to lead you. Learn more about Monet and modern arts impressionist break away from classical and romantic realistic painting, how impressionism developed into more abstract forms, Spanish giants such as Picasso and Dali, and how the conflict shaped their distressing images, and dive into the world of 1960s pop art with Andy Warhol. Dodge the crowds and enjoy the thought-provoking space at your comfort and leisure, ensuring you don't ever feel rushed as you maximize your time visiting the must-see and your highlights.
BOOK NOW
---
Private guided tour

Priority entrance into museum

Monet, Picasso, Dali

Andy Warhol & sir Giles Gilbert Scot
BOOK NOW
---
LivTours' group size of max 6 participants is and always has been based on sustainable travel, and we are proud to be at the forefront of change and innovation in the industry.  LivTours is committed to providing travelers with truly sustainable tours with the lowest possible environmental impact, all while supporting the local industries and people of each unique destination. To learn more about how you can actively support sustainable tourism  and how LivTours is contributing, click here.
BOOK NOW
---
When you book a LivTours Private Tour or Experience, you are guaranteed a dedicated, expert guide that allows you the flexibility to start your tour at a time which is convenient for you, making planning easy. Our private tours ensure that you will get a tailored experience to meet all your needs so we go at your pace, perfect for families with younger children, elderly, or individuals with accessibility needs. Please be advised that all private tours begin at a base price starting at two people*. Prices are inclusive of entry tickets where applicable. *Some Ferrari private experiences are inclusive of one person only.
BOOK NOW
---
Make your day even more unique and comfortable by upgrading your tour with a customizable LivTours optional add on!
Select your Transfer Option
225 €
391.50 A$
209.25 £
265.50 $
BOOK NOW
---
Thanks LivTours!
"We took the guided tour of the British Museum with this company and were so pleased with the tour and the guide, that we booked their tour to visit the Tate. Again, we were extremely satisfied with the entire experience. The company is very customer-oriented and the guides are not just knowledgeable but also seem to be anxious to share that knowledge with you.... not like so many other bored (and boring) guides that we have had with other companies. Book with LivTours. You won't be disappointed!"
Dafne - Greece
---
Highly recommend
"So glad we booked this tour to visit the Tate Museum in London. There is a rich collection of works and having a well-informed and charming guide to tell us the history, about the life of the artist and point out details made all the difference in the world. So much better than going on our own with just a tour book in hand."
Darleen - USA
---
Tate Modern
"We had taken LivTour's tour of the Musee D'Orsay in Paris so we knew we were booking the best when we signed up for their tour of the Tate Modern while in London. Once again, our guide was excellent in every way: an expert in art history and an artist herself with a warm and friendly personality. Thanks to her, we will fondly remember our visit to the Tate and all of the unbelievable art that we saw there. "
Nelson - USA
---
BOOK NOW
---
By selecting Choose Dates Later / Buy as Gift at booking, any tour can be purchased without fixed dates. This is the perfect option if you want to purchase your tour as a gift for a loved one, or if you are in the pre-planning phase of your vacation. After booking, you will receive a Travel Voucher Code and full instructions on how to schedule your tours when ready. Once your travel plans are confirmed, you can easily use the Travel Voucher Code on the LivTours website to formally schedule your tours. You can find out more here.
BOOK NOW