Siena & San Gimignano | Exclusive Tuscany Day Trip from Florence
---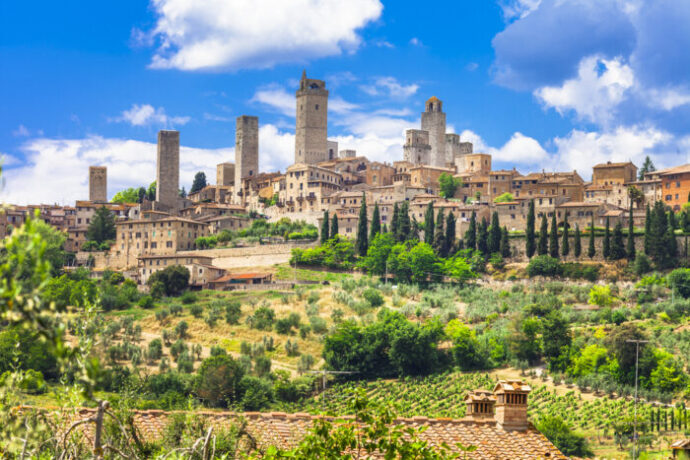 ---
LivTours' Day Tour from Florence takes you on a luxurious drive through the Tuscan hills to visit both Siena and San Gimignano on this exclusive private trip. The marvelous Medieval hill town of San Gimignano, located in the province of Siena, is currently on the list of UNESCO world heritage sites. San Gimignano or ""Town of Towers" is famous for its unique and outstanding architecture. As you enter the fortified walls of the city you will learn about the famous towers and delight in the history of this delightful town.
Siena has been chosen by UNESCO to become a world heritage site. Every building and every corner of this quaint yet bustling town tells stories of bygone eras.
BOOK NOW
---
Explore two Tuscan beautiful towns - Siena and San Gimignano on this private tour

Enhance your understanding and love for the world famous Tuscan countryside

Enjoy a traditional Tuscan lunch and a wine tasting near San Gimignano

Add on a private guide to enhance your day tour with historical anecdotes and stories

Admire the views across the Tuscan countryside from the bell tower in San Gimignano
BOOK NOW
Exclusive private Tours and Experiences. Also offered in Spanish, French, Portuguese, Swedish and Russian
Our prices always include tickets and reservations fees (no waiting in lines!)
Our tour guides and staff are selected experts and speak perfect English
Easy to book and prepay your tours with our secure payment system
Eco-sustainable tourism, designed to respect and support local culture, art and traditions
---
Your LivTours' Day Trip from Florence starts when your driver meets you at your hotel, whisking you out of the city to the rolling green hills of Tuscany and in 90 minutes you are in San Gimignano.  Sit back and relax in your luxury vehicle as your driver shares stories, gossip and anecdotes about the estates and villas you will pass along the way. 
Once you are approaching San Gimignano, your driver will share with you all the best sites to visit preparing you for the best possible experience.  You will have time to explore this charming Tuscan town on  your own before meeting up with your driver a few hours later for lunch.  
Your driver will take you across the valley to a typical Tuscan winery where you will have the pleasure of enjoying your lunch.  Originally an ancient convent, this stunning property has been transformed into an outstanding winery and farm.  Your traditional lunch includes a delicious wine in this amazingly beautiful location. Once an ancient convent, this beautiful property has been transformed into one of the finest wine producers in the area. It also has a local farm and offers a breathtaking view right from your table.
A tasty light lunch will accompany your tasting of three or four of the winery's best which is followed by a personal tour of the winery. As you sip local wine and laugh with the owners of the property you will truly understand why this region is world famous.
Your Day Tour from Florence continues after lunch by heading to the infamous town of Siena. Once in Siena, your private driver will take you from site to site while telling you the elaborate history and intriguing stories of the city and giving you free time to explore each site on your own. One of your stops is sure to be Piazza del Campo. You will take delight in this shell shaped square and imagine the crowds that gather here to watch Il Palio, the infamous horse races that take place twice a year.
After a full day exploring your driver will take you back to Florence.  Sit back and recharge on the less than two hour drive while catching the last glimpse of the sun setting over the Tuscan Hills. Your Day Tour from Florence ends back at your hotel, with a camera full of pictures and perhaps a bottle of Tuscan wine, straight from the vineyard you visited earlier in the day.
ADD TOUR GUIDE ON BOARD OPTION
If you are looking for a bit more in depth knowledge about Siena and San Gimignano, the best solution is to upgrade your tour by choosing to Add Tour Guide Onboard at booking, and a private tour guide will accompany you throughout the entire day – on your walks, at lunch and throughout the various landmarks visited.
BOOK NOW
---
Full day chauffeured service from hotel

Free time in San Gimignano

Lunch & wine tasting at a Tuscan winery

Free time in Siena
BOOK NOW
---
Offered in: English, French, Spanish, Portuguese, and Italian. Please specify under "Additional notes" if you wish to book the tour in a language other than English.
BOOK NOW
---
LivTours' group size of max 6 participants is and always has been based on sustainable travel, and we are proud to be at the forefront of change and innovation in the industry.  LivTours is committed to providing travelers with truly sustainable tours with the lowest possible environmental impact, all while supporting the local industries and people of each unique destination. To learn more about how you can actively support sustainable tourism  and how LivTours is contributing, click here.
BOOK NOW
---
When you book a LivTours Private Tour or Experience, you are guaranteed a dedicated, expert guide that allows you the flexibility to start your tour at a time which is convenient for you, making planning easy. Our private tours ensure that you will get a tailored experience to meet all your needs so we go at your pace, perfect for families with younger children, elderly, or individuals with accessibility needs. Please be advised that all private tours begin at a base price starting at two people*. Prices are inclusive of entry tickets where applicable. *Some Ferrari private experiences are inclusive of one person only.
BOOK NOW
---
Make your day even more unique and comfortable by upgrading your tour with a customizable LivTours optional add on!
550 €
957 A$
511.50 £
649 $
BOOK NOW
---
Awesome experience
"This was our second tour with LivTour on our trip to Italy, and it was fabulous. We wanted to see the tinier towns in Tuscany but did not want to deal with the hassle doing it all on our own. Matteo was our driver and he provided the perfect drive to Siena and San Gimignano. He gave us a lot of information about the history and about the areas we drove by. He also suggested places for us to stop for photos and food. It was such a nice day and an amazing way to see more of Italy with less stress. The car was nice and comfortable, and pickup and drop off at our hotel was so easy. We will definitely book with LivTours again."
Lulu - United States
---
5 star experience
"I can't begin to tell you how wonderful this trip was! We had a driver who was wonderful, and added a tour guide for this tour. Our tour guide Raffaela was so much fun. She was filled with fabulous stories and information about the areas we passed while driving to each destination, and when walking through the little towns. We ate at a beautiful restaurant that had amazing views, and delicious local foods. We fell even more in love with Italy, but more important we fell in love with Raffaela! "
Clare Ford - United States
---
BOOK NOW
---
By selecting Choose Dates Later / Buy as Gift at booking, any tour can be purchased without fixed dates. This is the perfect option if you want to purchase your tour as a gift for a loved one, or if you are in the pre-planning phase of your vacation. After booking, you will receive a Travel Voucher Code and full instructions on how to schedule your tours when ready. Once your travel plans are confirmed, you can easily use the Travel Voucher Code on the LivTours website to formally schedule your tours. You can find out more here.
BOOK NOW