Semi-Private Vespa Tour | Rome City Highlights
---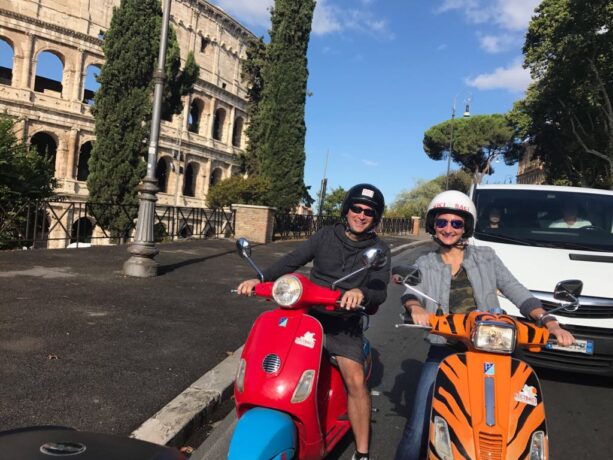 ---
LivTours Semi-Private Vespa Tour Rome is the quintessential Roman experience. This semi-private tour is full of surprises and you see the highlights in the company of a local expert guide. Good at any time of the year, this is a great way to discover Rome in all its unique colors.
You will feel like you are filming your very own version of Roman Holiday, as you explore the winding streets and stunning architecture of the Eternal City. This quick and easy way to see the city makes it the perfect panoramic tour. So, when in Rome…act like a Roman by hopping onboard your iconic scooter to experience Rome as the Romans do!
BOOK NOW
---
Visit all the major sites & sounds of Rome on this half day semi-private tour

Enjoy a classic Roman experience driving around on a Vespa with your local guide

Drive through the historic center & visit Rome's largest square - Piazza Navona

Feel the hustle & bustle of Italy's capital city as you see the highlights on wheels

Maximize your time in the Eternal City as you zip from place to place on your Vespa
BOOK NOW
Semi-Private tours and experiences are guaranteed six participants max.
Our prices always include tickets and reservations fees (no waiting in lines!)
Our tour guides and staff are selected experts and speak perfect English
Easy to book and prepay your tours with our secure payment system
Eco-sustainable tourism, designed to respect and support local culture, art and traditions
---
Your LivTours Vespa Tour of Rome is a semi-private tour that begins in the center of Rome where you will strap on your helmet and get a chance to test your Vespa before the tour begins. You and your group will be led across the Eternal City by a local guide, where you will be led to a less-trafficked area of the city, full of history and hills to explore both your driving skills and stunning panoramic views from above.
LivTours has taken the time to study the best route allowing you to discover the most of the Eternal City and its awe-inspiring panoramic views. You are sure to be the envy of your friends as you zip around the city, visiting more places in three hours than you could visit in an entire day on foot.
Feel like a local as you drive past the Colosseum, a route and ride you are sure to remember. LivTours prides itself on having a maximum of six people per tour group. Our semi-private tours allow you to communicate directly with your tour guide throughout the tour.
This tour allows you to truly experience Rome and maximize your time in the city. Your guide will stop from time to time so you can get in plenty of snapshots to remember your day of adventure driving around Rome on a Vespa! If there is time enough left from exploring, you and your group can choose to stop for gelato to make the day even more memorable.
BOOK NOW
---
Basilica Saint Mary Major

Colosseum (from the outside)

Circus Maximus

Palatine hill (from the outside)

Romes secret keyhole

Aventine hill

The mouth of truth

Theatre of Marcellus

Vittoriano

Gianicolo hill

Piazza navona

Temple of Hadrian

Pantheon

Trevi fountain

Spanish steps

Piazza del popolo
BOOK NOW
---
The rental company requires a €500 (per Vespa) security deposit to be blocked on the driver's credit card for insurance purposes. Please bring an active card which will be held throughout the duration of your tour.

A driving license is required with a minimum of 1 year's experience.

Please wear comfortable clothes and prepare to wear a helmet the entire ride.

You must have experience driving a scooter on busy roads to take this tour.

In order to book this experience, you must be at least 2 participants.
BOOK NOW
---
LivTours' group size of max 6 participants is and always has been based on sustainable travel, and we are proud to be at the forefront of change and innovation in the industry.  LivTours is committed to providing travelers with truly sustainable tours with the lowest possible environmental impact, all while supporting the local industries and people of each unique destination. To learn more about how you can actively support sustainable tourism  and how LivTours is contributing, click here.
BOOK NOW
---
All LivTours Semi-Private Group Tours are limited to 6 guests per tour guide. Our commitment to maintaining our uniquely tiny group sizes can sometimes be a little tricky, mathematically speaking. For example, we want to ensure that traveling families and friends can tour together so on rare occasions we may add one or two guests in order to not split groups. On that same note, you may also find yourself on tour with less than six people! We thank you for your understanding and flexibility.
BOOK NOW
---
Make your day even more unique and comfortable by upgrading your tour with a customizable LivTours optional add on!
Add a Personal Vespa Driver
150 €
261 A$
139.50 £
177 $
BOOK NOW
---
Super fun time seeing the city
"This was the greatest way to see the highlights of Rome! It's exciting to maneuver the streets and alleyways. We went fairly early in the morning on a Saturday so traffic wasn't an issue. Our guide Thomas was a kick and showed us not just the major points of interest but also some places not in the regular tour books. If you like scooters or motorbikes, this is the tour for you!!!"
Roxanne - USA
---
Had an awesome time
"Really fun tour!!!!!! Super guide, amazing sites, awesome scooters! We felt sooo Roman! "
Charlie G. - USA
---
Just LOVED this experience!
"This was the most fun tour!! We absolutely LOVED seeing Rome on a scooter -- no less, the famous Vespa! Such an icon of Italy!! We went on a Saturday norming so there wasn't quite the madhouse traffic that there is on weekdays. Our guide was very attentive of us and made sure we understood the possible pitfalls (gotta be careful on those cobblestones!) so it was enjoyable and fun! We saw all of the main sites and our guide even gave us hints on other places to check out and good restaurants too. We were so happy that we booked this tour and highly recommend it to everyone!"
Nina - USA
---
BOOK NOW
---
By selecting Choose Dates Later / Buy as Gift at booking, any tour can be purchased without fixed dates. This is the perfect option if you want to purchase your tour as a gift for a loved one, or if you are in the pre-planning phase of your vacation. After booking, you will receive a Travel Voucher Code and full instructions on how to schedule your tours when ready. Once your travel plans are confirmed, you can easily use the Travel Voucher Code on the LivTours website to formally schedule your tours. You can find out more here.
BOOK NOW