Venice Evening Tour | Inside St Mark's & Doge's Palace Tour
---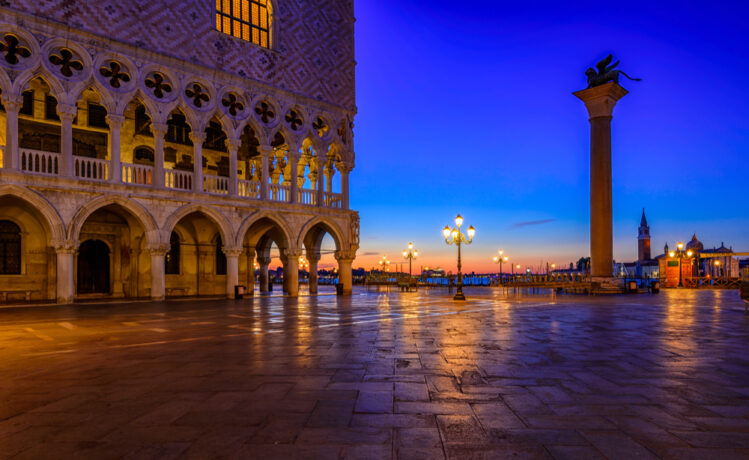 ---
LivTours Doge's Palace & St Mark's Basilica Tour at Night is a semi-private tour dedicated to showing you two of the most important monuments in Venice with the most unique and special twist. On this semi-private tour, it will be your expert guide and no more than a total of six travelers in your group. You will gain an understanding of a stunning seaside fortress that has its roots in the year 10AD (no, we did not miss a number there) and was later transformed into one of the most important palaces of the Mediterranean. The Doge's Palace, the palace of the Archduke of Venice, has changed so much from its architectural beginnings and was eventually modified to include a private walkway to St Mark's Basilica.
Next on your tour is St Mark's Basilica and you should prepare yourself for one of the most spectacular experiences.  You will enter the Basilica alone with only other LivTours groups, in complete darkness. Once you find your seats, the light show begins as one by one the lights are turned on to expose the beautifully detailed golden mosaic ceilings. Your VIP entrance also offers a close look at the altar and crypt of the Basilica.
Join an evening tour and experience these two monuments without the crowds and in the magic of twilight.
BOOK NOW
---
Discover the comfort of a semi-private tour with 6 people maximum per tour

Explore the beautiful Doge's Palace & learn about the 120 Doges who once ruled Venice

Enjoy St Mark's Basilica on your own with LivTours' exclusive VIP entrance

Marvel at the stunning endless ceiling mosaics as they are illuminated one by one

Gain a complete understanding of some of Venice's most important sights
BOOK NOW
Semi-Private tours and experiences are guaranteed six participants max.
Our prices always include tickets and reservations fees (no waiting in lines!)
Our tour guides and staff are selected experts and speak perfect English
Easy to book and prepay your tours with our secure payment system
Eco-sustainable tourism, designed to respect and support local culture, art and traditions
---
Your LivTours Venice Evening Tour begins when you meet your guide and fellow travelers – your group will be no more than six travelers total – in one of Italy's most stunning squares – St Mark's Square.  This big open square is known for the local charm of its cafes and its Italian-Gothic architecture.  Just off the Grand Canal, this square has more than a thousand stories to share.  The first church built where St Mark's stands today dates back to 819 AD.
In the company of your LivTours guide, you will learn about St Mark's Basilica and the Doge's Palace, the two most important buildings of this square which create the majestic backdrop.  You will gain an understanding of the cultural influences behind the architectural beauty of the surrounding buildings making them so strikingly beautiful.
After admiring the square while your expert guide gives you the background to Venice it is time to explore the Doge's Palace. Originally built as a 10th-century fortress, space was transformed into a palazzo.   This building hosts opulent rooms and endless tales of the Doge's that lived here. The Doge was the highest ruler when Venice was a kingdom on its own and not yet part of Italy.  The tales are illuminating, but also dark as they mark Doge's Palace was expanded so much that it ended up sharing a wall with St Mark's Basilica next door.  After all, they could not expand into the sea!  Learn about the amazing color-changing facade of the Doge's Palace and why it changes color from day tonight.
Before leaving the Doge's Palace, your expert guide will take you to the famous Bridge of Sighs. You will find out why this Italian walkway has an English name and enjoy the views of the Lagoon of Venice from there.  A sight worth remembering!
Once you have finished exploring the Doge's Palace, your guide will lead you and your group to the side entrance of St Mark's Basilica, reserved for exclusive night time visits. You will be surprised just how dark it is inside the Basilica. Your guide will help you find a pew as you prepare for the lights to be turned on one by one slowly exposing the detailed golden mosaic ceiling. The mosaics depict stories from the Old Testament with images of Noah, Adam, and Moses. Some scholars think these are replicas of the miniatures of ancient medieval manuscripts of The Bible. A night-time visit creates an ambiance which is absolutely unforgettable.
Taking this tour in the evening has even more advantages than the special light show, as you will be able to see the Pala D'oro ancient altarpiece up close, usually impossible with the hordes of daytime crowds. You will have time to admire the craftsmanship of gold and silver metalwork as well as the 1300 pearls and 1900 gemstones that adorn it.
You will also get to see the crypts where noble Venetians have been laid to rest. Learn how the crypt was moved in the 16th century to avoid flood damage and how it was sealed off for over two centuries only to be reopened in the 19th century!
This unique and unforgettable evening tour is perfect for all ages and history levels.
BOOK NOW
---
Evening Tour of Doge's Palace

Bridge of Sighs

Prison of Doge's Palace

Exclusive Access into St Mark's Basilica

Pala d'Oro

Crypt of St Mark's
BOOK NOW
---
There is no photography permitted inside St Mark's Basilica.
Please note that tour starting times are subject to change based on ticket availability
Please ensure knees and shoulders are covered when visiting places of worship

Due to the highly variable nighttime opening and closing times of Doge's and St. Mark's, your tour may need to take up to a 1.5 hour break between the two sites, in which case your guide will recommend a local restaurant or bar in which to wait. In some cases, however, there will be no break. In all cases, the total duration of the guided tour will ALWAYS be three hours, regardless of the break time.
BOOK NOW
---
LivTours' group size of max 6 participants is and always has been based on sustainable travel, and we are proud to be at the forefront of change and innovation in the industry.  LivTours is committed to providing travelers with truly sustainable tours with the lowest possible environmental impact, all while supporting the local industries and people of each unique destination. To learn more about how you can actively support sustainable tourism  and how LivTours is contributing, click here.
BOOK NOW
---
All LivTours Semi-Private Group Tours are limited to 6 guests per tour guide. Our commitment to maintaining our uniquely tiny group sizes can sometimes be a little tricky, mathematically speaking. For example, we want to ensure that traveling families and friends can tour together so on rare occasions we may add one or two guests in order to not split groups. On that same note, you may also find yourself on tour with less than six people! We thank you for your understanding and flexibility.
BOOK NOW
---
Our guide was just the best!
"Our guide was just amazing! So much knowledge and the way he presented himself from start to finish was great. He was truly passionate about history and where he is from. Thank you for gifting us this experience Lovely smile lovely guide! "
Joan - UK
---
An excellent tour
"This tour is worth every penny! We had never been to Venice before and were intrigued with the idea of seeing these two important sites at night. We couldn't have been happier with our choice! Our LivItaly guide, Marie Therese is a local venetian and not just an expert on history and art but very proud and passionate about what this city and being a venetian means. She made the stories about the ruling Doge's come alive and her explanations and attention to details when showing us the awesome mosaics in the Cathedral were exceptional. We were sorry when the tour was over! Thank you Marie and thank you LivItaly."
Irma M. - USA
---
Absolutely fantastic tour!
"We booked this tour because it sounded like it would give us a unique and unusual perspective of St Mark's Cathedral and the Doge's Palace...and of Venice in general. We were not disappointed! Venice at night is enchanting, no doubt. But the Doge's Palace takes on the more sinister side of its history when seen at night and, to the contrary, St Mark's is unbelievably beautiful. These are experiences that you won't forget. Don't hesitate to book this tour!"
Jerry - UK
---
BOOK NOW
---
By selecting Choose Dates Later / Buy as Gift at booking, any tour can be purchased without fixed dates. This is the perfect option if you want to purchase your tour as a gift for a loved one, or if you are in the pre-planning phase of your vacation. After booking, you will receive a Travel Voucher Code and full instructions on how to schedule your tours when ready. Once your travel plans are confirmed, you can easily use the Travel Voucher Code on the LivTours website to formally schedule your tours. You can find out more here.
BOOK NOW