Semi-Private Express Colosseum Underground & Arena Tour
---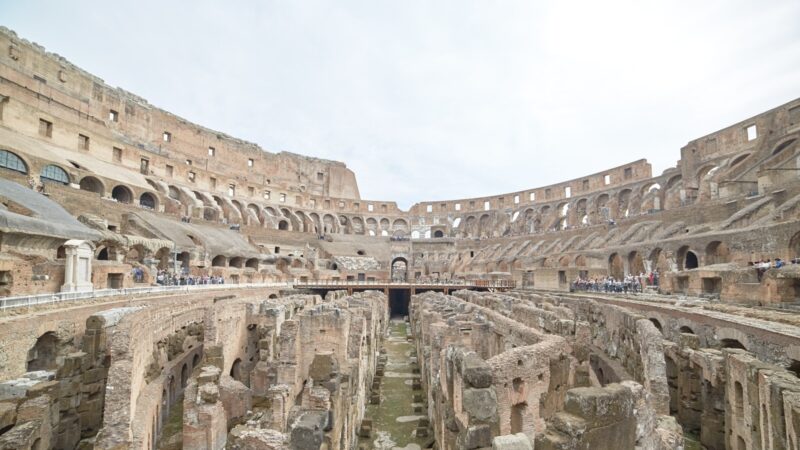 ---
LivTours Express Colosseum Underground & Arena  Tour will take you to the heart of one of the most iconic places of the Ancient Roman Empire – the Colosseum. Your expert guide will help you relive the blood-and-thunder shows held here millennia ago through their engaging anecdotes and stories of the Ancient Roman times. LivTours' special privileged access, through one of its ancient main entrances, takes you directly on into the newly reopened Underground & arena floor.
This extraordinary experience will only be shared with your fellow travelers on your semi-private tour and your LivTours guide. LivTours holds the limit to their semi-private tours at six travelers allowing you a more personal experience. Striding through the Colosseum's eastern entrance, just above the gladiators' underground tunnel, you will find this arena come to life with a skilled guide.
You will descend into the Underground of the Colosseum through a special access and here your LivTours guide will entertain you by showcasing the use of these extroardinary rooms and hallways. From prisons, to boat parking-lots, water supplies, mechanical elevators and set construction rooms, you will experience the full reanctment of an Ancient Colosseum Show directly from back-stage.
Once understood and appreciated how the back-stage worked, you the arena floor, just like the gladiators did, feel the energy and the thrill of standing on the world's most famous stage. Later, you will go up to the first floor to enjoy the 360-degree views of the arena – the perfect place to appreciate this feat of Roman engineering. Together with such a knowledgeable companion as your expert guide, you will journey back in time to the majestic, yet brutal atmosphere which dominated the Colosseum millennia ago.
BOOK NOW
---
Savor the luxury of LivTours' exclusive access through the Gladiator's Gate

Stroll on the stage and the Colosseum Underground

Walk in the shoes of gladiators as you walk directly on to the arena floor

Admire one of the most famous feats of engineering from the Roman Empire

Explore Roman history on this semi-private tour with no more than six travelers
BOOK NOW
Semi-Private tours and experiences are guaranteed six participants max.
Our prices always include tickets and reservations fees (no waiting in lines!)
Our tour guides and staff are selected experts and speak perfect English
Easy to book and prepay your tours with our secure payment system
Eco-sustainable tourism, designed to respect and support local culture, art and traditions
---
Your LivTours Express Colosseum Underground & Arena Tour offers an unforgettable experience. If you are a history fan and want to enjoy an in-depth exploration of the Colosseum with an expert guide by your side, join this semi-private group and relive the excitement which this venue contained two thousand years ago.
Exploring this side of Roman history with an expert LivTours guide by your side is engaging, fascinating, and enlightening. On this semi-private tour, you will have a chance to take in all the beauty of this example of amazing Roman engineering.
Out of eighty entrance arches that frame the Colosseum facade only two of them were important during the events: the Porta Triumphalis, used for the processions that proceed the games and headed by the emperors, as well as victorious gladiators, and the Porta Libitinaria, whose story is much more intriguing! You will enter the Colosseum through the second arch, immediately immersing yourself in the world of gladiators.
Your tour will then descrend into the dungeons of the Colosseum and explore the amazing new openings and path-ways this spectacular experience now offers. Very limited.
As you start walking through the entrance gallery, your expert LivTours guide will bring to life the past stories these walls have seen as wild animals were brought into the Colosseum, as well as multitudes of workers, screaming, running, and carrying away muscular sun-burnt bodies covered with blood and sand. Along with the other travelers on your semi-private tour, you will shiver at the thought of past events.  One floor below, in the underground gallery which connected the gladiators the heroic, valiant fighters walked their last
Enjoy an immersive experience you will never forget!
BOOK NOW
---
Skip-the-line access into the Colosseum

Underground VIP access

Arena Floor Walk

Colosseum's 1st Tier
BOOK NOW
---
Due to these unprecedented times and ongoing safety and regulation changes, some sites may have limited accessibility if the venue can not guarantee social distancing which may lead to unforeseen tour modifications. Thank you for your understanding.

LivTours' group size of max 6 participants is and always has been based on sustainable travel and especially in these new times, we are proud to be at the forefront of the innovation, changes, and challenges that are presented to us during this post-pandemic time. At the moment, due to COVID-19 safety regulations, the museums and sites visited on this tour require wearing a mask while on the site. Please bring one for every participant over 6 years of age.
BOOK NOW
---
All LivTours Semi-Private Group Tours are limited to 6 guests per tour guide. Our commitment to maintaining our uniquely tiny group sizes can sometimes be a little tricky, mathematically speaking. For example, we want to ensure that traveling families and friends can tour together so on rare occasions we may add one or two guests in order to not split groups. On that same note, you may also find yourself on tour with less than six people! We thank you for your understanding and flexibility.
BOOK NOW
---
Fantastic tour
"My colleagues and I were in Rome for business and we needed a tour of the Colosseum that would give us a good background on ancient Rome AND would fit into our small amount of free time. This tour was excellent; made even better by the very professional, but at the same time, enjoyable guide named Gio. Our tour was in the afternoon so we had some really great views of the Colosseum and out over the roman forum as the sun was going down. Gio was full of fascinating stories about how the Colosseum was used and what life was like back in ancient times. The tour was exactaly what we were looking for and helped make our limited time in Rome very special."
Jason - Isreal
---
Great Colosseum tour when time is limited
"My colleagues and I were in Rome for business so time was very short. But none of us had been there before and how can you be in Rome and not visit the Colosseum? So LivItaly's express tour was just great for us! Our guide was Giulia who was a total joy! Smart, enthusiastic and very charming. We learned so much in the time we had and felt totally satisfied with this quick chance to visit the Colosseum. We wouldn't have ever been able to do this on our own since we saw people standing in long line just for tickets. Great job, LivItaly. Thanks!"
Debby - USA
---
History comes alive
"We found this tour to be just perfect for my partner and me. We were brought into the Colosseum through the "gladiators gate" (naturally, no lines and no waiting) right onto the arena floor. Being there, with our great guide who described what went on in this place and on this stage thousands of years ago, was an experience we will always remember. Our imaginations went wild! This tour definitely gave us a much better understanding of ancient roman life."
Jackson - USA
---
BOOK NOW
---
By selecting BUY AS A GIFT, you can purchase this tour as a gift for someone you care for. You will receive a gift card voucher that then can be redeemed by the person/people who will enjoy the tour.Date and Time are values that cannot be selected at the moment. You will in fact receive a gift card voucher with instructions on how to redeem the tour and then select date and time.You can create a shopping cart with multiple tours as gift cards. You may not compose a shopping cart of gift cards and actual tours with date and time.This option can also be used as an opportunity to book a tour open-dated for yourself, in case you are still in the pre-planning phase of your trip.For more information please read here.
BOOK NOW