Rome 3 Day Tour | Private All Inclusive Bundle
---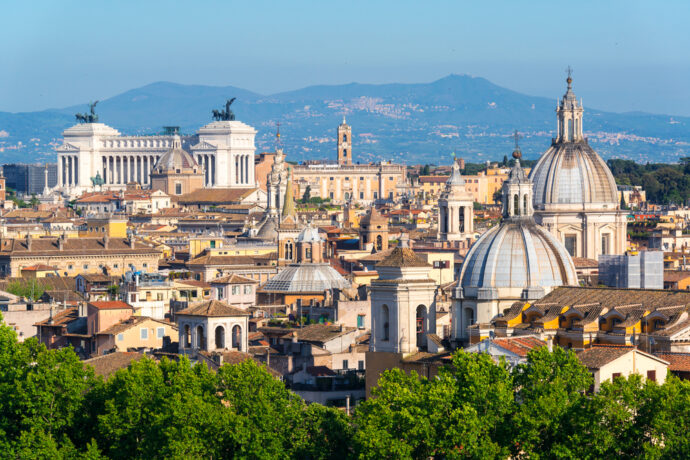 ---
LivTours Private Rome 3 Day Tour – All Inclusive Bundle is a wonderful way to set up a trip to Rome, especially for first-time visitors. Three days allows you enough time to see the highlights and some of the hidden gems. You'll get skip the line access to sites like the Vatican and Colosseum, Catacombs and Borghese gallery, as well as visit many other must-sees like Pantheon, Trevi Fountain, Circus Maximus and even a day trip to Tivoli! This tour allows you to Leave the planning to us with our years of experience means it is hassle-free, allows you to maximize your time, and gives you the opportunity to be in the present and not have to worry about logistics!
Dividing Rome into three days would allow you to cover everything from Ancient Roman history, the Renaissance, middle-ages, the Vatican and ancient Christian history, as well as have enough free time to discover the fantastic food, wine, and gelato of Rome! Having a private expert guide by your side means your days will be seamless, as well as allowing you to gain a greater understanding of the history and culture of Rome.
BOOK NOW
Exclusive private Tours and Experiences. Also offered in Spanish, French, Portuguese, Swedish and Russian
Our prices always include tickets and reservations fees (no waiting in lines!)
Our tour guides and staff are selected experts and speak perfect English
Easy to book and prepay your tours with our secure payment system
Eco-sustainable tourism, designed to respect and support local culture, art and traditions
---
Your LivTour's Three Day Rome Tour includes all the highlights of this incredible city, spread comfortably over 3 days of touring. We make sure you see the must sees, the off the beaten track hidden gems, as well as spend a day out of the hustle and bustle of the city to get a better feel for the Italian culture at large. Depending on which days you are in Rome we will personlly tailor your visits to suit the opening times of each venue on the itinerary to ensure you don't miss a single thing. We will also reserve often hard to access skip the line tickets that can often sell out weeks and sometimes months in advance. All this with a 5-star guide to lead you every step of the way to ensure you enjoy every minute of your visit. Some of the highlights in your Rome in 3 Days bundle include (in no particular order):
Skip the line tickets and guided tour of the Colosseum, palatine hill and ancient Roman forum with virtual reality goggles. The Colosseum, built nearly 2000 years ago, is an impressive sight to see, and considered the largest gladiator stadium ever built by the Romans. After a visit inside, you'll make your way to the Palatine hill to explore the ruins of the Emperors palace complex, then down into the ruins of the Roman Forum, the political, social, economic and religious heart of the ancient Roman city and empire.
Guided inner city highlights with taxi: your guide will escort you around the most famous parts of the city, including the Trevi fountain, the Spanish Steps, Pantheon and Piazza Navona, entertaining you with the stories and history of these iconic monuments.
Skip the line tickets and guided tour of the Vatican, Sistine Chapel and St Peters basilica. Step ahead of the shockingly long lines with your priority access and dive deep into the riches, power and faith of the historic Catholic church. Your guide will weave you effortlessly through one impressive room after another, allowing you to see all the highlights of the museum, like the Raphael rooms, to stunning ancient Roman sculpture, and the gallery of the maps, without feeling overwhelmed. Then it's into the Sistine Chapel, to admire Michelangelo's artwork, before skipping the line into the awe inspiring St Peters Basilica.
Borghese gallery skip the line tickets and guided visit. This gallery houses some of the very best Italian Baroque art in the world, among many other highlights. You'll see some of the most impressive sculptures of Bernini and Canova, admire paintings by Caravaggio, Rubens, and Raphael.
Ancient Christian Catacombs tickets and guided visit. Your guide will escort you via taxi not far outside the city walls to visit the vast underground burial sites of the early Christians. You'll descend underground with flashlight in hand learn how they would bury their loved ones here in the sites of the tunnel walls during a time of Christian persecution throughout the empire.
Private Chauffeured visit to Tivoli, site entrance tickets and private guide. In the quaint little town of Tivoli, only 20 miles from Rome, are two unmissable sites you'll explore with your guide. The expansive ruins of Emperor Hadrian's villa, and the gorgeous gardens and fountain display of Villa d'Este.
All this and more, on your private Rome 3 day tour bundle!
BOOK NOW
---
Colosseum skip the line tickets

Ancient Roman Forum

Vatican skip the line tickets

Skip the line St Peter's Basilica visit

Ancient Christian catacomb visit

St Clement Church

Sistine chapel

Trevi fountain

Pantheon

Spanish steps

Piazza Navona

Borghese art gallery

St Clement Church

Circus Maximus

San Pietro in Vincoli

Chauffeured day trip to Tivoli

Ruins of Emporer Hadrians villa

Villa d'este

Taxi transport between sites

Fully guided experience
BOOK NOW
---
Offered in: English, French, Spanish, Portuguese, and Italian. Please specify under "Additional notes" if you wish to book the tour in a language other than English.

On Monday the Borghese Gallery is closed. The Vatican Museums are closed on Sundays. Your customized tour itinerary will be planned to ensure you see everything.
If you choose a pick-up service or chauffeur add on, prices reflect 3 days of service.

Comfortable walking shoes recommended.

Places of worship have strict dress code requirements for entry. All participants are required to have shoulders and knees covered (no tank tops or short dresses) to enter.

There is no photography allowed in the Sistine Chapel.

St. Peter's Basilica is an active church and can be closed unexpectedly for liturgical ceremonies. If closed, the time inside the Vatican Museums will be extended.

Saint Peter's Basilica is closed on most Wednesdays mornings due to the weekly Papal Audience. If you book this tour for a Wednesday the time inside the Vatican Museums will be extended.

Please be aware that the Sistine Chapel is a Holy Place and talking during your visit inside is strictly forbidden, therefore your guide will give you an explanation of the Sistine Chapel beforehand during your tour, in order to give you a comprehensive explanation before entering the chapel.

Backpacks are not permitted in the museum.

Lunch is not included in the price of the tour.
BOOK NOW
---
LivTours' group size of max 6 participants is and always has been based on sustainable travel, and we are proud to be at the forefront of change and innovation in the industry.  LivTours is committed to providing travelers with truly sustainable tours with the lowest possible environmental impact, all while supporting the local industries and people of each unique destination. To learn more about how you can actively support sustainable tourism  and how LivTours is contributing, click here.
BOOK NOW
---
When you book a LivTours Private Tour or Experience, you are guaranteed a dedicated, expert guide that allows you the flexibility to start your tour at a time which is convenient for you, making planning easy. Our private tours ensure that you will get a tailored experience to meet all your needs so we go at your pace, perfect for families with younger children, elderly, or individuals with accessibility needs. Please be advised that all private tours begin at a base price starting at two people*. Prices are inclusive of entry tickets where applicable. *Some Ferrari private experiences are inclusive of one person only.
BOOK NOW
---
Make your day even more unique and comfortable by upgrading your tour with a customizable LivTours optional add on!
One Way Pick-Up Transfer Service
Full Day Available Chauffeur
BOOK NOW
---
Everything and more than we expected
"I have to say we were so impressed with everything we booked through LivTours! Our tour guides were everything and more than we expected. We enjoyed it so much we've told our friends and co-workers our experience "
Christopher
---
The best of Rome and outskirts in 3 days
"The Rome-in-3-day tour is the perfect solution for those who would like to see the most and best of the city and even have a special excursion to one of the many special places just outside of the city, but don't have alot of time to do so. Our 3 day bundle included the Vatican and Sistine Chapel, Colosseum and Roman Forum, Trevi Fountain, Pantheon, Borghese Gallery, Catacombs and many other lesser-known sites and churches in the first 2 days. On the third day, we could choose between a day trip to Ostia Antica or to Tivoli. We chose Tivoli where we saw the spectacular ruins of Hadrian's Villa and the lovely fountains and water sculptors at Villa d'Este. We were treated, in all instances, to easy and comfortable transportation, great food and absolutely THE BEST guides. We couldn't have been happier with this choice for our 3 days in Rome and we definitely recommend this option if you are similarly limited in your time."
Bradley - Australia
---
BOOK NOW
---
By selecting Choose Dates Later / Buy as Gift at booking, any tour can be purchased without fixed dates. This is the perfect option if you want to purchase your tour as a gift for a loved one, or if you are in the pre-planning phase of your vacation. After booking, you will receive a Travel Voucher Code and full instructions on how to schedule your tours when ready. Once your travel plans are confirmed, you can easily use the Travel Voucher Code on the LivTours website to formally schedule your tours. You can find out more here.
BOOK NOW