Private Vespa Sidecar Tour | Rome City Highlights
---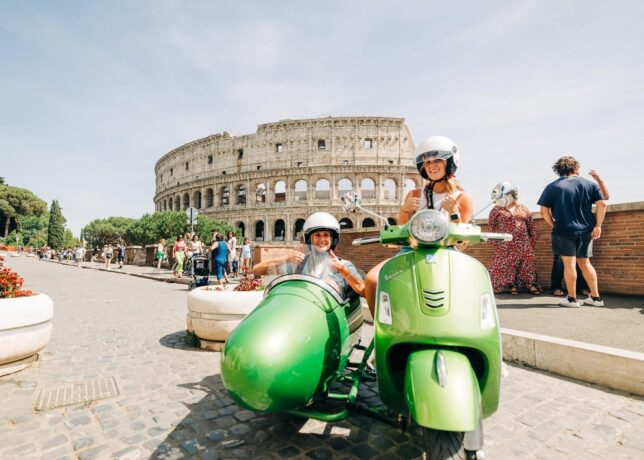 ---
LivTours Vespa Sidecar Tour | Rome City Highlights is an absolutely once in a lifetime chance to see one of the world's most famous cities via its iconic mode of transport, the Vespa! Your English-speaking guide is a local expert who will navigate the labyrinth of cobblestone streets for you and brave the foreign traffic manners so you don't have to. This custom-built scooter features its own, comfortable sidecar which allows passengers to ride in both luxury and style. Ride past ancient ruins, like the Colosseum and the Roman Forum.
See the sloped field of the famous Circus Maximus where chariot races and spectator sports once took place. Go past the city's largest and most historic churches such as St. Peter's and Santa Maria Maggiore. Ride past Rome's curious Pyramid and the ancient Mouth of Truth. Snap pictures of the impressive Pantheon and the Spanish Steps. Stop and photograph Largo Argentina, the ruins where Julius Caesar was assassinated. Catch daily life in beautiful squares like Campo de' Fiori and Piazza Navona. Normally it would be impossible to see so much in 3 hours, but by Vespa, it's a breeze!
BOOK NOW
---
Ride in style through Rome in a comfortable sidecar of our custom Italian Vespa

Discover famous landmarks and monuments with your private, English-speaking guide

Cover more ground during this 3 hour tour from the comfort of your private Vespa

Stop along the way to take memorable photos or to have a classic Italian coffee break

Zip down stone streets and past ancient ruins, discovering hidden spots as you go
BOOK NOW
Exclusive private Tours and Experiences. Also offered in Spanish, French, Portuguese, Swedish and Russian
Our prices always include tickets and reservations fees (no waiting in lines!)
Our tour guides and staff are selected experts and speak perfect English
Easy to book and prepay your tours with our secure payment system
Eco-sustainable tourism, designed to respect and support local culture, art and traditions
---
Your LivTours Vespa Sidecar Tour | Rome City Highlights begins at Piazza della Repubblica where you will meet your friendly guide and get acquainted with your Vespa sidecar. Private groups will also get the chance to test out your connected headsets to hear your guide as you're escorted through the cobblestone streets of Rome. Ready, set, go!
Your guide will drive towards one of Rome's most impressive churches, Santa Maria Maggiore. Dedicated to Mary and built where snow miraculously fell one summer night. Continue through the nearby trendy neighborhood of Monti, an old district with lots of restaurants and art galleries. Next, you'll zoom through picturesque streets and come to the heart of Ancient Rome, the Colosseum and the Palatine Hill. Learn about the history behind this incredible record of ancient life and the exciting stories behind them. Take pictures as you stand on 2,000-year-old streets in front of some of the most recognized monuments in the world! Ride past the Circus Maximus, the location of a massive ancient circus that hosted chariot races and other spectator events. Your guide will then take you up to the top of the Aventine hill where the world's most famous keyhole exists. What do you see when you look inside?
Ride through another characteristic Roman neighborhood, Testaccio. See the strange Pyramid monument and the famous Mouth of Truth, an ancient stone disc that legends claim bit the hands of liars. Ride to Largo Argentina, the ruins where Julius Caesar was assassinated and Rome was changed forever.
Discover Rome's other important squares and districts effortlessly by Vespa. See Campo de' Fiori, where daily food markets take place and where Romans come to drink pre-dinner aperitivo. Visit the oval-shaped Piazza Navona with its Baroque fountains and church. See the gorgeous Spanish Steps which span the steep hill between two beautiful piazzas.
This Sidecar view of Rome's major landmarks and sites is a thrilling, unique way to explore one of the most timeless and remarkable cities in the world. All you need do is sit back and enjoy the ride!
BOOK NOW
---
Basilica Saint Mary Major

Colosseum (from the outside)

Circus Maximus

Palatine hill (from the outside)

Romes secret keyhole

Aventine hill

The mouth of truth

Theatre of Marcellus

Vittoriano

Gianicolo hill

Piazza navona

Temple of Hadrian

Pantheon

Trevi fountain

Spanish steps

Piazza del popolo
BOOK NOW
---
This tour is for passengers only (driving not permitted on this experience).
Each vehicle will be driven by a professional driver and can accomodate two guests: one in the sidecar and one on the vespa, behind the driver. The two guests can alternate at any stop.
Safety equipment to ride in scooters or sidecars will be provided or participants.
Sidecars have a safety requirement that passengers be at least 4 feet tall.
Maximum weight for sidecar passenger is 110kg /  240lbs.
Not suitable for children under 5 years; for the very young, they cannot alternate with the other guest and they will ride inside the sidecar for the entire tour with seatbelts on, kid size helmet and booster seat when needed.
When booking with children, please note their ages in your booking notes (to avoid penalty fees incase booster seat or helmets are unavailable)

Places of worship have strict dress code requirements for entry. All participants are required to have shoulders and knees covered (no tank tops or short dresses) to enter. 

In case of bookings with an odd number of guests, be aware that you will need to share the vehicle with another guest and alternate seats at every stop.
BOOK NOW
---
LivTours' group size of max 6 participants is and always has been based on sustainable travel, and we are proud to be at the forefront of change and innovation in the industry.  LivTours is committed to providing travelers with truly sustainable tours with the lowest possible environmental impact, all while supporting the local industries and people of each unique destination. To learn more about how you can actively support sustainable tourism  and how LivTours is contributing, click here.
BOOK NOW
---
When you book a LivTours Private Tour or Experience, you are guaranteed a dedicated, expert guide that allows you the flexibility to start your tour at a time which is convenient for you, making planning easy. Our private tours ensure that you will get a tailored experience to meet all your needs so we go at your pace, perfect for families with younger children, elderly, or individuals with accessibility needs. Please be advised that all private tours begin at a base price starting at two people*. Prices are inclusive of entry tickets where applicable. *Some Ferrari private experiences are inclusive of one person only.
BOOK NOW
---
Make your day even more unique and comfortable by upgrading your tour with a customizable LivTours optional add on!
One Way Pick-Up Transfer Service
85 €
147.90 A$
79.05 £
100.30 $
BOOK NOW
---
Had so much fun!!
"The Vespa is so ITALIAN!! But I don't know how to drive a scooter so I took the Vespa Sidecar tour and had a BLAST!!! Vroom Vroom!!!"
Muriel - UK
---
BOOK NOW
---
By selecting Choose Dates Later / Buy as Gift at booking, any tour can be purchased without fixed dates. This is the perfect option if you want to purchase your tour as a gift for a loved one, or if you are in the pre-planning phase of your vacation. After booking, you will receive a Travel Voucher Code and full instructions on how to schedule your tours when ready. Once your travel plans are confirmed, you can easily use the Travel Voucher Code on the LivTours website to formally schedule your tours. You can find out more here.
BOOK NOW