Private Vespa Rome Tour
---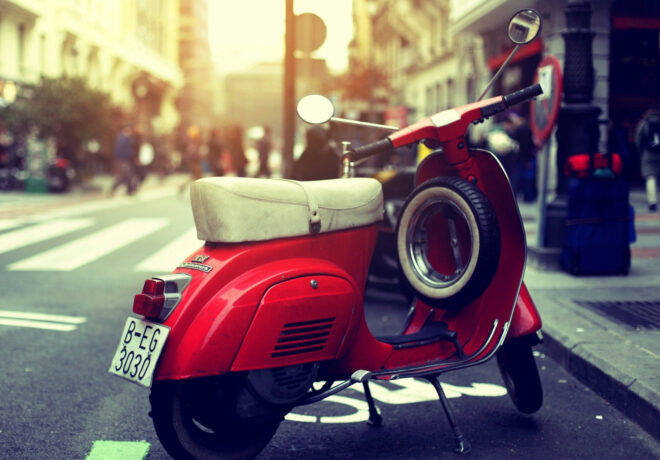 ---
LivTours Private Vespa Rome Tour offers a unique Roman experience á la Dolce Vita. If you are an adventurous and curious traveler, this tour is for you! Good at any time of the year, this is a great way to discover the Eternal City.
You will feel like part of the cast of Roman Holiday as you discover the hidden streets and stunning facades of Rome with your private expert guide. This quick and easy way to see the city makes it the perfect panoramic tour.  Having a dedicated guide with you gives you a personalized tour experience and more time to see what interests you the most.
Vespas first came into the public eye in 1946 in the Tuscan city of Florence. Their unique body design makes them recognizable at a distance which has become popular again in recent years. A favorite means of transportation throughout Italy, they are compact, easy to park and get great gas mileage, making them ideal for getting around crowded European cities like Rome.
So, when in Rome, well, act like a Roman and hop on your classic and stylish scooter to experience the city like a local!
BOOK NOW
---
See the major highlights of the Eternal City on this half day private tour

Feel like a Roman as you zip around town on a Vespa with your private guide

Admire the Colosseum, Trevi Fountain, Pantheon & the largest square Piazza Navona

Learn about the history of Rome while seeing highlights with expert private guide

Move by Vespa and make the very most of your time in Rome
BOOK NOW
Exclusive private Tours and Experiences. Also offered in Spanish, French, Portuguese, Swedish and Russian
Our prices always include tickets and reservations fees (no waiting in lines!)
Our tour guides and staff are selected experts and speak perfect English
Easy to book and prepay your tours with our secure payment system
Eco-sustainable tourism, designed to respect and support local culture, art and traditions
---
Your LivTours Private Vespa Rome Tour is the perfect tour if you want to get a solid overview of Rome. The tour is done on Vespas which allows you to zip around the city saving you time and sore feet! Your tour begins in the heart of Rome, where you will have the opportunity to test out your Vespa before your tour begins.
Enjoy a private tour that you can personalize. We encourage you to speak with your guide on the day of your tour to let them know your preferences. LivTours wants to show you the best of Rome!
Follow your top-rated guide on an unforgettable journey in the Eternal City. Your safety is our first priority, so your tour begins by driving away from the busy city center and up to the quieter, yet history-rich, hills of Rome. Enjoy the views from above the city and be inspired by the photo-worthy cityscape.  Your private guide knows all the romantic squares, breathtaking views and hidden side streets so follow along and enjoy the ride. You will see sites such as Pantheon, Spanish Steps, Trevi Fountain, and much more.
Feel like a local as you drive past the iconic Colosseum, visit the most important ancient sites from the outside and navigate the cobblestone streets that modern-day Romans use daily. This tour allows you to experience Rome while maximizing your time in the city Your expert guide will make sure to take plenty of stops for photos and you might even have time to squeeze in a stop for a gelato!
BOOK NOW
---
Basilica Saint Mary Major

Colosseum (from the outside)

Circus Maximus

Palatine hill (from the outside)

Romes secret keyhole

Aventine hill

The mouth of truth

Theatre of Marcellus

Vittoriano

Gianicolo hill

Piazza navona

Temple of Hadrian

Pantheon

Trevi fountain

Spanish steps

Piazza del popolo
BOOK NOW
---
Offered in: English, French, Spanish, Portuguese, and Italian. Please specify under "Additional notes" if you wish to book the tour in a language other than English.

The rental company requires a €500 (per Vespa) security deposit to be blocked on the driver's credit card for insurance purposes. Please bring an active card which will be held throughout the duration of your tour.

A driving license is required with a minimum of 1 year's experience.

Please wear comfortable clothes and prepare to wear a helmet the entire ride.

You must have experience driving a scooter on busy roads to take this tour.
BOOK NOW
---
LivTours' group size of max 6 participants is and always has been based on sustainable travel, and we are proud to be at the forefront of change and innovation in the industry.  LivTours is committed to providing travelers with truly sustainable tours with the lowest possible environmental impact, all while supporting the local industries and people of each unique destination. To learn more about how you can actively support sustainable tourism  and how LivTours is contributing, click here.
BOOK NOW
---
When you book a LivTours Private Tour or Experience, you are guaranteed a dedicated, expert guide that allows you the flexibility to start your tour at a time which is convenient for you, making planning easy. Our private tours ensure that you will get a tailored experience to meet all your needs so we go at your pace, perfect for families with younger children, elderly, or individuals with accessibility needs. Please be advised that all private tours begin at a base price starting at two people*. Prices are inclusive of entry tickets where applicable. *Some Ferrari private experiences are inclusive of one person only.
BOOK NOW
---
Make your day even more unique and comfortable by upgrading your tour with a customizable LivTours optional add on!
One Way Pick-Up Transfer Service
75 €
130.50 A$
69.75 £
88.50 $
BOOK NOW
---
My own version of A Roman Holiday
"I'm an incurable romantic so when I saw LivItaly's tour of Rome on a Vespa, I just couldn't resist!! My guide, Giulio and I, zipped around Rome in 1960s style for about 3 hours and I could have continued for another 3! We saw all of the major sites, stopped and took millions of pictures and then went off into the hills just outside of the city center. It was an experience I will never forget and I can't thank LivItaly enough for this wonderful opportunity!!"
Emily - USA
---
BOOK NOW
---
By selecting Choose Dates Later / Buy as Gift at booking, any tour can be purchased without fixed dates. This is the perfect option if you want to purchase your tour as a gift for a loved one, or if you are in the pre-planning phase of your vacation. After booking, you will receive a Travel Voucher Code and full instructions on how to schedule your tours when ready. Once your travel plans are confirmed, you can easily use the Travel Voucher Code on the LivTours website to formally schedule your tours. You can find out more here.
BOOK NOW