Private Versailles Tour | Royal Palace & Gardens by Golf Cart
---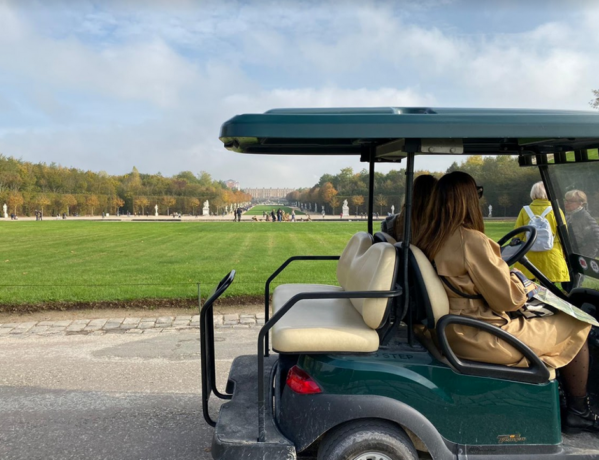 ---
Your LivTours Private Versailles Tour with Royal Palace & Gardens Golf Cart Tour focuses on the architectural gem in France's history.  Created by the eccentric King Louis XIV and the palace that Marie Antoinette called home, the Versailles Palace holds a special place in French history.  Located a mere 15 miles outside of Paris Versailles continues to attract travelers from all over the world with its stunning architecture and perfectly manicured gardens set out over a staggering 87 million square feet.  LivTours takes you on a journey that takes you through the palace and also allows you time to enjoy the gardens, and in the very best way possible.  Inside the Palace, you will enjoy LivTours exclusive priority access entrance tickets allowing you to skip the often long lines and you will get to enjoy the massive gardens by golf cart!
Come join LivTours for the ultimate tour of Versailles Palace and Gardens and leave the details to us!
BOOK NOW
---
See a notable amount of Versailles Gardens in a comfortable four-seat golf cart

Enjoy skip-the-line privileges into Versailles Palace & its most impressive rooms

Stand before hundreds of mirrors of the opulent Galerie des Glaces

See where former French kings and queens dined, danced, prayed and slept
BOOK NOW
Exclusive private Tours and Experiences. Also offered in Spanish, French, Portuguese, Swedish and Russian
Our prices always include tickets and reservations fees (no waiting in lines!)
Our tour guides and staff are selected experts and speak perfect English
Easy to book and prepay your tours with our secure payment system
Eco-sustainable tourism, designed to respect and support local culture, art and traditions
---
Your LivTours' Private Versailles Tour | Royal Palace & Gardens Golf Cart Tour begins when you meet your private expert guide just in front of the main entrance into Versailles. You will start by touring the vast gardens in a comfortable four-seat golf cart. Using a golf cart, allows you to fully appreciate all of the major garden attractions in a shorter time, giving you more time inside to admire the amazingly ornate rooms. Your guide will make sure you get to see all the highlights in the gardens and if your timing is right, you might catch the seasonal water show at the garden's central fountains.
Once you are finished exploring the gardens, your guide will lead you past the long lines and into the Palace.  Hosting 2300 rooms in total, the most famous is said to be the 240 foot-long Galerie des Glaces, The Hall of Mirrors. Your guide will take you back in time as they describe what life was like in the 17th century when visitors saw themselves in a full-length mirror for the first time. Mirrors were expensive and rare, so to have one room filled with more than three hundred was a way for Louis VX to show his wealth and power. This hall has hosted many important moments in history, including the signing of the Treaty of Versailles after WWI.
Next it is on to see the 18th century Royal Chapel, one of five churches on the Versailles estate. An interesting mix of architectural influences, it is best known for its colorful ceiling paintings and its historic organ. From there you will leave the religious world behind and move on to the opulent State Apartment, or offices of the king, where royalty would meet with important members of society and politics on a daily basis.
You will get a chance to see the areas of the Palace in a more intimate setting having reserved the best available time to visit. Your guide will share with you the fascinating stories about the hundreds of servants who would scramble to attend the king and queen's every need, including taking off their clothes and accompanying them to the toilet.  You will gain a greater appreciation for Marie Antoinette's profound influence on the evolution of French fashion when viewing the queen's private chambers.
BOOK NOW
---
Priority entrance tickets into Versailles Palace

Tickets to enter the Versailles garden

Explore Versailles gardens by golf cart

The Hall of Mirrors

The Royal Chapel

Kings state apartment offices

Private chambers of King and Queen

Fully guided experience
BOOK NOW
---
Golf carts are 4-seaters, therefore when your party exceeds 3 people, please be ready to need to drive your own golf cart. You must bring your driver's license.
While the golf cart experience part of the tour is extremely safe, LivTours (LivItaly Tours LLC) and our tour guides are released by any responsibility from any damage to things or people. The client is fully responsible of his/her well-being and the well-being of other things and people.
BOOK NOW
---
LivTours' group size of max 6 participants is and always has been based on sustainable travel, and we are proud to be at the forefront of change and innovation in the industry.  LivTours is committed to providing travelers with truly sustainable tours with the lowest possible environmental impact, all while supporting the local industries and people of each unique destination. To learn more about how you can actively support sustainable tourism  and how LivTours is contributing, click here.
BOOK NOW
---
When you book a LivTours Private Tour or Experience, you are guaranteed a dedicated, expert guide that allows you the flexibility to start your tour at a time which is convenient for you, making planning easy. Our private tours ensure that you will get a tailored experience to meet all your needs so we go at your pace, perfect for families with younger children, elderly, or individuals with accessibility needs. Please be advised that all private tours begin at a base price starting at two people*. Prices are inclusive of entry tickets where applicable. *Some Ferrari private experiences are inclusive of one person only.
BOOK NOW
---
Make your day even more unique and comfortable by upgrading your tour with a customizable LivTours optional add on!
Round trip from Paris to Versailles with private chauffeur
240 €
417.60 A$
223.20 £
283.20 $
BOOK NOW
---
Fantastic Experience! Request Adam as your tour guide!
"What an awesome experience! This was definitely the most fun we had in Paris! Adam, our tour guidem was so informative and shared with us the whole story of Versailles while giving us many details that we would have never learned if we went on our own! He was so nice and thorough through out the entire tour. He took care of our tickets, organizing the golf carts and helped us through all security. Having Adam with us allowed us to enjoy our time there! We definitely will book with LivTours again! Thank you for the best day! ❤️"
John - US
---
a must if visiting the palace and garden
"Philip knew a lot and also great at taking pictures of me and my family. He made the tour really fun and engaging, especially for my parents whose second language is English. "
Monika - USA
---
Well worth it
"Fantastic tour- it was complete with many interesting details. Our guide could not have been more informational or passionate. Plus, she was so kind to my mom who is in a wheelchair and deaf in one ear. LivTours did an amazing job of communicating with us and rescheduling our tour when our initial one was canceled due to a transportation strike."
Sarah - US
---
BOOK NOW
---
By selecting Choose Dates Later / Buy as Gift at booking, any tour can be purchased without fixed dates. This is the perfect option if you want to purchase your tour as a gift for a loved one, or if you are in the pre-planning phase of your vacation. After booking, you will receive a Travel Voucher Code and full instructions on how to schedule your tours when ready. Once your travel plans are confirmed, you can easily use the Travel Voucher Code on the LivTours website to formally schedule your tours. You can find out more here.
BOOK NOW